Support NRA Shooting Illustrated
DONATE
As an avid gun owner and concealed carry enthusiast, finding great holsters has always been a priority for me. There is no "perfect" holster, but some are a lot better than others. When ANR sent me the Right-Handed Quick Ship Standard Outside the Waistband (OWB) Holster, I gave it a whirl and ended up quite impressed. Having used it for a few weeks now, I can confidently attest to its exceptional durability, simple design, and ease of use.
Right off the bat, the ANR OWB Holster made a strong impression with its construction. Crafted from rugged Kydex material, this holster boasts impressive resilience to daily wear and tear. Whether I was out teaching a class or at the range shooting on my own, the holster consistently held up with no signs of cracking, warping, or weakening. It withstood rough conditions and still maintained a pristine appearance in a testament to its outstanding durability.
One of the more appealing aspects of the ANR OWB Holster is its simple yet effective design. ANR has taken a minimalistic approach, ensuring that the holster does precisely what it's meant to do without any unnecessary frills. The smooth, rounded edges prevent snagging on clothing during the draw, which is crucial in high-stress situations, whether self-defense or working on drills. The straightforward design not only contributes to its robustness but also enhances its overall functionality.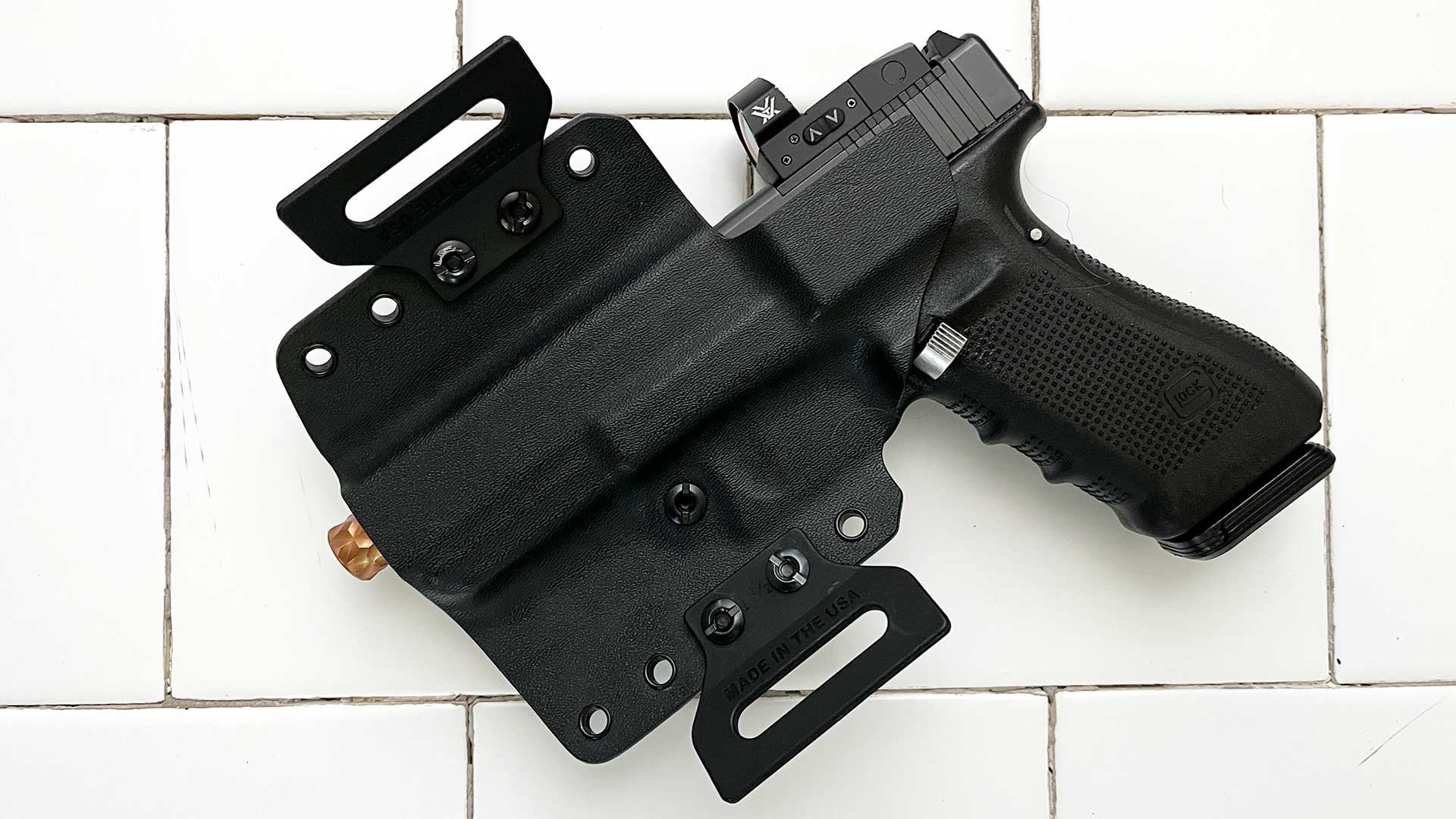 When it comes to ease of use, the ANR OWB Holster excels. Right out of the box, it fit my Glock G17 with ZEV threaded barrel snugly, with the open bottom allowing the extended barrel to poke through without issue. Drawing and re-holstering the firearm was effortless, thanks to the precisely molded shape that retains the weapon securely in place until needed. The adjustable retention screws allowed me to customize the holster's tightness, although it was set right from the factory.
It's also red-dot-ready, which is a must in today's market. There are still holster makers out there that don't get this. Thankfully, ANR isn't one of them. Got suppressor-height sights? This holster accommodates those, too.
For the belt, the holster features a choice of three sturdy sets of belt loops in two sizes, some for a small upcharge. I chose the 1.5-inch pancake style that kept the holster snug against my belt the way I like it. Once in place, the holster didn't budge, regardless of my movements or position.
Are you a leftie? Sorry, but I have some bad news. This is a right hand-only design. Maybe if you wrote a nice letter to the company, they might turn the mold around and make you one. Worth a shot, right?
The ANR Right-Handed Quick Ship Standard Outside the Waistband Holster has undoubtedly exceeded my expectations. Its durability, simple design, and ease of use make it a standout option in the vast sea of holsters available on the market. It's a bit on the high end, with an MSRP of $85, but it's also a great holster that will likely last a very long time.