Support NRA Shooting Illustrated
DONATE
Mythbuster time: Not all holsters are created equal. While many are similar (they are well-built, hold a gun securely, and sometimes come in flashy colors), the quality can vary greatly from brand to brand and even from model to model within a brand. One brand that impresses me with consistent quality is ANR. This is my second ANR holster I've reviewed, and the company's manufacturing-quality standards continue to stand out, in this case, for the Kydex Nidhogg Series Outside-the-Waistband Holster. I was intrigued by the company's promises of superior craftsmanship, ease of use, exceptional retention capabilities and rugged design. Having spent considerable time testing and using this holster, I can confidently say that it lives up to every one of those promises.
Craftsmanship is the cornerstone of any quality firearm accessory, and the ANR Kydex Nidhogg Series holster does not disappoint in this regard. As soon as I held it, I could feel the attention to detail. The edges are smooth and well-finished, with no rough or uneven spots that could scratch the firearm or cause discomfort during prolonged wear. The precision of the molding is apparent as the holster fits my pistol like a glove, providing a sense of security and snugness that is essential for an effective holster.
Ease of use is a factor that greatly impacts how frequently I choose to carry my firearm, and the Nidhogg Series excels in this area. The holster's open-top design allows for a smooth and unobstructed draw, while the adjustable retention ensures that my firearm stays securely in place until I decide to draw it. The audible click when reholstering confirms that my firearm is properly seated and won't accidentally slip out.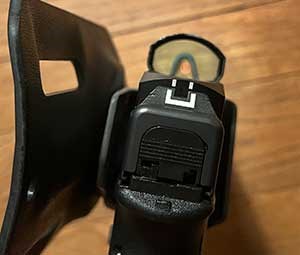 One of the standout features of the ANR Kydex Nidhogg Series is its retention capabilities. The adjustable retention screw allows me to fine-tune the retention level according to my preference, ensuring my firearm stays put even during vigorous movement. I've tested the holster in various scenarios, from running to bending and even performing simulated combat drills. The retention remained consistent throughout, proving the holster's reliability in keeping my firearm secure. This level of retention is crucial not only for peace of mind but also for safety, as it prevents any accidental dislodging of the firearm.
The rugged design of the Nidhogg Series holster is what truly sets it apart. Constructed from high-quality Kydex, this holster can withstand the rigors of everyday use without showing signs of wear. Whether wearing it on a hike, out in the rain, or simply going about my daily routine, the holster holds up impeccably. The sturdy belt loops keep the holster firmly attached to my waistband, and the overall design distributes the weight of the firearm evenly, making it comfortable for extended periods of wear.
The holster is also optic cut - a must on any holster designed today - and features a suppressor-height sight channel with an open-bottom design that allows for a threaded barrel. It also comes with five different belt mounting options, so you can customize it for the way you carry. If you choose the drop leg configuration, you can order a thigh band to hold it securely against your leg.
In addition to its practical features, the holster boasts an aesthetically pleasing design. The sleek lines and minimalist appearance give it a modern and refined look. ANR Kydex has taken great care not only in the holster's functionality but also in its visual appeal. And talk about color options! Let's just say the Price is Right showcase wheel scrolls less.
The ANR Kydex Nidhogg Series Outside the Waistband Holster has proven its worth through quality meticulous craftsmanship that ensures a secure fit, while the open-top design and adjustable retention make drawing and reholstering effortless. The holster's ability to retain my firearm during various activities instills confidence in its reliability. Lastly, the rugged Kydex construction guarantees its durability over time. MSRP for the ANR Kydex Nidhogg OWB holster starts at $90, and it is an exceptional choice for anyone searching for a holster that seamlessly blends quality, functionality, and aesthetics.