Support NRA Shooting Illustrated
DONATE
As a marketing professional, I'm always game for a clever product name. The gun world is full of alpha male-type labels that scream machismo and rugged individualism. Sadly, sometimes those names are a vain attempt to cover a product's deficiencies. So, I was taken aback when Dara named its inside the waistband holster simply the Inside the Waistband Holster. What a novel idea to just tell us what it is. And unlike its fancier-named competition, the Dara IWB holster doesn't need to cover its shortcomings.
The Dara IWB starts with a .093-inch-thick Kydex/Boltaron blended taco shell molded for a large variety of small, medium and large handguns. It's plenty stiff enough to keep its shape but not so rigid that it bites into your waist.
Retention adjustment comes from two screws that double as the shell binder, with military-grade spacers between. A quick turn of the screws does the trick. As always, I added my unloaded Shield to the holster and applied my over-the-bed flip test to see if the gun would fall out. Nope. The holster was adjusted perfectly from the factory.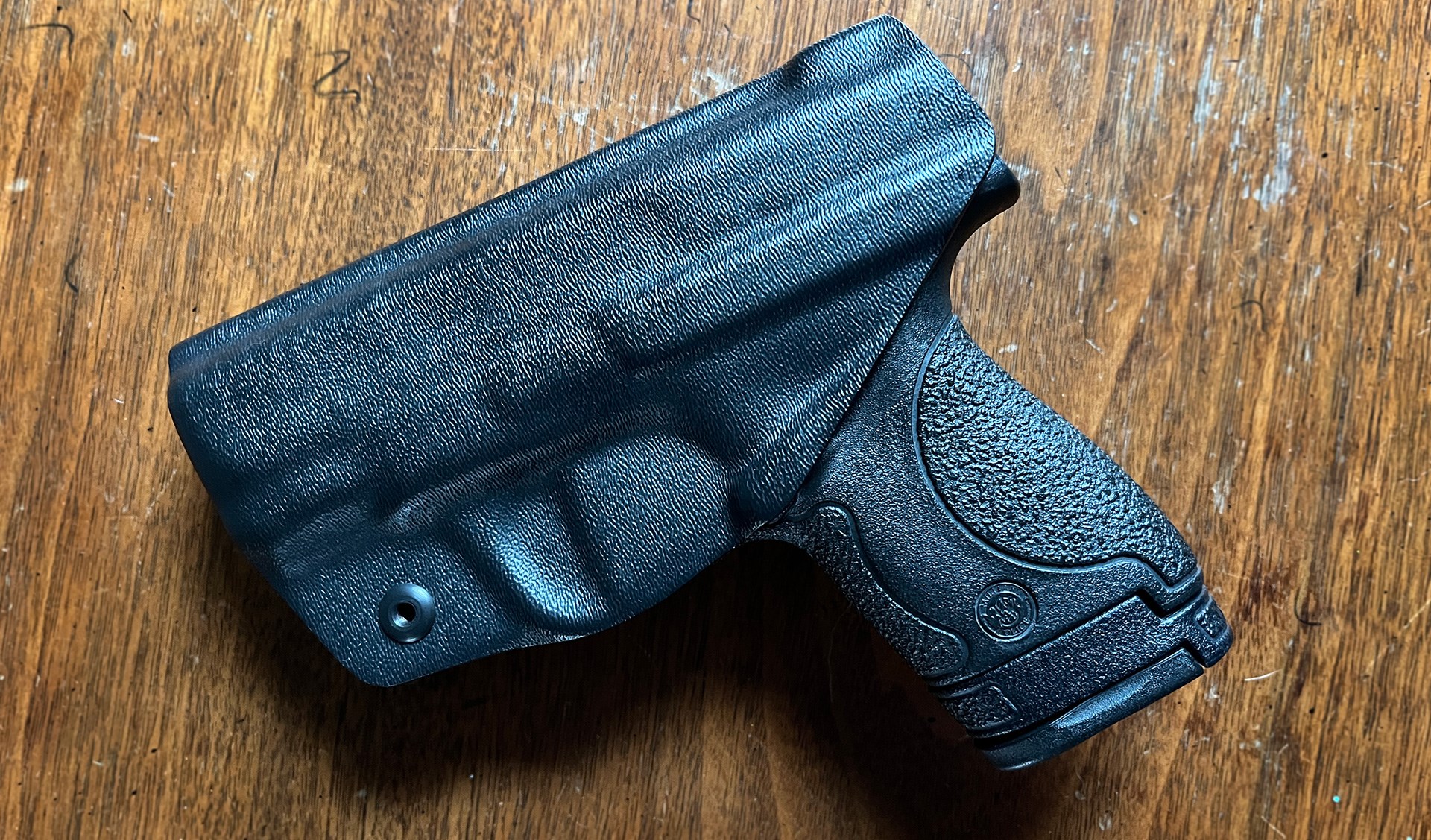 Belt attachment comes from two choices: a single curved clip or a pair of soft clips, both available in 1.5-inch and 1.75-inch widths. I'm not a big fan of soft clips, so I opted for the single, wide, curved clip for my test sample. It was perfect, allowing for easy on and off, and held the gun tightly to my belt all day through various activities.
Colorwise, the Dara IWB holster offers four choices: black at no extra charge, but black carbon fiber, OD green, and coyote all cost extra. I get the need to charge more for the carbon fiber look, but why upcharge for the two other flat colors? As much as I like this holster, the cost structure for flat colors is a ding in my book. Again, though, that's a personal decision. If you want a special color, that's up to you.
Ride angle is not adjustable, but you can order one of five angles from Dara from 7-degrees rearward to straight up to 15-degree FBI cant. It's nice to have the choice, but it would be better to build adjustability into the holster so you don't have to order a new holster if you need to change angles.
While there were a few nitpicky issues with the Dara IWB, overall, it's a great holster, a solid value at prices starting at $58.99 for the flat black and upgraded colors for a few dollars more.