The Savage Arms Model 64F has been around for decades, sold under a number of different names and brands, probably most-recognized as the Sears Roebuck Model 6C. Its affordable price and outstanding reliability have made it a family favorite and a natural go-to for a kid's first rifle. Chambered in .22 LR, the Savage 64F is built for long days at the range or in the field, annihilating tin cans, spinners and even a squirrel or two. All was sound in the world until a developing phenomenon reached its peak: the zombie apocalypse.

Yep, for the last 5-10 years, evidence collected through social media and pop culture has assured us that the grey-skinned dead are going to rise again to demand brains and other sundries. When this happens (and it will), we will be reduced to living out of our cars or out of a bag, and it's critical to have an apocalypse survival rifle to match.

With about 98 percent of the average shooter's household income going to a .22 LR stockpile (Eds: citation needed), that didn't leave much green for a takedown rifle capable of using America's favorite rimfire ammunition. Savage noticed this and frantically went to work on the company's newest creation: the Model 64F Takedown. Fortunately, it hit the shelves before patient zero was even infected, and I was lucky enough to get one to run a brick of ammo through.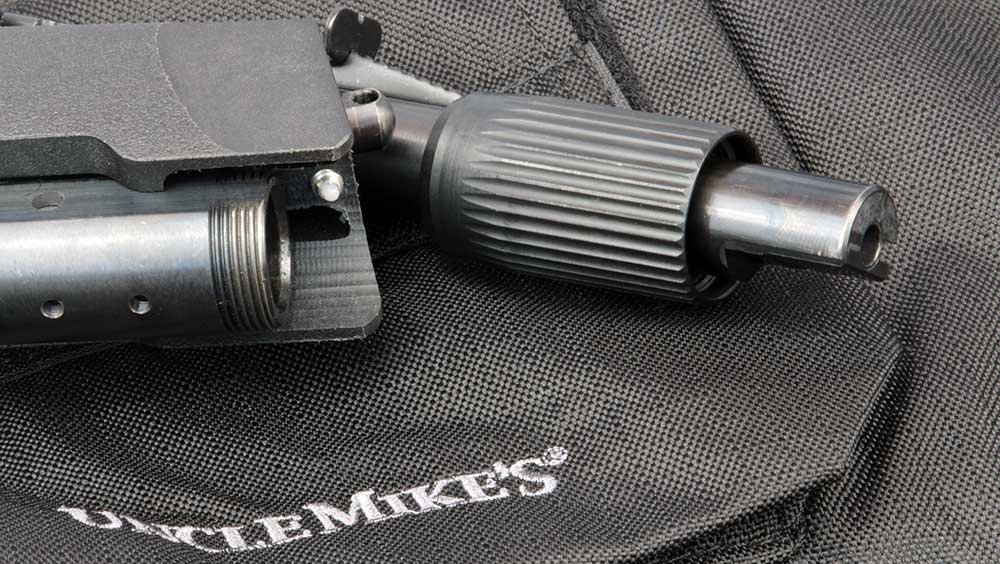 As the standard 64F is Savage's least-expensive autoloader, it only made sense to select it as the company's basis for a takedown firearm. Nearly all of the parts with the takedown 64F are interchangeable with the standard 64F, except for the barrel and receiver, of course. The barrel uses simple threading that is held in place with a spring-loaded detent. To attach the barrel, just crank it on hand-tight, and you are ready to rock. The takedown barrel comes in at 16.5 inches long, 4.5 inches shorter than its predecessor.

This stock on the Savage Model 64F Takedown is marginally shorter as well, bringing the assembled overall length down to just 36.25 inches. When separated, it takes up nearly half of that space and stores in its included bug-out bag from Uncle Mike's. The case is clad with MOLLE webbing, which allows you to strap your receiver down nice and tight to keep it secure through late-night raids on a swarm of undead. The bag also allows for enough room to still store the rifle properly if you choose to mount an optic.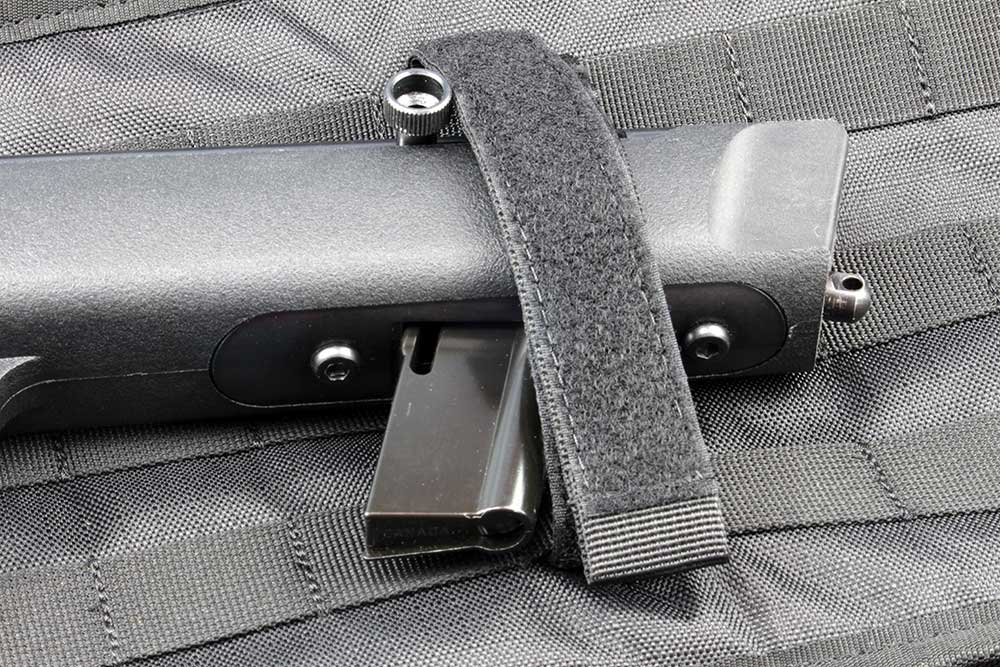 Mounting an optic is pretty simple, as the 64F Takedown comes drilled-and-tapped for bases. If you are prepping for post-apocalyptic survival, then you know iron sights are the way to go, because they don't require batteries like red dots. And if you're using a magnified optic and aiming at one zombie, another is going to bite you on the neck. Every. Single. Time. Situational awareness, people. The iron sights are drift-adjustable for windage and really didn't require much effort to dial in. No joke, I did it at the range with a screwdriver and a rock. (I take my zombie prep seriously. Or maybe I just forgot my tools at home.) 

For my 50-yard bench-rest testing, I needed to make a slight windage adjustment and just 3 steps of elevation adjustment to allow for a center hit on my Birchwood Casey Shoot-N-C targets using a 6-o'clock hold. For my testing, I used 38-grain solid-lead Blazer ammo alongside Browning's BPR 40-grain hollowpoint ammo. I fired five 5-round groups and tabulated averages on each. Our best group of the day was fired with the Blazer and came in at 3 inches on the nose. At the end of the day, our average group size was 3.12 inches with this economy bulk round. The Browning BPR ammo produced nearly identical accuracy, with its best group measuring 3.06 Inches and its average working out to 3.19 inches.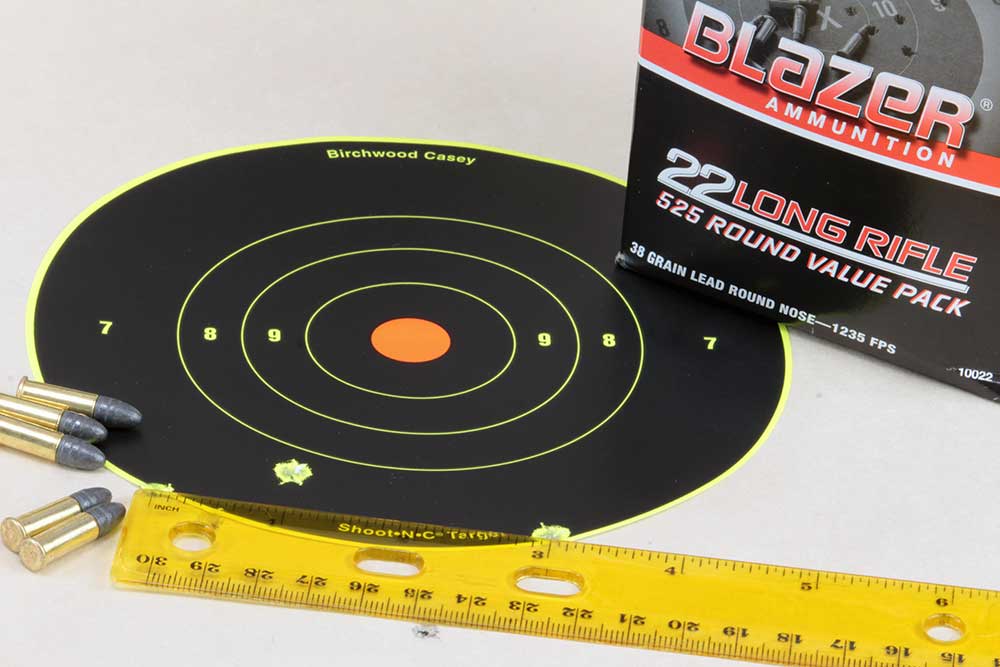 After zeroing and punching paper, I turned my attention to some club steel and just experimented with different shooting positions and took an appreciation of how easy it was to shoot offhand, due to its light weight and shorter barrel. I also checked the return-to-zero by taking the barrel off and putting it back on, and it did just fine. I wasn't expecting any deviation, as the front and rear sight are both barrel-mounted, so there's no allowable scenario to take one off plane with the other.

I only experienced two failures-to-eject during the entire 575-round test, which is amazing for a gun that only carries an MSRP of $249. I also was happy to see a metal magazine included for that price, as plastic magazines are more likely to break during rough use in the woods. Or a zombie-riddled city. I have always been a fan of how Savage knows just where and where not to cut costs. This was evident in the action on the 64F Takedown, which doesn't hold open after the last shot. This cuts out a few manufacturing steps, as well as a fair amount of parts.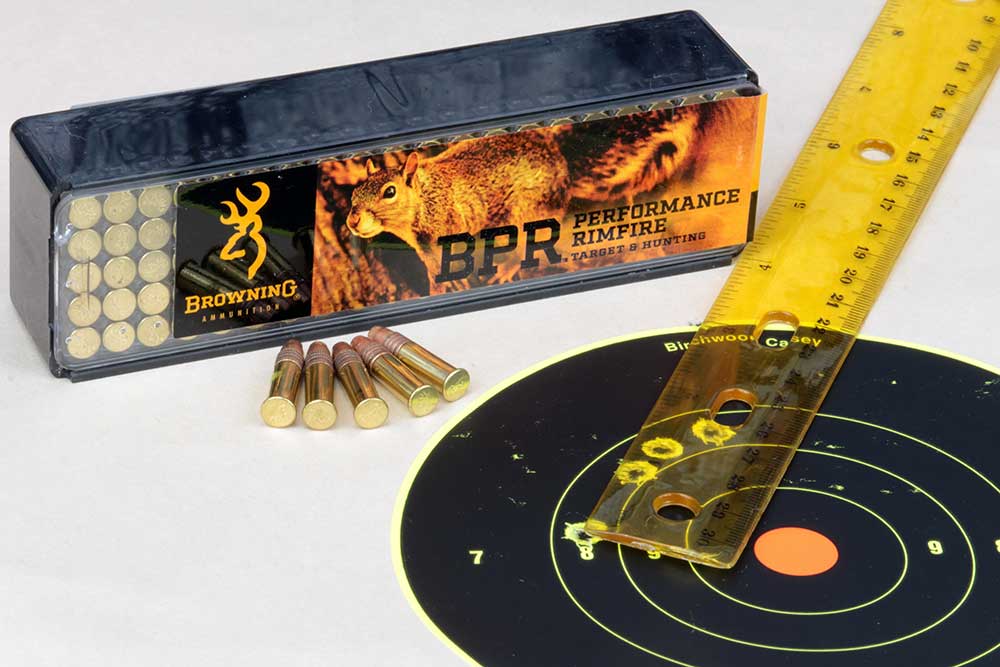 Savage also skipped an elaborate bolt hold-open system and opted for a simple locking charging handle. All you have to do is pull it back and press in. Anywhere you can save parts, you usually save cost and weight and, at the same time, reduce potential failure points. The Savage takedown should find its way into any hunting, camping or survival sack, as it's affordable, reliable and just plain fun to shoot.

Usually I sign of with something along the lines of "check one out" or something of that nature. However, for something this utilitarian and inexpensive, I just suggest grabbing one at Walmart next time you're stocking up for the End of Days...and leave some .22 LR on the shelf for the rest of us!