Suppressors are often difficult for a novice to evaluate and make comparisons between when looking to buy one. There's plenty of opinions on the internet, but even serious suppressor evaluations tend to stress construction materials and sound-reduction ratings (which are often non-comparative), while ignoring one key aspect that looms large in any buyer's mind: versatility. And in the silencer world, that's measured by the breadth of permitted calibers, mounting options and host weapons that a suppressor can be effectively used on.

A Shooting Illustrated reader reminded me of that point in a recent letter stating that for many, a suppressor is a once-in-a-lifetime purchase given the arduous application process, nine-month wait for ATF approval and $200 transfer tax. That sort of outlay in time and money makes this accessory a luxury good you'll want to enjoy using with as many firearms as possible, which begs the question: If you could own only one suppressor, which one would it be?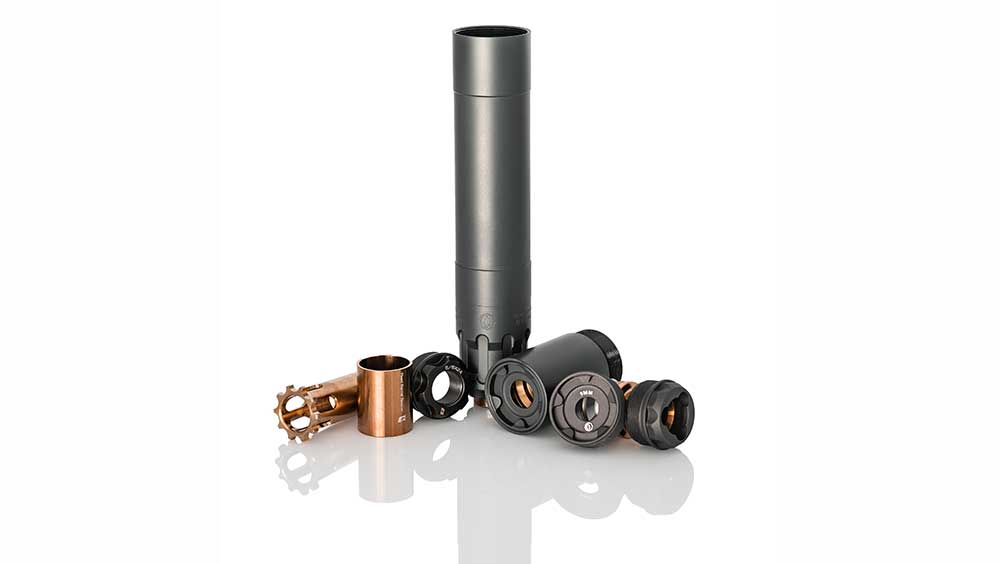 For pistol-caliber arms, one of my top choices is the Obsidian 45 from Rugged Suppressors. It's durable, well-made, effective and versatile enough to fit my entire working battery of pistols, carbines and submachine guns, with the exception of the Uzi. An industry-leading unconditional warranty that covers the life the can, including user-fault calamities is also reassuring, even if you're careful.

The Obsidian 45 is rated for pistol calibers (including 10 mm) up to .45 ACP, certain handgun magnum cartridges, .300 BLK subsonic, and even .45-70 Government with a minimum 16-inch barrel length. (See accompanying table.) This suppressor is also deemed "belt-fed rated" for the pistol calibers, which is Rugged's unique declaration that it's built strong enough to "withstand any rate of fire." That claim was validated by running this can on a select-fire M-16 lower with a Freedom Ordnance FM-9 belt-fed 9 mm upper receiver.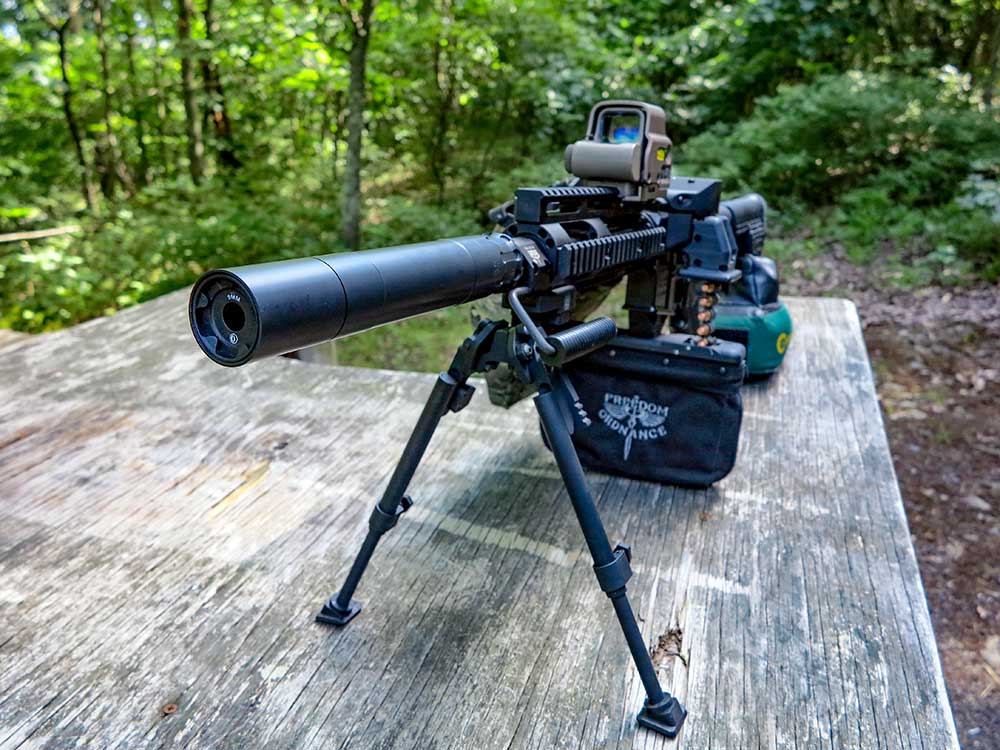 Mounting options are plentiful with nine fixed mounts, including a three-lug HK-style option for rifles and nine piston mounts for pistols that use delayed-blowback actions. The mounts even include some unusual thread pitches, and if you already own piston mounts made by SilencerCo or any mount made for Rugged's Obsidian 9, you can also use them on the Obsidian 45, saving you $80 a crack. Versatile? You bet.

I also like that Rugged makes a broad array of fixed-barrel mounts instead of only offering piston mounts used on pistols that need a booster device and converting the mount for use on a rifle by installing a collar in place of the booster spring.  Fixed-barrel mounts are superior to using converted pistons in several respects. They free up internal volume that the piston and collar would otherwise occupy and provide more rigidity and potentially better bore-axis alignment. Rugged sells the collar, however, if you prefer that method or already own a piston.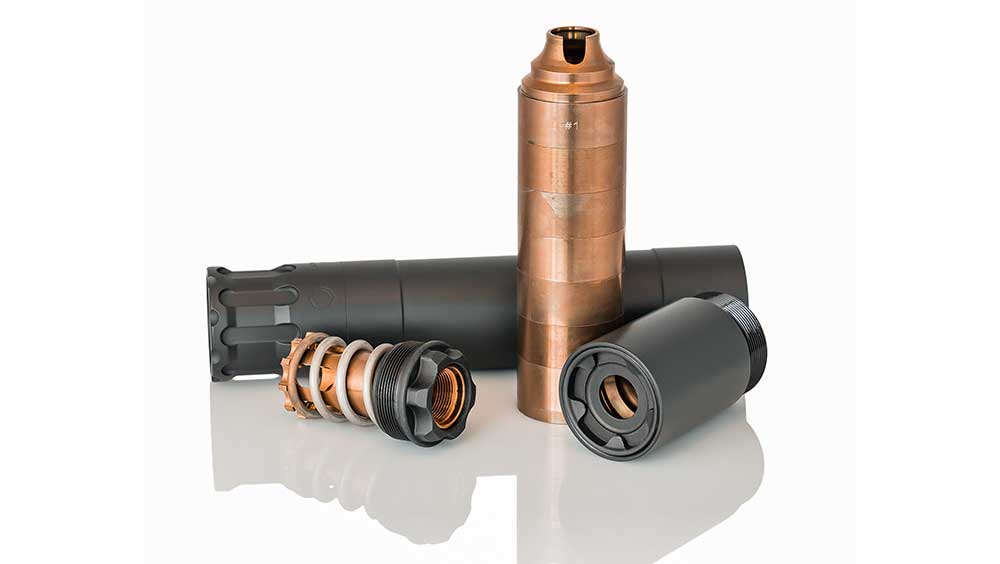 The Obsidian 45 has a nominal bore diameter of .45-inch, which allows smaller diameter bullets to be used, albeit with less sound capture than using a suppressor (e.g. the Obsidian 9) with a bore of matching diameter.  When shooting 9 mm, replacing the .45-caliber end cap with Rugged' s 9 mm version may trim 2 decibels of noise and provide better flash capture, according to the company. Published sound ratings from Silencer Shop tests are shown in the accompanying table.
The Obsidian 45 is made with a 6061 aluminum tube attached to a stainless-steel mount, hardened 17-4 PH stainless-steel baffles and an aluminum end cap. The 1.375-inch diameter tube is hard-coat anodized then given a second finish of high-temperature black or FDE Cerakote. The Obsidian is configurable into two lengths:  8.6 inches or  6.7 inches, allowing the user to adapt length and weight to meet tactical needs; the compact size for when the weapon system is hip-holstered or is stored in ready-to-use condition in a small container and long length when sound reduction needs to be at its maximum.  Though some casual users mount the compact configuration on pistols and the long on rifles, I recommend the opposite, because pistols generally emit greater noise than rifles and could use the added sound reduction (8.3 decibels for a .45 ACP) of the long configuration. Though pistols using the compact-length Obsidian handle a bit better, the difference is slight.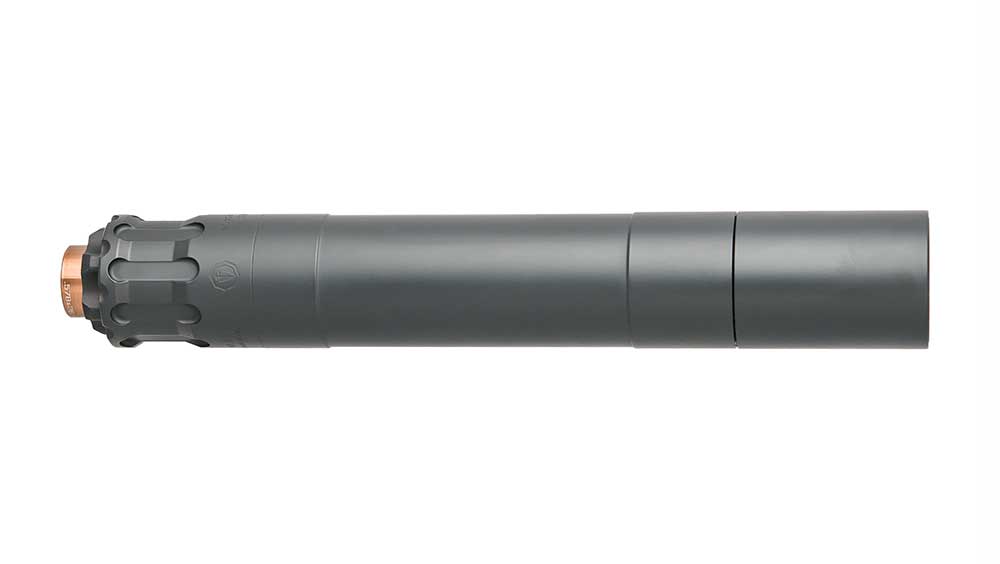 The Obsidian 45 uses 12 shielded K- type baffles of Rugged's own design milled from a single steel bar that snap fit together tightly and do not have any particular order of assembly aside from the first and last. The tight fit is intended to keep gasses within the core and prevent spillage from cementing the baffles to the tube's walls, though the baffle stack on my unit requires some coaxing with a wooden dowel if not cleaned soon after firing. The baffles are asymmetric in design, but orient identically when fit together using their indexing tabs. Best performance results from aligning the baffle stack in the main tube with those in the module, which is easily done. 

This suppressor has some other subtle but worthwhile features. The stainless-steel mount is the serialized part, so should the tube become damaged, a replacement can be installed by the factory.  Other designs, in contrast, may require an entirely new suppressor and another $200 transfer tax. This feature also allows for future factory upgrades, again, without re-taxation. The booster spring is stainless steel, which you will appreciate the first time you shoot the can wet and don't immediately clean it. A rubber O-ring at the modular connection keeps the end module from loosening under fire while another O-ring around the piston prevents gas from leaking. Finally, the end cap is recess-mounted but can be tightened using the teeth of a piston.

Given this suppressor's "belt-fed rating," I tested the Obsidian 45 on the Freedom Ordnance FM-9 attached to an M-16 lower receiver. The FM-9 is a 9mm belt-fed upper receiver that fits AR-15 and M-16 lower receivers without modification. It is made in two configurations, one of which has quick-change barrels. My tests were conducted using the full-length Obsidian with a 16-inch and a 10-inch barrel.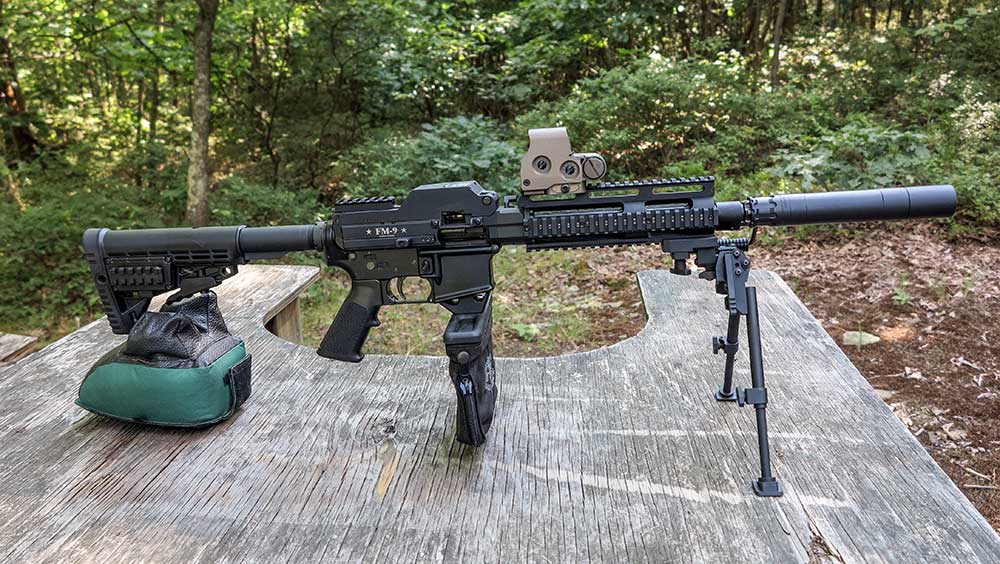 The FM-9 with the 16-inch barrel was fired at 50 yards using an EOTech holographic sight. There was no discernible change in point of impact when using the suppressor.  However, using a magnified optic (which is not easily mounted on the FM-9) instead of the EOTech would make the bare-barrel and suppressed-barrel comparisons more definitive, because it would lend more precision and tighter shot groups.

There was no noticeable increase in backpressure using either the 10-inch or 16-inch barrel, nor did the rate of fire in automatic mode change or any stoppages result. One thing made more apparent from full-auto fire is the need to frequently check the end cap's tightness, as well as the threaded connection between the barrel and suppressor. Like most barrel threads, the FM-9 has a square shoulder where the suppressor mount seats, so frequent checking is required. Rugged recommends a check every 30 rounds but using teflon tape on the threads will extend that interval significantly. With respect to the end cap, a narrow band of tape will work as will keeping the threads oil-free and dry.

The only aspect of the Obsidian that I think should be improved relates to the fixed barrel mount, which has a relatively small grasping surface and tends to stay on the barrel while the suppressor is unscrewed. This is particularly a problem if you snugged the suppressor to the barrel while the mount was hot and tried to remove it after it cooled.  A strap wrench to break a tight fit to the barrel was often necessary, and though Rugged tells me that an adjustable crescent wrench will work, it would be far easier if a spanner wrench that fit the grooves in the fixed barrel mount were included with the unit. 

Rugged Suppressors Obsidian 45 Specifications
Bore size .45 inch
Permitted calibers: See table
OAL: 6.7 inches, 8.6 inches 
Width: 1.375 inches
Weight: Short 10.7 ounces, Long 12.8 ounces 
Construction 17-4PH stainless baffles, piston and mount; aluminum tube, stainless booster spring
MSRP: $850

Rated Calibers and Min Barrel Lengths
| | |
| --- | --- |
| Caliber | Min Barrel Length |
| Pistol calibers up to .45 ACP | none |
| 460 Rowland | 5 inches |
| 458 SOCOM subsonic | 16 inches |
| 45-70 | 16 inches |
| 450 Bushmaster | 16 inches |
| 45 Super | 5 inches |
| 44 Magnum | 16 inches |
| 44 Special | 6 inches |
| 357 Magnum | 12 inches |
| 300 BLK Subsonic | 8 inches |
Decibel Measurements
| | | |
| --- | --- | --- |
| Caliber | .45ACP | 9mm |
| Full Configuration | 129.3 | 123.7 |
| Short Configuration | 137.6 | 130.4 |
| Short Configuration- wet | 131.5 | 125.9 |