by
posted on August 7, 2020
Support NRA Shooting Illustrated
DONATE
The Lunar 9 suppressor from Gemtech is the company's newest offering, making its debut earlier this year.
This suppressor is rated for pistol calibers up to 9 mm and subsonic .300 Blackout shot dry only (i.e. without adding sound-abating water) from a barrel no shorter than 8 inches. Gemtech states that it will handle 9 mm in full-automatic fire, but only sporadic bursts of 4-8 shots with a 4-8 second pause between them. The Lunar 9 is 1.4 inches in diameter and can be used in short 4.7- or long 7-inch configurations, and because it's made predominantly from aluminum, weighs only 7 to 10 ounces depending on configuration. The MSRP is $616 with a Silencer Shop price of $599 at the time of this article.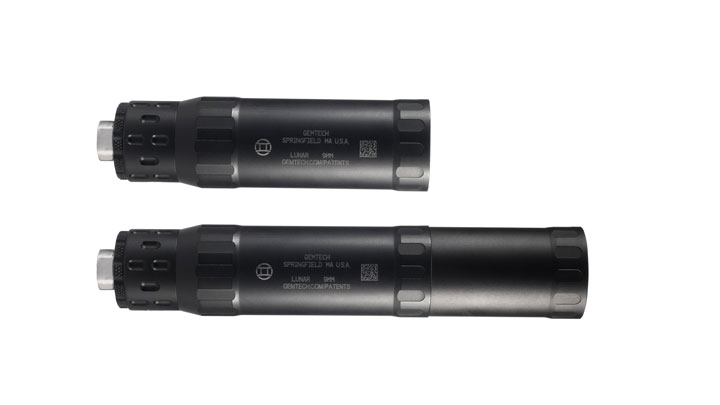 Like the Lunar 45, the 9 uses individual baffles in a departure from Gemtech's typical monocore design. In its full size configuration, the Lunar 9 uses 7 shielded, cone-type baffles inside of two tubes. Gemtech calls them "jet baffles" because of their resemblance to the back of an aircraft jet engine. In the first tube, a blast baffle is followed by two primary baffles, while the second contains one transition baffle and three secondary baffles.

Tabs keep them aligned with the baffle vents stacking at 180 degrees from each other. The shielded design keeps most of the soot away from the tube walls, making separating the baffles from the tube much easier when disassembling for cleaning while an O ring on the non-slotted piston prevents gas leakage.
The tubes, end cap, and all baffles except the blast baffle are made from 7075 aluminum with a black, hardcoat-anodized finish, and the piston is 17-4 stainless steel. The blast baffle, which is closest to the muzzle and bears the brunt of the heat and high pressure gas is made from 17-4 PH stainless steel for durability. The Lunar 9's serial number is on the first tube, so be careful not to damage it or you'll need to pay another $200 transfer tax to Uncle Sam if it needs replacement.
Gemtech recommends lubricating the piston and spring with high temperature grease and cleaning out powder residue and lead particulate at comparatively frequent 250 round intervals. The Company recommends this frequency because the moving parts within the booster work best when lubricated and they found that baffle wear "in pistol cans is due to particulate build up on internal surfaces that get dislodged and slams into other surfaces."
The Lunar 9 ships with a 1/2x28 TPI piston mount. Two additional thread pattern pistons and five threaded end caps for mounting the can onto fixed barrel firearms are available. There's also an end cap to attach this can to a Heckler & Koch tri-lug mount or to a tri-lug adapter also made by Gemtech that transforms your 1/2X28 or 1/2x36 threaded muzzle into a tri-lug mount.  

I'm glad Gemtech offers threaded end caps for many fixed barrel mounts instead of the less costly method of using a spacer collar slipped onto the piston in place of the booster spring. Threaded end caps are superior to the collar-on-piston method because without the piston, they provide a more rigid mount and free up a bit of internal volume for the expanding gas.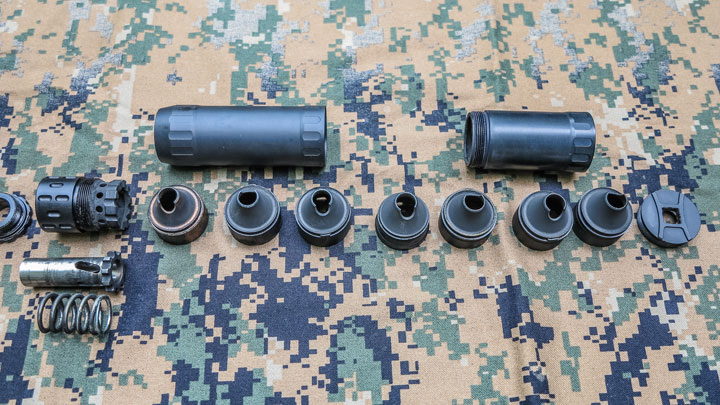 Range Time
My primary host weapon for this test was the Springfield Armory XD-M Elite OSP shooting Winchester's 147-grain TMJ Winclean, Winchester USA 115-grain FMJ, and American Marksman 115-grain reloads. The Winclean load is my subsonic go to ammo because it is reasonably priced, accurate, burns cleanly and uses bullets that are fully encapsulated on the base which prevents lead from building up inside the suppressor or on the muzzle device. Build-up of burnt powder fouling on the inside of the slide and pistol's insides—which are unavoidable when using a suppressor—are also a bit lessened with this load. Winclean's lead free primers also eliminate lead exposure to the shooter, which is a big advantage on many indoor ranges.
Live Fire with the XD-M Elite OSP
The XD-M Elite OSP is Springfield Armory's most upgraded XD-M. Holding 22+1 rounds with its extended magazine and 19+1 in the flush-fit mag, this pistol has crossover appeal for competitive and suppressor shooters. For the competition crowd, there's a flared magazine well, bilateral slide stops and mag release buttons, and an improved trigger with a nearly flat face that breaks just past 90 degrees.

For suppressor enthusiasts, the threaded barrel and high profile sights give an unobstructed sight picture with a mounted suppressor. Both groups will appreciate the rear slide cut that supports several red dot optics and three different backstraps to optimize trigger reach.
The Elite OSP's steel sights are drift adjustable and have fine, horizontal serrations and a matte finish that is effective at cutting glare. For my preferences, however, they could use a colored insert up front and a slightly wider rear notch that would make alignment quicker and more precise. Both front and rear sights are high enough and have leading edges that can be caught on a holster or boot to allow one handed racking of the slide if one hand is injured.
The XD-M Elite series triggers employ what Springfield Armory calls META: Match-enhanced trigger assembly. My sample's weight of pull measured 6.5 pounds at the middle of trigger face and 5 pounds at its bottom using a Lyman electronic scale. The break and reset stages each involve about ¼-inch of travel and there is zero overtravel.
With the Lunar 9 attached, the Elite OSP cycled perfectly with all three loads even when testing the limits of its booster mechanism by pointing the pistol directly downward and shooting with a loose grip. However, it is a more challenging test when a suppressor is attached to a compact pistol because the geometry of the barrel tilting used in Browning type designs make cycling with a suppressor more difficult as the slide length is decreased.  To test the Lunar's functioning on a compact, I used the Beretta APX Centurian Combat. Here, the Lunar 9 performed 100 percent with both Winchester loads, but balked when shot downward using the less powerful American Marksman reload.
As for change in point of impact using the Elite OSP, there was no movement in bullet strike point at 20 yards using the suppressor and group size was materially smaller due to its recoil dampening effect. Back blast to the firing hand and occasionally the shooter's face was moderate shooting the Elite OSP and minor with the APX Centurian.
Is it Quiet?
So now that the Lunar 9 proved reliable and didn't change where the shots landed at 20 yards, how quiet is it?

Gemtech states that muzzle report is reduced to 129 dBC in the long configuration using a Glock 17 Gen 4 using American Eagle AE9N2 and Remington L9MM9  ammo. However, because suppressor tests are often done using methods and sound meter settings that vary between manufacturers, I sound meter tested the Lunar 9 head- to-head against my Advanced Armament Corp Ti-RANT 9 which is regarded as one of the most effective 9 mm suppressors made.

My tests showed that on average over 10 shots, the Lunar 9 was effectively equivalent to the Ti-RANT, even after cleaning the grease from the booster and blast baffle which could skew the results. That's very good performance especially since the Ti-RANT is a bit longer than the Lunar 9. AAC rated this particular Ti-RANT 9's dry/wet sound reduction as 35-38 dbA. Neither suppressor had a first round pop.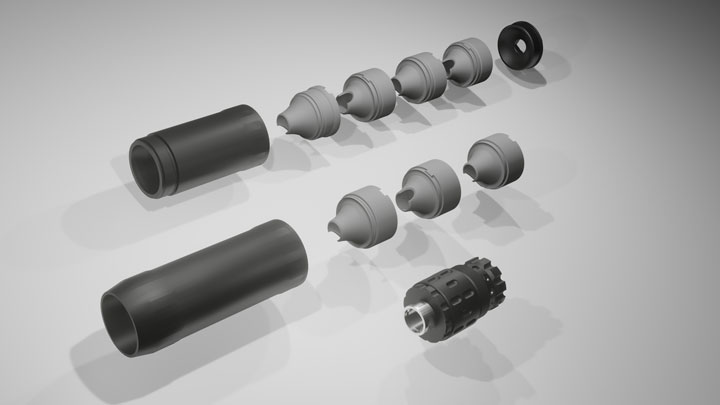 SPECIFICATIONS
Gemtech Lunar 9
Bore size: 9 mm
Permitted Calibers: 9 mm, .300 BLK subsonic
Overall Length: 4.7, 7 inches 
Width: 1.4 inches 
Weight: 7 ounces (short configuration), 10 ounces (long configuration) 
Construction: 7075 aluminum tube , secondary baffles and end cap, 17-4 stainless steel piston, 17-4 PH blast baffle
MSRP: $616

For more information on the Lunar 9 visit Gemtech.com.