The phrase "new and improved" has all but lost its meaning as anything but a marketing cliché, but that is exactly, and honestly, how I'd describe the Wolfman suppressor from Dead Air. The Wolfman is a follow-up and enhanced version of the company's Wolf-9SD, and though the two cans look nearly identical, the improvements were material, albeit subtle, and include a slightly different baffle design that works well with both supersonic and subsonic .300 BLK ammo. Other changes include an enlarged and more durable blast chamber and blast baffle, a change in the length of the short versus long configurations and a redesigned end cap that can hold a rubber wipe—one of which is included. There are even some new tool features on the back for easily changing the mount.
Though the Wolfman is made for pistol cartridges with a bullet diameter no greater than 9 mm, it can also handle subsonic .300 BLK, 5.56 NATO and 7.62x39 mm rifle rounds. And, when used with Dead Air's KeyMicro muzzle brake/mount, supersonic rounds in these calibers can also be fired because the mount's porting disperses a portion of the high-pressure gas to the side walls of the blast chamber, thus protecting the blast baffle from excessively high-pressure gasses. The Wolfman is also capable of handling full-automatic fire with pistol calibers and these subsonic rifle rounds.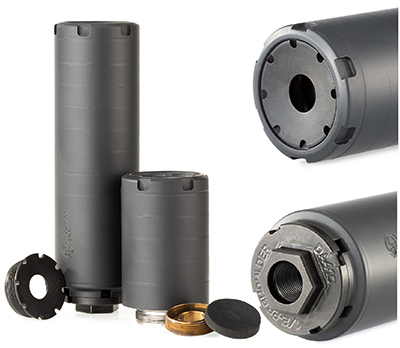 This can is effective, with testing by Silencer Shop showing a reduction of 22.1 dB to 32.2 dB in gunshot noise depending on the suppressor's configuration using subsonic ammo and an AR-style 9 mm pistol. It also demonstrates the characteristic neat welds and exemplary workmanship of Dead Air suppressors.
The Wolfman is a tubeless design made with 17-4 stainless steel conical-type baffles welded together in two sections. It can be configured in two ways: a seven-baffle short can that is slightly more than 5 inches long, and, by attaching a threaded add-on section, an 11-baffle configuration measures 7.5 inches. Both the short and long configuration attach to an end cap that can hold a rubber wipe. The respective weights of the short and long configurations are 9.8 and 14.4 ounces.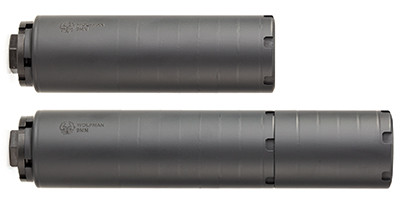 The Wolfman is a very generous 1.62 inches in diameter, compared with most 9 mm cans that are 1.38 inches. The added girth provides more volume for trapping gas and containing noise without adding length. It is finished with high-temperature black Cerakote and comes with a fixed mount threaded 1⁄2x28 tpi.
Those who fret that the Wolfman's welded baffles can't be disassembled for cleaning can put their minds at ease, because suppressors need to be cleaned of lead accumulation—not carbon fouling—which partially burns off with successive firing. If lead buildup is a concern, shoot jacketed bullets with fully enclosed bases and lead-free primers. Also, use the KeyMicro muzzle brake because a large portion of the vaporized lead will be deposited on its porting and redirected to the blast chamber walls. Most of what's left will be caught on the back of the blast baffle which, like the blast chamber, is accessible for cleaning.
One of the more attractive aspects of the Wolfman is the multitude of available mounts—13 to be exact—which makes it adaptable to different firearms and the mounting preferences of the shooter.
Dead Air includes a solid-rubber piece with a cross slot cut into it that fits the end cap and becomes a wipe after the first shot perforates it. Wipes reduce sound emission by trapping more gas inside the suppressor than is otherwise possible without risking a bullet striking an undersized baffle, but they wear out rapidly—especially when shooting hollowpoint and flat-nose bullets—and can diminish accuracy. The wipe on the Wolfman trims sound by about 2 dB in the long and 4 dB in the short configuration and provides complete first-shot-flash capture. Because ATF changed its thinking on wipes a few years ago, Dead Air can't send you a replacement after yours wears out, but you can replace it with a rubber 1-inch fender washer from a hardware store, just destroy the worn-out wipe first.
I tested the Wolfman in its long configuration without a wipe on a Wilkinson Arms Linda carbine. There was an occasional first-round pop, and at a distance of 30 yards, the group shifted left by .75 inch to 1 inch, but remained consistent in size. Increased backpressure on a 16-inch barrel is expected to be low, which it was, and was only noticeable given the close proximity of the ejection port to the shooter's face when using the Linda's iron sights. The Wolfman stayed snug to the barrel even when attached with a thread mount.
Overall, I found the Wolfman to be one of a handful of 9 mm suppressors that check all the boxes for quality construction, durability and longevity, along with effective noise reduction and many mounting selections. Combined with a lifetime warranty, it has much to offer those who seek a high-volume 9 mm suppressor.