Suppressing the AK-47 has never been easy. The long stroke piston is mechanically noisy and a sometimes over gassed operating system slams the bolt carrier rearward with excessive force, spewing gas back through the ejection port. Worse yet, these effects increase with the back pressure created by attaching a suppressor.
Challenges also arise with foreign-built AKs if the barrel has non-concentric muzzle threads, a muzzle face that's not square to the bore or an off-center bore. These issues don't matter much if you are only concerned with mounting a short flash hider, but they can cause a suppressor to be mounted at an angle to the bore and create baffle and end cap strikes. 
The Wolverine PBS-1 from Dead Air Silencers is engineered to mitigate these problems with a design that minimizes back pressure and baffle geometry that is forgiving of all but the worst instances of bore misalignment. When paired with the KNS Precision adjustable gas piston, the added noise and mechanical wear from an over gassed, sound suppressed AK can be tuned out completely. 
A New Take on an Old Design
The Wolverine closely resembles the Russian PBS-1 suppressor first made in the 1960s. Construction and performance-wise, however, the two cans are light years apart with the Wolverine's materials and quality easily exceeding that of the PBS-1 and, in fact, some AK rifles it could be used on. Whereas the PBS-1 was originally made only for subsonic loads and uses 10 flat steel washers stacked at 90 degrees to the bore and a rubber wipe, the Wolverine uses a fully welded core with seven conical shaped Stellite baffles contained in a 316 stainless steel tube. The Wolverine can also handle up to 7.62x54R caliber with no barrel length restriction and fully automatic fire in 7.62x39 mm. Finally, Dead Air's testing shows the Wolverine reduces noise by up to 30 dB while the Soviet PBS-1 is reportedly half as effective. Though it's built with the AK variants in mind, the Wolverine can be used on a variety of other rifles and 5.56 and 7.62 NATO calibers. Dead Air's Mike Pappas explains that "The Wolverine can really shine in a situation where you have a rifle that is sensitive to added gas pressure or is already over gassed. I really like it on roller-delayed HK kinda rifles."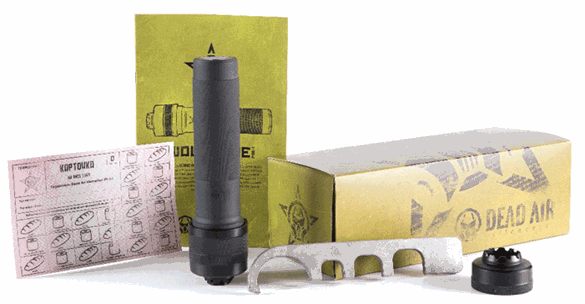 The Wolverine is thread mounted and has a notched collar that prevents the can from loosening by locking onto the spring-loaded pin on the AK's sight tower normally used to secure the flash suppressor. Dead Air offers nine different mounts and tested the Wolverine on 30 rifles including several makes of AK, the Krinkov, RPK, PSL, Gallil and RPD. This suppressor comes in a cleverly themed package that includes a manual written in Russian and English, reproduction Soviet ration card from 1947, two locking collars, 14 mm LH thread adapter, spanner wrench and a Velcro backed patch. The removable end cap is made with a 7.62 or 5.56 mm opening and is sold over-the-counter for easy replacement should you have any mishaps.
Installing the KNS Adjustable Gas Piston System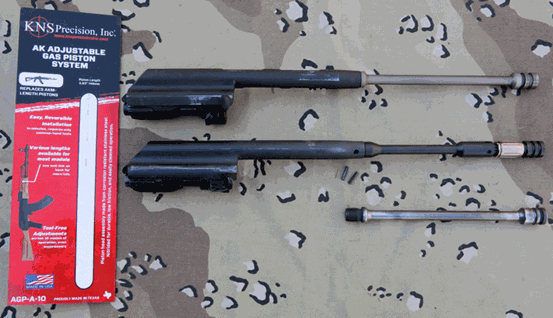 The KNS piston installs in 10 to 50 minutes depending on how easily you can drill out a rivet that secures the existing gas piston to the bolt carrier. Adjustment is simple. Close the regulator, then twist it open in 5 click increments and fire your rifle after each adjustment. Once cycling becomes sluggish, twist the regulator back to your preferred setting. There are 57 settings that allow you to fine-tune your rifle to different ammo and suppressors. The KNS piston is well-crafted of stainless steel with a nitride finish on all parts except the regulator and is available in 15 different lengths to fit a wide range of AK variants from Krinkovs to RPKs.
Live Fire with the Century Arms C39V2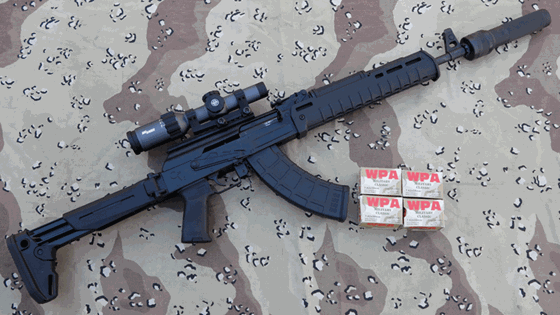 The Wolverine was tested on a Century C39V2 semi-automatic and a select fire AK-47. The C39V2 is a 100-percent American made rifle with a receiver milled from 4140 steel bar stock which provides more rigidity to the barrel mount and typically better accuracy than rifles using stamped steel receivers. This rifle doesn't suffer any of the barrel-muzzle concentricity problems encountered with some imports and also has enhancements that modernize and improve the AK's functioning, ergonomics and achievable accuracy. Some include a bolt hold open notch incorporated into the safety lever, longer buttstock and improved pistol grip, enlarged magazine catch, longer scope mount, muzzle compensator and a lighter bolt carrier to reduce perceived recoil. Century makes 4 variations of the C39V2 and I selected the Zhukov model, distinguishable by its Magpul furniture including a sturdy side-folding stock that reduces its length to 26 inches (33 inches with the Wolverine attached) enabling handy, discrete stowage in your car or home. For accuracy testing, I attached a Midwest Industries scope mount to the rifle's mounting plate and attached a SIG Sauer Tango6 scope. The Midwest mount uses a throw lever to attach and allows use of the rifle's native sights. The stock, however, could use a cheekpiece riser to naturally position your eye in line with the scope.
Range Results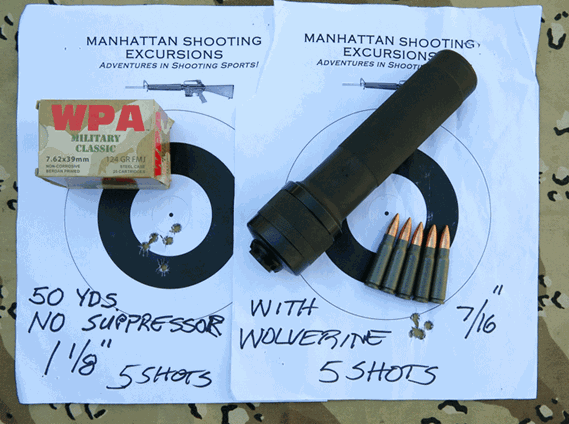 The C39V2 is better made than most AKs and its quality shows with typical five-shot, 50-yard benchrest groups of 1 1/8 inch to 1 5/8 inch using practice-grade Wolf Military Classic ammo and the factory gas piston.  More remarkable, however, was the improved accuracy using the Wolverine which consistently shrank group size, the smallest measuring 7/16 inch, which Mike Pappas attributes to improved barrel harmonic stability. The Wolverine shifted the bullet's point of impact by 3 inches, but because the shift was consistent after removing and remounting the suppressor, the shooter can dial in the correct predetermined scope setting without need to re-zero the rifle when switching to suppressed. Increased back pressure wasn't noticeable even when firing from the left shoulder with my face closer to the ejection port. Though the C39V2 is not an over gassed AK, the KNS Adjustable Gas Piston performed as advertised and was particularly helpful in reducing the slightly increased rate-of-fire caused by suppressor induced back pressure on a selective fire AK-47 firing in automatic mode. As expected, the added weight made the rifle muzzle heavy, which is a trade-off you can't avoid with a full-auto rated suppressor as durably made of steel as this one. Dead Air's and others' tests show the Wolverine cuts noise between 19.5 to 30 dB with the type of rifle used being one of several determining factors. On a purely subjective basis, it also improves the tone of the AK's report by cutting out the especially harsh noise from vented muzzle brakes. 
Specifications

| | |
| --- | --- |
| Bore Diameter: | 7.62 mm |
| OAL: | 7.4 inches |
| Width: | 1.93 inches mount, 1.5 inches tube |
| Weight: | 19.8 to 24.4 ounces depending on mount |
| Construction: | 17-4 stainless steel mount, 316 stainless tube and end cap, Stellite baffles |
| Finish: | Black nitride on mount, Cerakote on Tube |
| MSRP: | $1,099 |