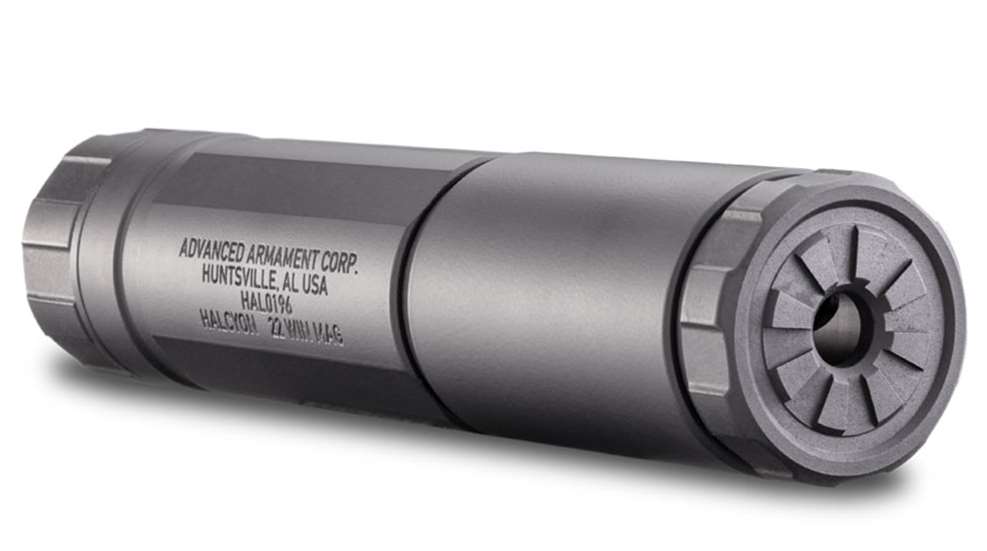 This article, "Advanced Armament Corp. Halcyon Suppressor" appeared originally as a Gun Locker review in the February 2019 issue of Shooting Illustrated. To subscribe to Shooting Illustrated, visit the NRA membership page here and select Shooting Illustrated as your member magazine.

When it comes to Hollywood and guns, two things stand as eternal truths: suppressed guns are far quieter in the movies than in real life, and Tinseltown is replete with hypocrites determined to deprive you of your right to own them. Fictional depictions of suppressed gunfire only approach the real thing if we limit the comparison to rimfire suppressors, for several reasons. Rimfire cartridges produce relatively small volumes of gas that can be contained in an acceptably sized suppressor and the bullets are lighter and launched at lower velocity than centerfires. Another reason relates to bore diameter. Rimfire calibers and thus suppressor-bore diameters are small and as a result trap combustion gases more effectively inside the can allowing them to cool and decelerate compared to larger diameter bores, which emit more gas and sound directly behind the bullet.
The Halcyon is the newest rimfire suppressor from Advanced Armament Corporation (AAC) and is configurable into 3.4- or 5.2-inch lengths. Weight in full-size configuration is 6 ounces, and it is constructed with a 1-inch-diameter aluminum tube finished in Cerakote, holding seven titanium-shielded, K-type baffles. These baffles keep combustion gases inside the core, preventing lead and carbon buildup from cementing them to the tube. The Halcyon's baffle design also reflects an obvious investment in R&D, with gas channels and surface contours more sophisticated than the majority of rimfire cans, including some from big-name makers. These design efforts paid off with a suppressor that I found at least as quiet as one of the top-rated competitive models. AAC claims an impressive 42 dB reduction in sound. For details on allowed calibers, refer to the accompanying table.


The Halcyon comes with a ½x28 tpi thread adapter that can be switched to adapters with different-size threads, though none are currently offered. The unit is easily disassembled for maintenance without a wrench and the only part typically requiring a change is a single O-ring, which can be purchased over the counter. Recommended cleaning is 1,000 to 2,000 rounds, which should not be ignored because vaporized and condensed lead typically accumulates in the blast baffles. Reassembly is simple, with notches on each baffle ensuring proper rotational alignment. Care must be taken to identify the blast and transition baffles, which have unique placement in the stack.


One of the attractive aspects of owning a rimfire suppressor is the availability of well-made suppressor-ready pistols, with the Ruger MK-series and Browning Buckmark pistols among my favorites. Smith & Wesson also offers 22s with threaded barrels, so I tested the Halcyon on the new Victory Performance Center model. This pistol has a rubber O-ring that secures its muzzle brake to the barrel, which made removing the brake and snugly mounting the Halcyon in its place much easier than had a crush washer or other securement method been used. The Halcyon is light and short, so the Victory did not feel the least bit muzzle heavy, and the sights were completely unobstructed when aiming. The Halcyon's nylon Multicam-pattern belt pouch was also appreciated when plinking afield.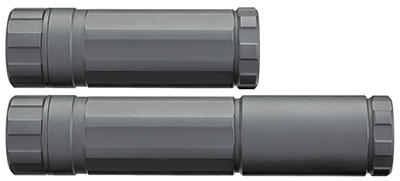 The Victory functioned perfectly—and quietly—with the Halcyon. First-round pop was rarely heard, there was no shift in point-of-impact and group sizes decreased noticeably when shooting offhand due to the steadier hold and recoil dampening a suppressor often provides.
With respect to sound signature, ammo selection matters—a lot, as does running the can "wet." While subsonic-velocity ammo doesn't create a supersonic-blast sound wave that can't be suppressed, adding water or an ablative material cools and slows the hot expanding gasses reducing sound as a result. Remington's Subsonic ammo was subjectively the quietest of three subsonic loads tested, but it also generated the lowest velocity of 853 fps—about 128 to 150 fps less than the others.
So is the Halcyon really "Hollywood quiet"?  The answer, of course, isn't clear cut, because it hinges on your expectations and the subjective perceptions of each listener's ears. But one thing isn't debatable in the least: If you are seeking the facts about firearms or their responsible use, Hollywood is the last institution on earth anyone should consult.