Silencers bearing the CZ-USA brand don't come to mind for most suppressor-conscious shooters, but two years ago, CZ-USA introduced a new line of four suppressors, including two intended for rimfire cartridges. One model is detachable, while the other is integral to CZ's bolt-action 457 varmint rifles and is made by boring out the front of the barrel for a seamless barrel-suppressor transition; aside from looking at the muzzle, you can't tell the rifle is suppressed.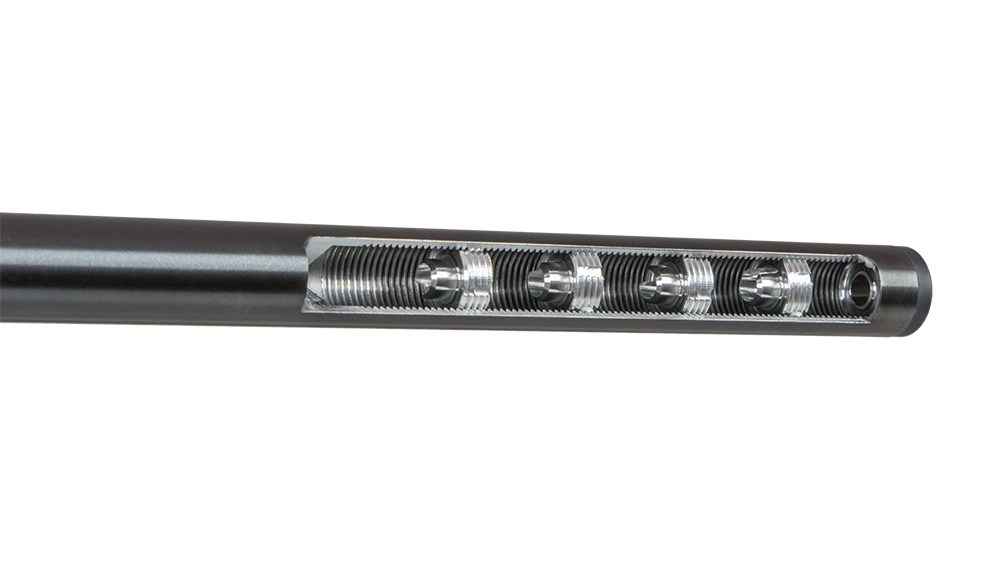 It's a neat way to build a suppressor, but what makes CZ's rimfire cans unusual is the baffling, which consists of only four simple conical inserts made of 7075 aluminum that screw into the inside walls of the suppressor. A tool sets and removes the baffles with markings to show even spacing, which is the recommended setting. You can also experiment with the placement of these baffles to try to tune this suppressor to different loads.

This review will focus on the detachable CZ Rimfire suppressor, which is rated for any rimfire cartridge with a bullet diameter less than .224 inch including .22 WSM, .17 HSM and .17 HMR. Made completely of 7075 aluminum and using a 1/2-28 TPI thread mount, this can is 6.9 inches long, .866 inch in diameter and weighs a mere 2.5 ounces. It's among the longest, lightest and narrowest rimfire cans available.


However, it must be handled with care, as aluminum tubes are vulnerable to dents, which could impede the removal of the baffles. A single cross thread will also damage the integral mount. I would also avoid frequently attaching/removing this can, because variations in the threads on your steel barrel may abrade the suppressor's threads and degrade its fit. If you do intend to attach and remove the CZ Rimfire frequently, I'd suggest using a quick-detach mount like those available from GemTech.

I tested the CZ Rimfire alongside two other suppressors known for being very effective using two of the best suppressor ready .22s: the CZ 457 Varmint Precision Trainer rifle and the Ruger MK IV Target pistol. I used CCI 40-grain Standard Velocity ammo for the rifle, and both this load and Federal Premium 36-grain JHP ammo with the pistol. Here's what I found.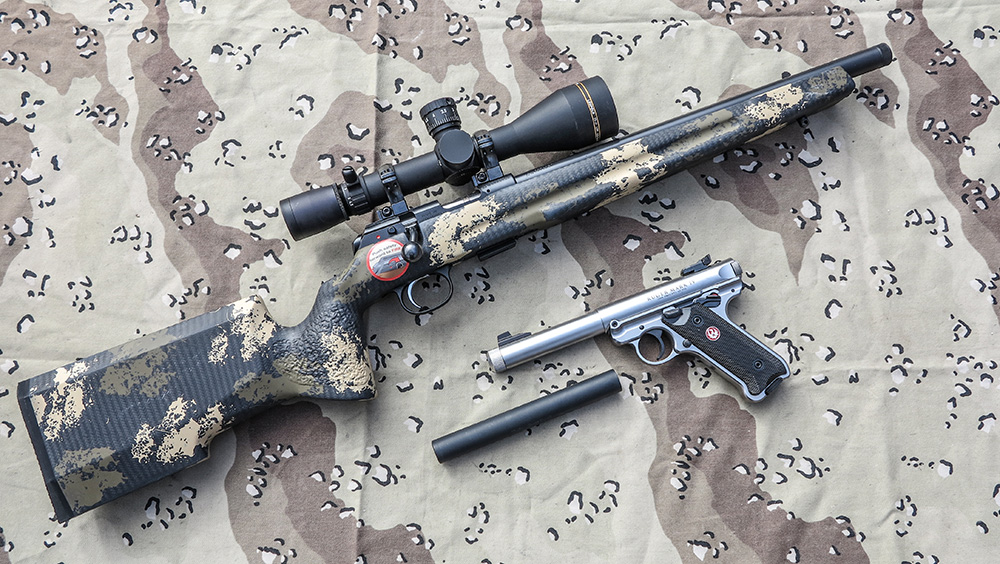 Rifle Results

The CZ 457 Varmint was equipped with a Leupold VX-3i scope and shot from a Caldwell Tack Driver rest at 50 yards. Though the CZ 457 has an adjustable trigger that is very adaptable to user preferences, I kept it at the factory setting that measured 3 pounds, 6 ounces using a Lyman electronic gauge. With or without the CZ suppressor installed, the 457 consistently delivered five shot groups under .75 inch, and 10-shot groups that averaged .75 inch. Several groups had clusters measuring .375-.5 inch with 1-2 fliers widening them, indicating that average group size would be much smaller with match ammunition. 

Group size and placement on target was unaffected after detaching and reattaching the CZ Rimfire. In contrast, the 457's group size increased usually by as much as .5 inch with one of the comparison suppressors, demonstrating once again how manufacturer-matched products tend to be most compatible.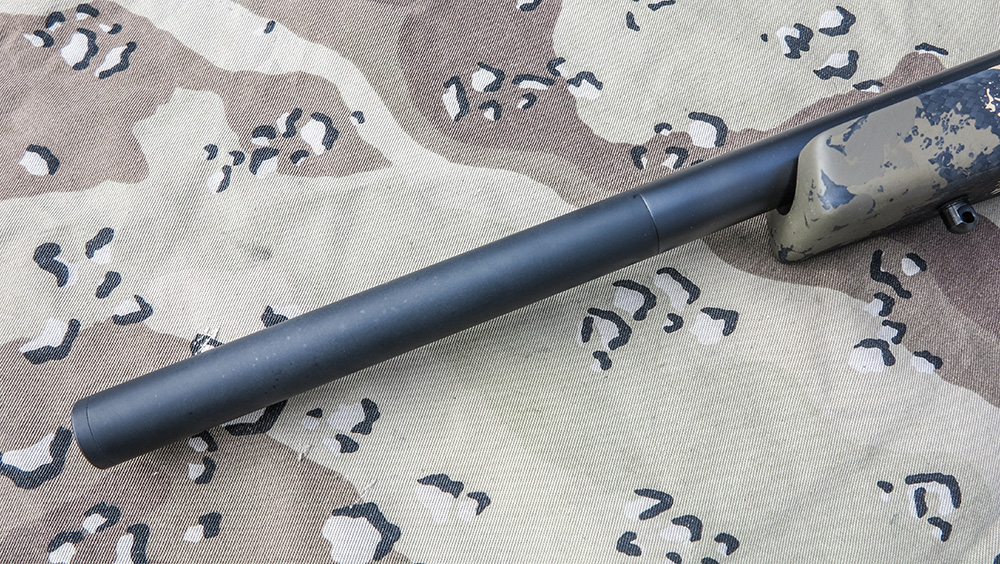 CZ does not publish sound reduction data on its suppressors, so I measured all three suppressors in succession on the same day using the same ammo. Despite this can's narrow diameter and having only four simplistic baffles, the results were surprisingly good, with the 10-shot average decibel level measuring 3.8- 4.3 decibels less than the other two suppressors. This difference was also perceptible, though slightly, to the ear. I won't publish the absolute decibel measures, because the testing procedures I used differ from the industry standard, but the comparisons are valid and borne out by my ears.

Pistol Results

A different story emerged when shooting the Ruger MK IV. Here, the CZ Rimfire suppressor produced noticeably more first- and second-round pops than the other two suppressors, especially when shooting the high velocity ammo. However, the average sound levels of two 10-shot strings showed all three units performed nearly equivalent with differences of 1 decibel at most. Why was the CZ Rimfire's sound reduction superior to the two comparison units with a rifle but practically the same when mounted on a pistol? It's a great question, and the answer probably relates to how the suppressors' designs handle the higher gas pressure emitted by pistol-length barrels.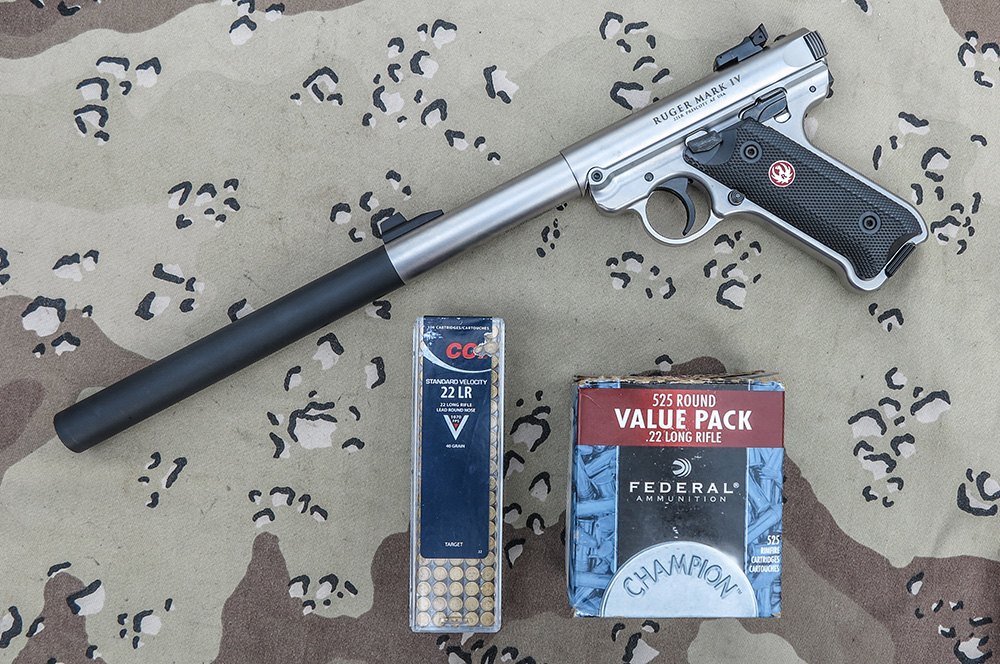 The Ruger MK IV shot the same size groups without shift in point of impact using all three cans and functioning was unchanged with no backpressure felt on the face or firing hand. The CZ Rimfire's narrow-diameter tube matches the thickness of the Ruger's bull barrel and would be useful on pistols with low-profile sights compared to thicker suppressors that could obstruct your sight picture. Weighing only 2.5 ounces, the CZ Rimfire did not affect the Ruger's excellent handling and pointing characteristics.

Cleaning

Rimfire suppressors require cleaning to remove lead deposits that accumulate inside the core, which diminish effectiveness and eventually make disassembly difficult without damaging the unit. Though the CZ Rimfire's threaded interior walls seem to invite lead buildup, each baffle has six places around its threaded circumference where the thread is interrupted, forming a cutter of sorts to scrape the threads on the tube clean in a manner similar to how a tapping tool cuts threads. CZ recommends cleaning at 300-round intervals, but I'd clean at 200 if you use it exclusively on a pistol. The included baffle tool works well, and the baffles unscrew easily. If you encounter excess resistance, spray oil onto the interior threads.

CZ Rimfire Specifications

Bore size: .22-inch
Permitted Calibers: Any rimfire with a bullet diameter less than .224 inch, including .22 WSM, .17 HSM and .17 HMR
OAL: 6.9 inches
Width: .866 inch
Weight: 2.5 ounces
Construction: 7075 aluminum
MSRP: $339