by
Evan Brune, Associate Editor, Shooting Illustrated
posted on September 26, 2016
Support NRA Shooting Illustrated
DONATE
Otis Technology introduced a new line of four cleaners, three lubricants, two protectants and two CLPs that are biodegradeable and designed to break down fouling and buildup in firearms.
Otis' Complete Cleaner is a catch-all remover for carbon, copper and lead and also acts as a rust preventative. The Complete Cleaner is safe for use on all gun metals.
The new biodegradeable Copper Remover targets copper buildup in a firearm's bore and, like the Complete Cleaner, works as a rust preventative and is safe for use on all metals.
For shooters who focus on AR-style rifles, Otis has its new MSR/AR Cleaner that is designed for effective cleaning on bores, bolt carrier groups, locking lugs and other hard-to-clean spots on AR rifles.
All of Otis' new biodegradeable cleaners are available in two-ounce and four-ounce bottles.
In addition to the targeted cleaners, Otis also provides its Firearm Surface Prep in a 10-ounch aerosol can to clear away carbon, grease and grit in hard-to-reach areas of a firearm. The Surface Prep does not require disassembly to work, and no rinsing is required. Simply wipe away grime after spraying down the targeted areas.
For protection against wear on moving parts, Otis introduced two new biodegradeable options: Firearm Grease and Firearm Lubricant.
The Firearm Grease formula is designed to protect actions, triggers and slides with a unique bio-based formula that withstands friction in low- and high-temperature environments. The formula includes an aluminum complex thickener combined with additives to prevent wear and protect against corrosion. The grease is non-toxic and comes in a half-ounce tube with brushes for application.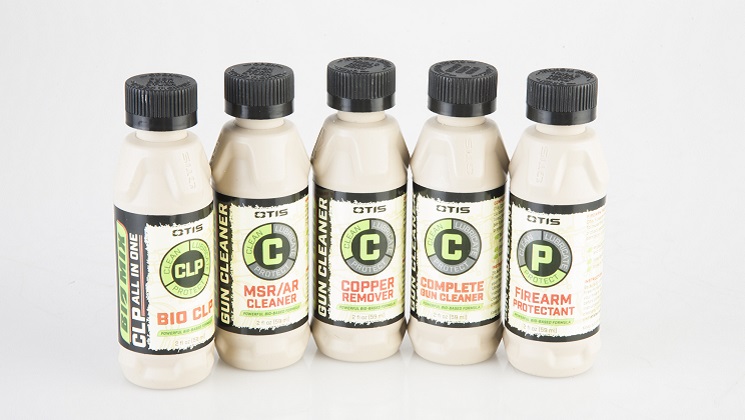 Otis also introduced its biodegradeable Firearm Lubricant, designed to collect in tight spaces in a firearm's action and barrel. Its formula is designed to protect both internal and external metal parts from wear and corrosion, and it also works to protect surfaces that are subject to friction. The Firearm Lubricant is available in two-ounce and four-ounce bottles as well as a 10-ounce aerosol.
For targeted defense against rust and corrosion, Otis offers its new formula in the form of its Firearm Protectant and Long-Term Protectant. The Firearm Protectant uses a bio-based formula that works on the principle of water displacement. This works to protect guns from oxidation, rust and corrosion for a short-term period of 3-6 months. The Firearm Protectant is available in a two-ounce bottle and a four-ounce aerosol.
For long-term storage, Otis provides shooters with a Long-Term Protectant. This formula works on the same water-displacement principle as the protectant, but it includes a thin, waxy film that protects firearms for 12 months of indoor storage. The Long-Term Protectant is available in a four-ounce aerosol.
For those times when shooters need an all-in-one solution for a quick fix, Otis provides a new Bio CLP offered in two-ounce and four-ounce bottles. With its biodegradeable formula, the Bio CLP works to remove fouling and carbon buildup while simultaneously reducing surface friction and providing a thin film to seal out moisture.
Shooters looking to try out the range of bio-based products offered by Otis can try out the company's Bio-Mix Starter Pack. The kit includes half-ounce samples of the Complete Gun Cleaner, Firearm Lubricant and Firearm Protectant, along with an applicator brush, for a suggested retail price of $5.99.