by
Shooting Illustrated Staff
posted on February 16, 2021
Support NRA Shooting Illustrated
DONATE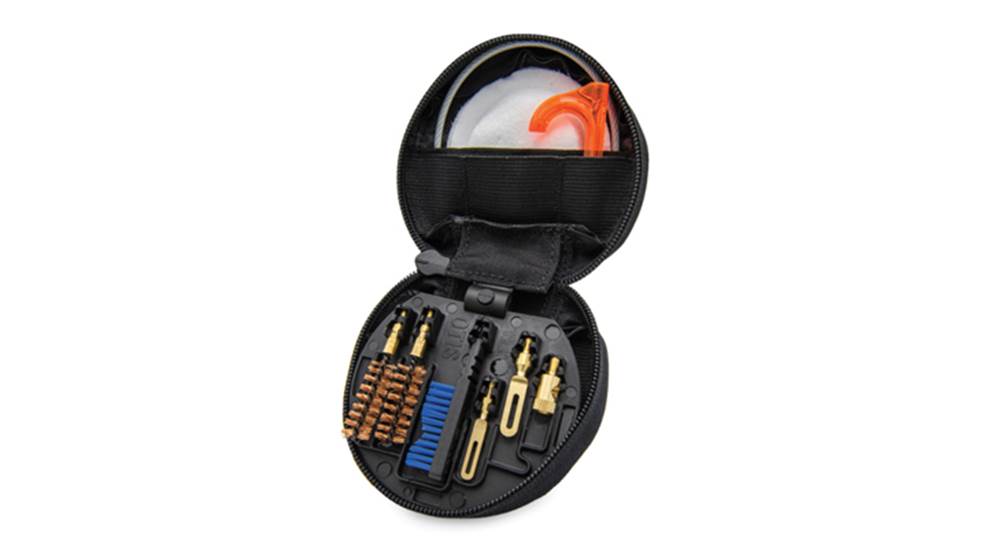 Otis is introducing the Professional Pistol Cleaning Kit, a new addition to their family of cleaning kits geared toward pistol shooters. This new kit cleans and maintains 9 mm, .40 S&W and .45 ACP caliber Glock pistols, making it easier to clean your specific firearm. The kits feature Otis's Breech-to-Muzzle technology, and the Professional Pistol Cleaning Kit for Glocks version has three bronze and three nylon bore brushes, Memory-Flex cables, and three caliber-specific Ripcords for 9 mm, .40 S&W and .45 ACP calibers.
"We're excited to offer a cleaning kit which caters to a growing industry," remarks Larry Williams, CEO of Otis Technology. "Not only were we able to incorporate our tried and true products, but also some additional accessories, like the magazine plate disassembly tool, which really rounds out the functionality of the kit."Otis offers a number of pistol cleaning systems, but this is the first one to offer magazine removal tools and customizable accessories."
Also included in these kits are a steel pistol loop rod and Otis's 8-in-1 pistol T-Tool for pushing and resetting pins in your pistol, front sight adjustment, and other functions. The kit also comes with a magazine plate removal tool and a patriotic slide backplate to customize your Glock.
Otis Professional Cleaning Kit for Glock Features
3 bronze & 3 nylon bore brushes, slotted tip, obstruction remover, Memory-Flex cable and patches

3 included Ripcords cleaning cords (9 mm, .40 S&W, .45 ACP) 

Steel Pistol loop rod and square patches for an additional cleaning method

FP-10 Lubricant Elite cleans, lubricates and protects

Nylon AP Brush with double ends for large surface scrubbing or precise, detailed cleaning

8-in-1 pistol T-Tool for resetting pins, pushing takedown pins, front site adjustment and more

Easily remove the magazine plate for cleaning & maintenance with the included tool

Bonus Slide Back Plate ($24.99 value) compatible with Gen 3 and 4 model Glocks, excluding the 42, 43, 43x, 48 as well as all Gen 1, 2 and 5 Glocks
The Professional Cleaning Kit retails for $99.99. More information on this kit and other items for Otis Technologies is available at otistec.com.