Keeping your firearms in top shape is essential for their longevity and performance. However, cleaning them can be a time-consuming and tedious task. This is where the right cleaning products come in. Let's look at four top cleaning products from Hoppe's, Otis, Breakthrough Clean Technologies, and Radcolube that can make cleaning your firearms a breeze.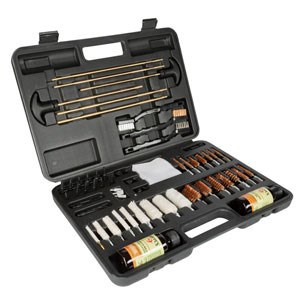 Hoppe's Deluxe Cleaning Kit
Hoppe's has been a mainstay in the firearms cleaning world for decades, one of the top-selling cleaning product brands on the market. If you're looking for a comprehensive mash-up of tools and cleaners, the 62-piece Deluxe Cleaning Kit might be the one for you. It contains an assortment of tools and potions to keep your firearms clean and ready to use, including the legendary Hoppe's No. 9 Bore Cleaner, Lubricating Oil, and full-size brass rod and components. All parts are contained inside the durable, reusable locking tab carrying case. MSRP is $73.95.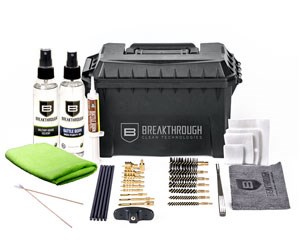 Breakthrough Clean Technologies Ammo Can Cleaning Kit
Known for its Military-Grade Solvent and Battle Born Grease and High-Purity Oil, Breakthrough Clean Technologies has packaged its most popular cleaning and gun care products along with an assortment of tools, including a threaded T-handle and push rod that extends up to 37 inches with cleaning jags for multiple calibers from .22LR/.223 through 9mm, .38, .45, and a few more. There are also stiff-bristled brushes in the same calibers. All of these items are neatly contained in a lightweight plastic ammo can. MSRP is $129.99.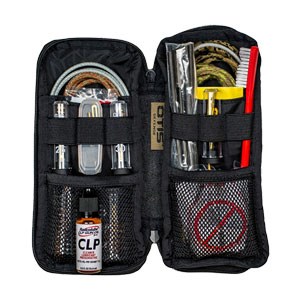 RadcoLube Multigun Cleaning Kit
RadcoLube is a relative newcomer to the gun cleaning market compared to some of the more traditional brands we've all come to love over the years. But they have quickly shown they can keep up with the big boys. The Multigun Cleaning Kit features bore brushes for 9mm, 5.56, 7.62, and 12 Gauge as well a sample size bottle of Radcolube CLP, their all-in-one cleaner, lubricant and protective formula. Keep your barrel clean between deep cleanings with the included Ripcords and Microfiber Radcolube CLP Towel. Hold it all together in the zippered nylon pouch with straps for carrying or affixing to your range bag. MSRP is $149.99.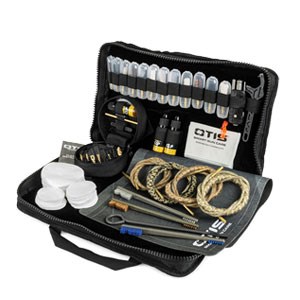 Otis Elite Pistol Version Universal Cleaning Kit
The Otis Elite Pistol Version continues the Elite line with Otis' trademark Breech-to-Muzzle cleaning gear for .22cal, .38/.380/9MM, .40, .44, and .45 caliber pistols with nylon and bronze bore brushes as well as mops tucked in their own little cases and tied to the case with elastic loops for easy organization. Four Ripcord barrel cleaners from .22LR up to .45 are included, as well as a cleaning 11-inch by 17-inch mat to protect your workbench and the firearm's finish from scratches. It even includes two orange chamber flags for visual verification that the gun is safe for cleaning. MSRP is $169.99.

No matter what cleaning kit you use, be sure to use only tools and cleaning solutions designed for firearms. Dawn make take grease out of the way, but it does terrible things to guns. Don't use household detergents. Take excellent care of your guns, and they will take care of you.