Support NRA Shooting Illustrated
DONATE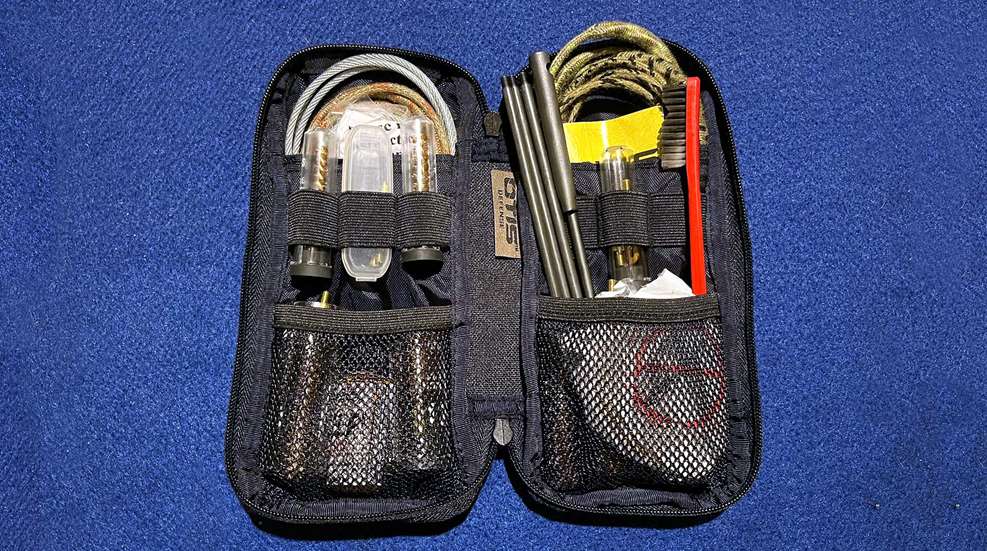 I recently had the opportunity to try out the new Multigun Cleaning Kit from Radcolube CLP and turned out thoroughly impressed with its performance and the value it offers. I'm not easily impressed by cleaning kits because many of them are fine, but nothing out of the ordinary. After using the Multigun Cleaning Kit, however, I can confidently say that it has earned its place as an essential tool in my firearm maintenance arsenal.
When I received the kit, I was immediately struck by its professional presentation. The compact and rugged case is visually appealing and highly functional, keeping all components organized and easily accessible. This attention to detail in the packaging reflects Radcolube's commitment to quality, a theme throughout the kit.
What's Included In The Kit?
A 0.5 ounce bottle of Radcolube CLP
Bore brushes for 9mm, 5.56mm, .30 and 12 gauge
A 12 gauge mop
Ripcords
A sectional cleaning rod
Cleaning jags
Scrub brushes
Patches
A microfiber Radcolube CLP towel
Zippered pouch with straps
How It Performed
One of the standout features of this kit is its versatility. Whether you're a seasoned shooter with an extensive collection or a novice gun owner, the Multigun Cleaning Kit has you covered. The kit includes a comprehensive selection of high-quality cleaning tools for various firearms, from pistols to rifles and shotguns. This eliminates the need for multiple specialized cleaning kits, making it a cost-effective solution for anyone owning different firearms.
The cleaning rods included in the kit are well-designed and feel sturdy. The rods are segmented, allowing for easy length customization, depending on the firearm you're cleaning. This adaptability is a testament to the thoughtful design of the kit, ensuring that users can achieve optimal cleaning results for different barrel lengths.
The variety of brushes and bore tips included further showcases the kit's versatility. I could easily clean everything from tight pistol barrels to larger shotgun bores. The brushes' bristles are durable yet gentle on the bore, ensuring a thorough clean without the risk of causing any damage. Additionally, the kit includes cotton patches that fit perfectly onto the bore tips, aiding in removing fouling and residue.
One of the aspects that truly sets the Multigun Cleaning Kit apart is the inclusion of Radcolube CLP's cleaning and lubrication products. The CLP (Clean, Lubricate, Protect) approach is a proven method for firearm maintenance, and having access to high-quality CLP products in the same kit is a major convenience. The cleaning solvent effectively dissolves carbon buildup and fouling, making cleaning more efficient. The lubrication oil provides smooth protection, ensuring proper functioning and reducing wear. And the protective grease is a valuable addition, especially for high-friction components that require a more heavy-duty lubricant. Radcolube has been supplying the US military with gun cleaning supplies since 2017.
The entire kit is housed inside a Defender series pouch from Otis, another long-time military cleaning gear supplier. This kit is a collaboration between Radcolube and Otis that is currently only available through Radcolube but -- fingers crossed -- might one day be featured on Otis' website as well.
The Multigun Cleaning Kit truly shines. Considering the comprehensive selection of cleaning tools, the inclusion of high-quality CLP products, and the overall durability of the components, the kit offers exceptional value. I've used other cleaning kits that felt like a collection of afterthoughts, but the Multigun Cleaning Kit feels like a carefully curated and purposeful set of tools.
A Clean Finish
The Multigun Cleaning Kit from Radcolube CLP exceeded my expectations in every aspect. Whether you're a competitive shooter, a hunting enthusiast, or a casual gun owner, the Multigun Cleaning Kit is a worthwhile investment of $149.99 that will undoubtedly contribute to the longevity and performance of your firearms.