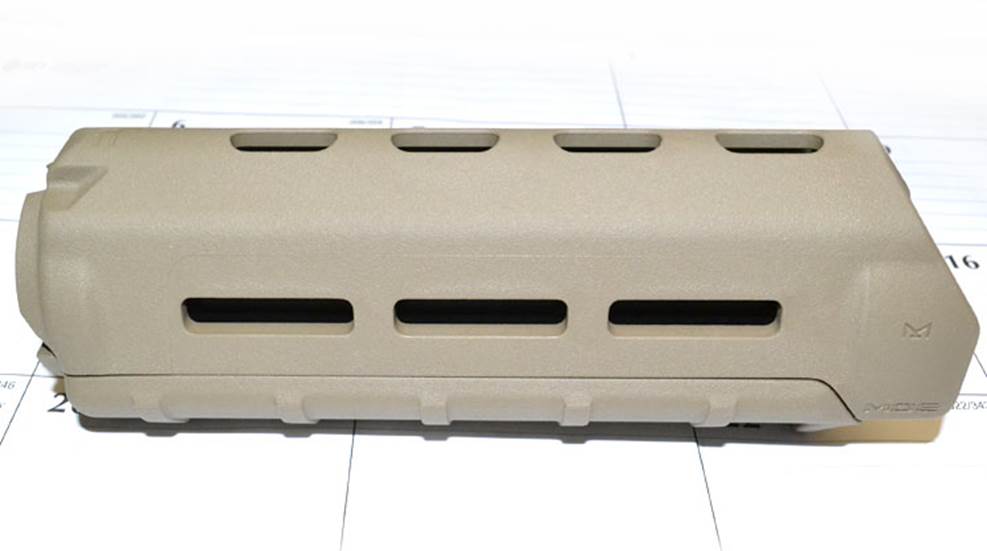 The M-LOK attachment system for accessories has only been on the market a short while, but Magpul hasn't wasted any time getting accessories out. From the initial MOE SL handguard to the most recent offerings, Magpul has been very busy cranking out useful parts and accessories featuring this exciting new system.
The M-LOK Handguard, Carbine length has M-LOK slots at the 2-, 6- and 10-o'clock position for rails, lights, fore-ends and numerous other accessories. Traditional accessories can be mounted on specific lengths of Picatinny rail (available in sizes ranging from 3 to 11 slots), while M-LOK-specific accessories attach directly to the handguard. It's quick, easy and allows for parts to be swapped out faster than ever thought possible.
Until you use it, you don't fully appreciate how easy the M-LOK system makes attaching accessories. It literally is as simple as turning a screw (well, a hex-bolt, but you get the idea). To attach an M-LOK-compatible vertical foregrip to an M-LOK handguard, you simply line up the M-LOK cammed nuts with the holes in the handguard, space the nut to accommodate the plastic or metal, then turn the nut until it won't move further. Removal requires the opposite be done, and nothing else. You can add or remove accessories as quickly as you please.
MSRP: $29.95. Available in black and flat dark earth.