by
Shooting Illustrated Staff
posted on December 19, 2014
Support NRA Shooting Illustrated
DONATE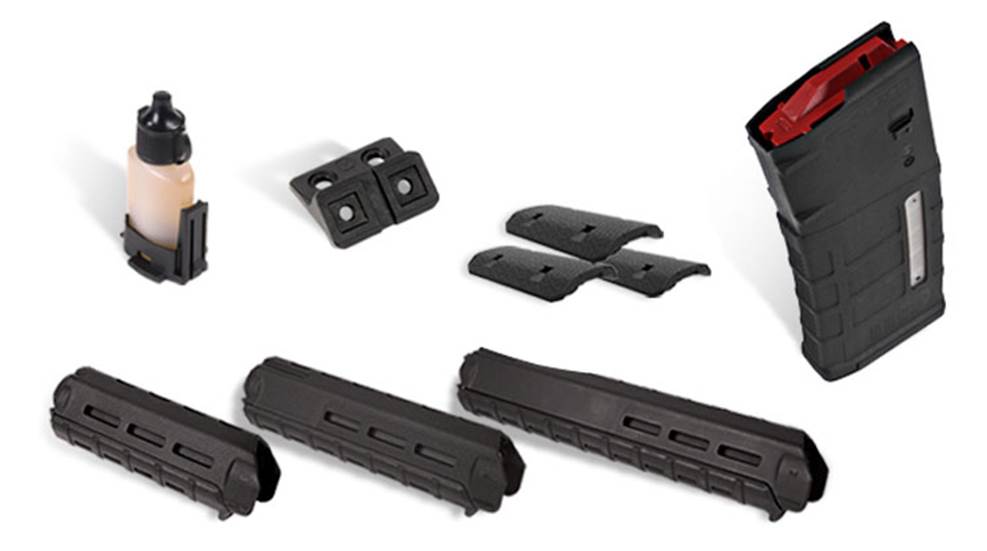 Magpul Industries is pleased to announce the following products will be made available to our customers and shipping immediately: MOE M-LOK Hand Guards – Rifle, Mid, and Carbine lengths; PMAG 25 M118 LR/SR GEN M3 Window; Grip Core Lube Bottle; M-LOK Offset Light Mount, Polymer. Shipping January 1st, 2015 will be M-LOK Rail Covers, Type 2.
MOE M-LOK Hand Guards – Rifle, Mid, and Carbine lengths
MOE Hand Guards are drop-in replacements for the standard AR/M4 plastic hand guards, with M-LOK slots at the two, six, and ten o'clock positions for mounting rail sections and accessories. Designed for use with piston and direct impingement gas systems, MOE Hand Guards combine the light weight and simplicity of a standard hand guard with improved modular flexibility. Available in rifle, mid, or carbine-length models, the reinforced polymer construction provides operational durability without the weight and cost of an aluminum railed hand guard. The front extension provides additional grip length and shields the operator from hot front sight assembly.
MSRP: $29.95 to $39.95.
PMAG 25 M118 LR/SR GEN M3 Window
The 7.62x51 NATO (.308 Winchester) PMAG 25 M118 LR/SR GEN M3 Window is now compatible with M118 LR and other match ammunition under 2.830" OAL. This is a lightweight, cost effective, high reliability magazine for SR25/M110 pattern rifles featuring true 25-round capacity, constant-curve body, anti-tilt follower, snap on Impact/Dust Cover, and features transparent windows to allow rapid visual identification of approximate number of rounds remaining. This product is easy to distinguish from the PMAG 25 LR/SR due to a change in the follower color.
MSRP: $22.95.
Grip Core Lube Bottle
The Magpul MIAD/MOE Lube Bottle Core is an internal grip core that holds an included ½ oz. reusable lubrication bottle.  Designed to work with the MIAD Gen 1.1, MOE, MOE+, MOE K2, MOE K2+, MOE-AK, and MOE-AK+ grips.
MSRP: $14.95.
M-LOK Offset Light Mount, Polymer
The M-LOK Offset Light Mount, Polymer provides the user with an ambidextrous platform to mount weapons lights at both the 11 and 1 o'clock positions on M-LOK compatible hand guards. This mounting solution is constructed of polymer and has beveled ends and corners to prevent snagging. The Offset Light Mount allows for the direct attachment of the Surfire M300/600 Series Scout Light or other 1913 Picatinny mounts. The optional Magpul Light Mount V-Block and Rings can also be used to attach hand held lights with a diameter from .75" to 1.03".
MSRP: $17.95.
M-LOK Rail Covers, Type 2
M-LOK Type 2 Rail Covers are low-profile, two-piece covers that install directly onto M-LOK compatible systems. These M-LOK Covers are non-orientation specific which allow the user to mount them in any direction desired without affecting function. The contact surfaces on these covers are textured using the Magpul TSP texture for additional grip, adding slightly more than 1/8" from the mounting surface, these covers also feature a beveled contour to minimize potential snagging. The locking tab is pre-scored down the center to allow the user to snap off sections and mix and match colors for a more custom look. Includes six panels.
MSRP: $12.95.