Full disclosure up front: before I received this holster for review, I had never heard of Dinosaurized. Maybe you have, but they were new to me. I reached out after seeing an advertisement showing what looked like a decent belly band and asked if they would want to send me one to try out. They said yes, and a little while later, it magically appeared in my mailbox. I had no idea if it would be any good. As it turns out, this seems to be an exceptionally good belly band for the money. Let me explain.
In a way, the Dinosaurized 3-in-1 Belly Band is like a host of similar products from more well-known companies. There are very few genuinely innovative belly bands out there. They all have stretch material, hook-and-loop fasteners to keep them tight around your waist, and various pouches for your gun and accessories such as a knife, flashlight, and spare magazine.
This holster has all those things, plus a bonus: a zipper pouch in front big enough to securely store a cell phone if you like to listen to music on the go. Of course, you can stash whatever you want, such as a thin wallet or house keys, but it's designed to keep your smartphone handy.
Structurally, the 3-in-1 starts with a polypropylene wetsuit-type material that is stretchy enough to adjust to inexact waist measurements. The inside of the band is soft and non-abrasive and feels nice against the skin. The outside continues the soft theme with a similar feel and one hidden feature: The fabric serves as a replacement for a loop field, as the hook-and-loop field on the closer flap grabs anywhere, offering unlimited adjustability.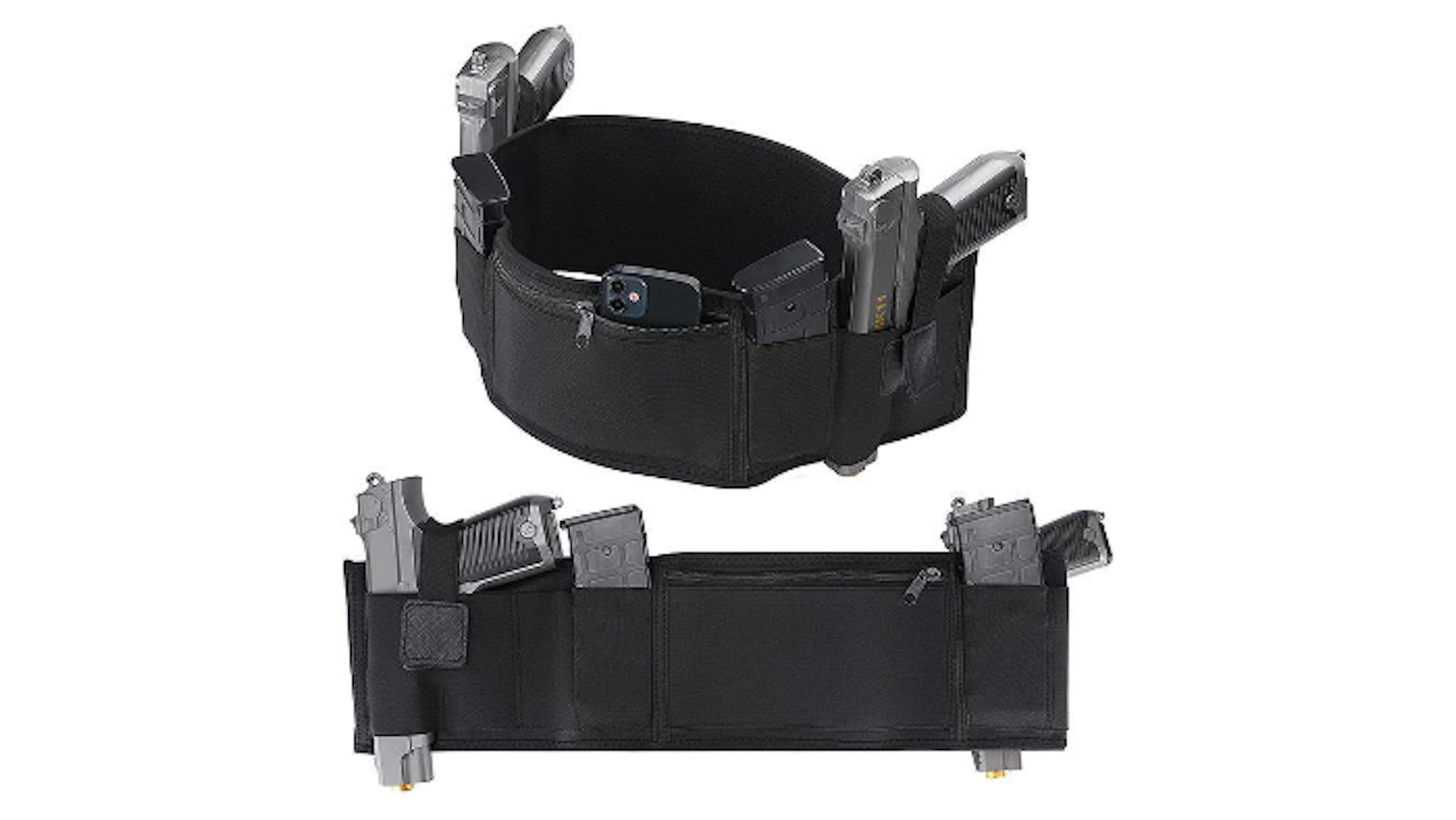 Aside from the zippered pouch, there are four other pouches on the band. Each side features a right- or left-draw soft holster with a snap-closed strap to secure the firearm, and beside each holster is a spare magazine pouch suitable for carrying either single stack or double stack magazines. Since you'll likely have a gun on one side, you can use the second magazine pouch to carry an additional magazine, just in case. The holster pouches accommodate a variety of guns in all shapes and sizes. I tried my Glock 17, Smith & Wesson Shield, and Taurus GX4, all of which fit just fine, with the muzzles poking out the bottom slit designed for any barrel length.
In initial testing, I was concerned about the flap that holds the gun inside the holster pouch. I'm not a big of what amounts to a semi-Level 2 retention device, but I was pleasantly surprised to see how easily (too easily, perhaps?) it popped loose on the draw, making extracting the gun effortless. It was, however, impossible to reholster the gun one-handed because of the soft material, so it didn't pass that part of my three requirements for a holster. This, however, is common to most of the belly band holsters out there right now.
As I mentioned in the introduction, this was my first encounter with Dinosaurized, so I had no idea what to expect. Would this product flop or fly? It turns out it was somewhere in between. I've seen better belly bands but also worse ones. This one lands in the middle. And for an MSRP of $44.99, it's priced right for what you'll get.