I've tested several ankle holsters over the years, all of which have their plusses and minuses, and have never found one I particularly liked—until now. The BUGBite Ankle Holster offers a level of comfort and retention I have yet to see on other holsters in the same class. Let me explain.
Rather than the typical holster attached to a narrow hook-and-loop strap configuration that tends to cut off the circulation in your calf if you wrap it tight enough to stay put, the BUGBite distributes the load across the entire holster, with a single, large piece of breathable neoprene that has enough stretch to be comfortable yet sufficient resilience to stay in place for hours with both a gun and spare magazine inserted. The whole holster wraps around your calf. I wore mine for hours at a time with a fully-loaded gun and backup mag, and it never slipped around or dropped down to my shoe.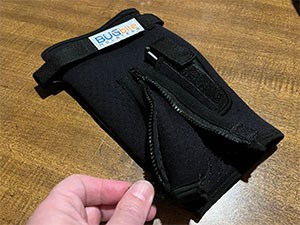 Because the wrap is basically a scuba suit for your leg, it's tight on purpose but comes with a zipper on one side so you can stick your foot through the hole and pull the holster up and onto your calf with ease. Close the zipper and adjust the top strap to your calf's diameter and you're ready to carry. No more adjustments or tweaks. It really is that simple.
The gun pouch is big enough for a pistol that's five inches or smaller. It's not designed to carry a big gun. Then again, ankle carry in general is not a great way to carry a big gun, so this holster does what it's asked to do. I pulled out my old Smith & Wesson Bodyguard 380, a gun I only carry on the ankle, to see how well it worked. I had some errands to run, which served as a great way to test how well it held through activities. Here is something I have never said about any other ankle holster: I almost forgot I was wearing it. Normally, I fidget with ankle holsters, as none of them really fit quite right. But not the BUGBite. It held firm and never crept down. Overall, I'd give it an A-.
If there is one thing I would change, it's the name. BUGBite missed a golden opportunity to call this holster ... the Ankle Biter. Sorry, I had to say it.
Looking for a good ankle rig that's comfortable and won't slide down? Grab the BUGBite for only $44.95 from the company's website.