Support NRA Shooting Illustrated
DONATE
In the leather holster world, the available offerings tend to be hit or miss, pun intended. Some aren't that great, some are okay and some are downright abysmal. But every once in a while, a company comes out that fits a niche exceptionally well and can hold your gun securely, with a bit of nostalgia thrown in for good measure. The CrossBreed OutRider MultiFit Modular Holster is just such a piece of gear.
Long known for its leather-Kydex hybrid holsters, CrossBreed ventured into all leather and nearly all leather markets a while back, with great success. Their leather maker and holster builder heritage positioned them as a key contender in the space.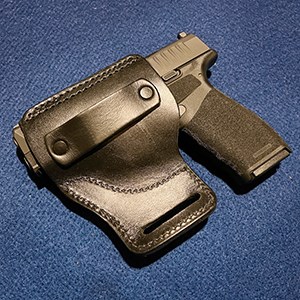 The OutRider MultiFit Modular Holster is a basic design starting with two pieces of premium leather that form the outside of this universal holster. I say "universal" because it's not designed or sized for any particular gun. When you order, you don't have to specify what gun you plan to carry, not even if it's compact or full-sized. The only choices you make are right-handed or left-handed and whether you want brown or black.
Many leather holsters claim to be "universal" but aren't because once you put a gun inside, the holster begins to conform to the shape and size, and eventually, the shape becomes permanent. Trying it with another gun won't work because the holster is now the wrong shape. CrossBreed gets around this in the OutRider MultiFit Modular Holster by connecting the two leather pieces with a piece of elastic along the top of the slide area that allows for contraction and expansion to fit a variety of handguns throughout the life of the holster. One limitation, however, is that if you normally carry a large gun, such as a Glock 17 or Sig P320, the leather will eventually stretch so much that carrying something smaller, such as a Smith & Wesson Shield, won't work. But so long as you stay in the same general size range, the holster can be used for various guns.
The holster is held to the build by an integrated belt loop where the leather pieces meet, and a leather strip riveted to the pants side for two points of contact.
I first wore the OutRider MultiFit Modular Holster at an all-day range event, figuring I'd give it a thorough workout. I coupled it with my Springfield Hellcat Pro, since it's a mid-sized gun that I thought would be a good first gun to try and see how it fit. The holster worked perfectly as far as fit and comfort. My only concern was one-handed reholstering, a must in any holster I consider worth recommending. On this front, the OutRider MultiFit Modular Holster fell a bit short. It didn't entirely close up as some holsters do, but the mouth did shrink a bit because of the elastic, making putting the gun away one-handed more challenging, which means taking off at least half a point for this shortcoming.
The accompanying magazine pouch features the same leather and elastic construction and, like its holster brother and is designed to carry a variety of single- and double-stacked magazines. The magazine stayed securely inside the pouch all day but was easy to remove when I got home, and the retention of the magazine itself was just right. 
The OutRider MultiFit Modular Holster comes in both belt-worn and modular configurations, the latter replacing the inside belt loop with a hook field for mounting on any hook backing or CrossBreed's own modular system.
At $29.95 for the holster and $19.95 for the magazine pouch, that price point may sound like they are cheap goods that won't last. But they feel much more substantial and so far have performed as advertised.