by
posted on February 11, 2023
Support NRA Shooting Illustrated
DONATE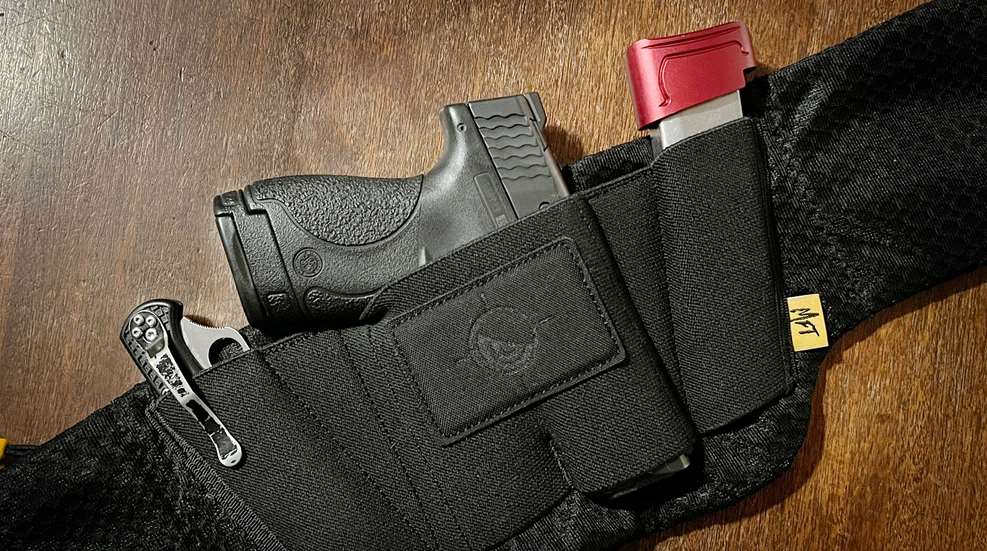 The world of stretchy belly band holsters just expanded. (Yes, that pun was intended. Thank you for noticing.) Mission First Tactical (MFT) has introduced its take on the classic wraparound gun holster with the MFT Belly Band Holster, designed to carry a gun whenever you can't or just don't want to wear a belt.
The MFT Belly Band Holster starts with a wide, soft band made from a material MFT calls 3D Spacer Mesh Fabric that they claim is more breathable than most other belly band materials. I can't attest to a rating compared to others, but I can say it's breathable and extremely comfortable. The open weave allows air to get in and sweat to evaporate. Even though it was January, I did sweat enough on my 3-mile walk to notice if it had stayed with me. I assume it does just as good a job in the summer heat, although I'll have to wait to find out.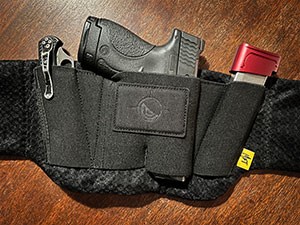 One of the biggest complaints about soft-holster belly bands is a lack of hard protection on the trigger and trigger guard, allowing too much risk of something accidentally catching on the trigger and firing the gun. While this is not common, I'd rather see a hard shell. MFT created what I consider a nice solution without going full Kydex. The outside of the holster pouch has a hard laminate rectangle that covers the outside layer in front of the trigger. So, whether you carry right-handed or left-handed, the trigger of your gun is protected. 
The MFT Belly Band Holster is perfectly symmetrical, so there's no need to adjust your carry if you're a lefty. There are two more pouches on either side of the main holster, perfectly sized for a spare magazine, knife, flashlight, or other tall and narrow accessories. These pouches are stiff but offer enough stretch to accommodate a variety of thicknesses, so single-stack and double-stack magazines will fit.
Last but not least, there are two more convenient thin zippered pockets for ID, a house key, or other slim tagalongs. The zippers are bright yellow and large enough to grip quickly for easy opening and closing.
The MFT Belly Band comes in one-size-fits-all, which you then cut down to your size with the included instructions. The hook-and-loop fastening system held firmly the entire time I wore the belly band and felt solid throughout the day.
This impressive belly band can be yours for the MSRP of $49.99 on MFT's website. That price point is middle-of-the-road as belly bands go, making it a good value in a well-designed gun holder.