Support NRA Shooting Illustrated
DONATE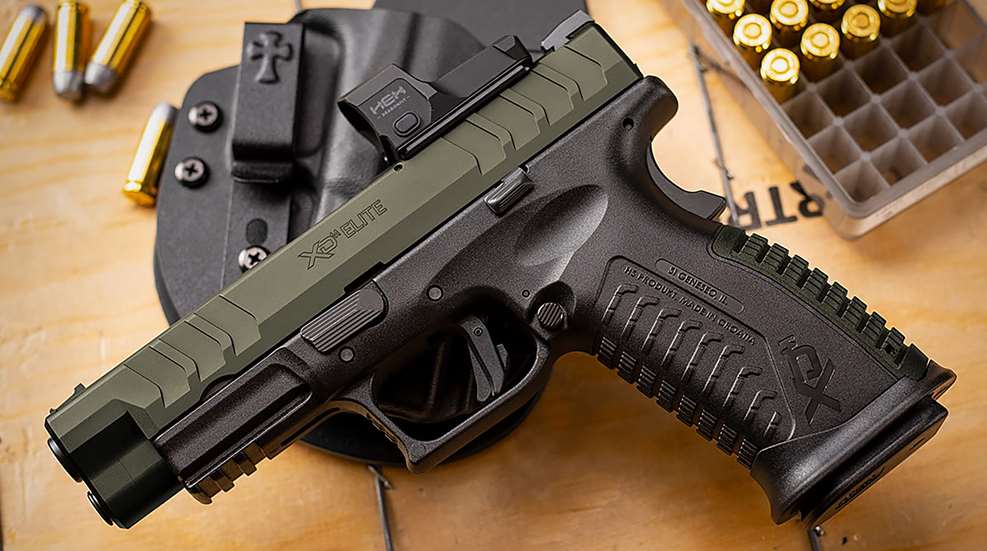 Springfield Armory is releasing a new version of the XD-M Elite 4.5" OSP 10mm in Magpul OD Green which will be distributed exclusively by Sportsman's Warehouse.
Just like the original pistol, the Magpul OD Green XD-M Elite 4.5" OSP 10mm has 4.5 inch match grade, Melonite finished barrel for optimal ballistic performance. However, the slide on this new model is coated with a H-232 Magpul OD Green Cerakote finish that makes it stand out from the crowd.
"This newest XD-M Elite gives both shooters and outdoor enthusiasts a powerful pistol that will definitely stand out from the crowd," says Steve Kramer, Vice President of Marketing for Springfield Armory. "With its Magpul OD Green slide, combined with all the appealing features of the XD-M Elite line, this new Sportsman's Warehouse exclusive 10mm would make a great addition to any shooter's collection."
The new XD-M Elite 4.5" OSP 10mm has a removable cover plate on the slide that protects the mounting interface for a red dot optic. The OSP system uses mounting plates for your optic, and plates are available for just about every optic you can think of. On top of the forged steel slide is Springfield Armory's Tactical Rack U-Dot rear sight, which features a u-shaped white outline that works in conjunction with the high-visibility fiber optic front sight.
The pistol also has a removable extended and flared "short" mag well for faster reloads. The ergonomic frame houses a double-column stainless steel magazine that provides a 16-round capacity. Two magazines are included with the pistol. Inside the frame is the heart of the pistol, a Match Enhanced Trigger Assembly (META) system with a flat face and an integral overtravel stop. Additionally, the functionality of the ambidextrous slide stop works in concert with the pistol's magazine release to make sure the pistol can be run easily by either hand.
MSRP for the Sportsman's Warehouse-exclusive OD Green XD-M Elite 4.5" OSP 10mm is $675. For more information on this pistol and other products from Springfield Armory, please visit springfield-armory.com.