by
Shooting Illustrated Staff
posted on May 2, 2023
Support NRA Shooting Illustrated
DONATE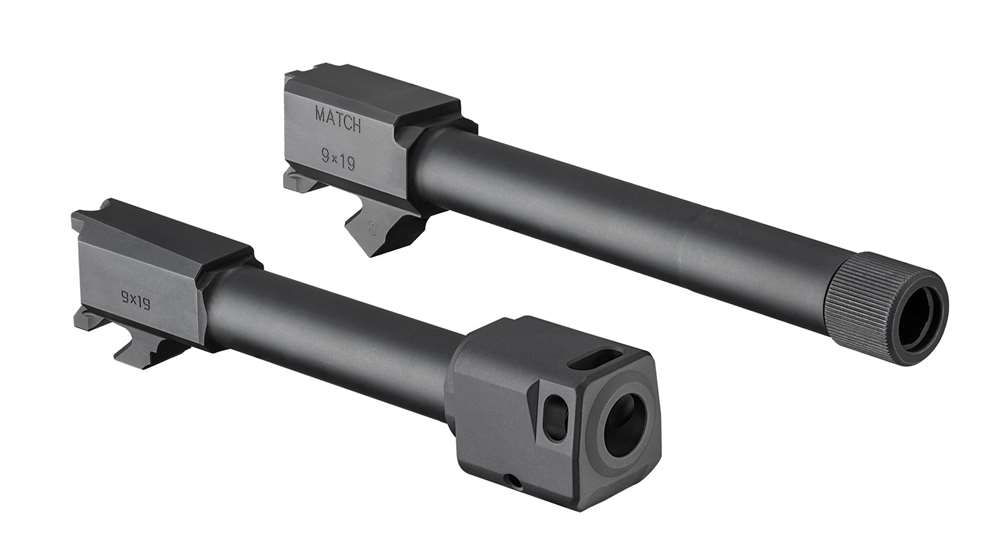 The popularity of suppressors continues to grow. More and more gun owners are starting to realize that having a device on their firearm to reduce the sound of the gun firing to levels where hearing protection becomes optional makes a lot of sense. A threaded barrel allows you to quickly attach not only a suppressor, but other muzzle devices such as a compensator, which redirects some of the gasses leaving the muzzle upwards, reducing felt recoil.
Now Springfield Armory is releasing a line of drop-in threaded barrels for the Hellcat 9mm and XD-M 4.5" 9mm, 10mm, and .45 ACP pistols.
"With these new threaded barrels, shooters can further expand the capabilities of our most popular polymer-framed pistols," said Steve Kramer, Vice President of Marketing for Springfield Armory. "You can now run a Self-Indexing Compensator or suppressor on your Hellcat, or fit your favorite XD-M with the suppressor of your choice."
The threaded barrel kit for the Hellcat features a 3.8-inch-long threaded barrel with a self-indexing compensator as well as an included thread protector. This drop-in barrel system features 1/2x28 tpi threads and is designed to work with any standard configuration 3-inch-barreled Hellcat 9mm pistol. The XD-M drop-in threaded barrels are designed for the XD-M 4.5" and are available for 9mm, 10mm and .45 ACP XD-M variants. Each barrel has a black Melonite finish for rust-resistance and lubricity and is designed to be a drop-in replacement for the standard barrel. 
The barrels come with a Self-Indexing Compensator that is made from 8082 aluminum with an anodized matte black finish. The compensator is designed to help reduce muzzle rise and perceived recoil. Rate of twist of the barrel is 1:10, and it weighs 2.72 ounces. The Self Indexing Compensator by itself weighs 0.7 ounces.
MSRP of the 9mm Hellcat 3.8" Threaded Barrel with Self-Indexing Compensator is $199.99. All three of the XD-M threaded barrels in 9mm, 10mm and .45 ACP have an MSRP of $159.99. For more Information on these items and other products from Springfield Armory, please visit springfield-armory.com.