At SHOT Show 2020,
Springfield Armory
introduced the XD-M Elite, a new beefier upgrade from the venerable XD-M line. The Elite part means two things. First, it comes in the more universal 9 mm, and second, it features a few upgrades over the older XD-M.
Perhaps considered the baby of the XD-M Elite line, Springfield Armory set up this new series so that all the base features carry over across the family, making it a modular system that plays well in the same domain as the new SIG Sauer M17 and M18 that won the military's modular handgun contract.
The XD-M Elite line comes in four configurations with 3.8-inch up to the 5.25-inch barrel options with a variety of features that distinguish each one. For this review, I looked at the 3.8-inch barrel version.
Overview
Right out of the box, I was struck by the large grips, thicker and longer than most to accommodate the 20-round magazines (it comes with two). Three interchangeable backstraps allow for custom fit, but even the smallest is large enough for most hands. This extra length and girth proved valuable on the range, significantly reducing felt recoil.
The Elite shares a number of the original XD-M characteristics, including aggressive front and back slide serrations, easy-to-see Tactical Rack U-Dot sight in rear with a red fiber optic front (if red is not your color, Springfield includes a piece of green filament and instructions for a DIY color swap), a visible striker indicator, and truly ambidextrous controls — mag release and slide lock lever on both sides. The ambi mag release comes from the spring inside the grip being positioned in the middle of the mag well instead of to the side typically found in semi-automatic handguns.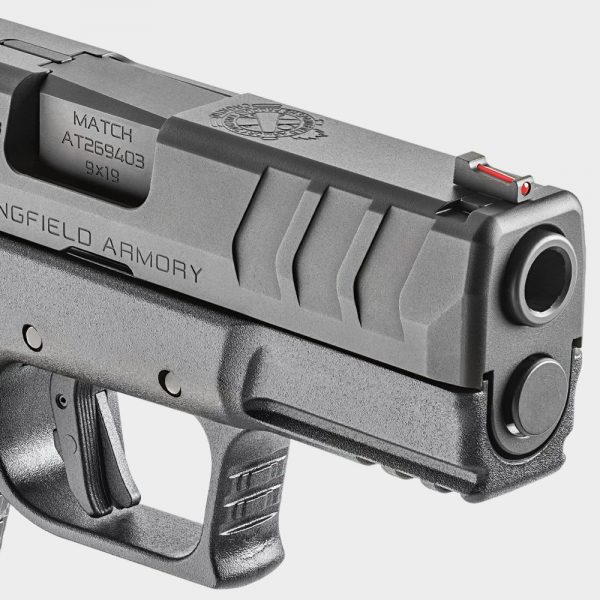 Always knows for safety, Springfield included an integrated trigger safety, an internal drop safety, and an upgrade to their signature grip safety with a tactile bump on the bottom. I've never been a big fan of this 1911-style system, but it's common across most of Springfield's pistol line, so fans will feel right at home. Once I got shooting, I didn't even really think much about the entire grip safety system. It became a non-issue.
Performance
The XD-M Elite comes with two 20-round magazines, a significant capacity advantage over most other full-size guns. On the range, three of us shot over 400 rounds of Fiocchi 116 grain FMJ and Black Hills 124 grain JHP+P rounds with zero malfunctions. Of course, in typical new-gun fashion, the mag springs were a bit stiff at first, making stuffing rounds a bit of a chore, but they loosened up after a few full mags.
One of the best upgrades of the Elite over the standard XD-M line is the mag well flair. It's very welcoming to imprecise mag insertions, guiding the mag home quickly and securely. I shoot the occasional IDPA match and always want to improve my time any way possible, including faster mag changes. This upgraded design makes that minute, but time-consuming, task a bit easier.
The gun shot very flat, with minimal felt recoil thanks to the grips, and was very accurate at 25 yards and closer. I didn't try it beyond that. The grip texture was not overly aggressive but enough to maintain good control. While my overall impression of the XD-M Elite 3.8-inch is highly favorable in many ways — it's a really nice shooting gun — one thing bugged me about it. There should be an OSP option available. The Tactical version comes with a slide cut for optics, but the "normal" version does not. Even the smaller cousin Hellcat has an OSP option. With the "Elite" moniker, this gun should, too.
Concealability
Springfield touts this as "CCW-ready package" on their website, but not everyone will agree. While it's a great gun that performs well, some may find it  difficult to conceal for two reasons. First, it's bulky, at almost an inch and a half wide. Second, with the extra-long grip and a print-happy flare mag well, the concealability factor diminishes considerably — this is a gun you will have to dress around to properly conceal.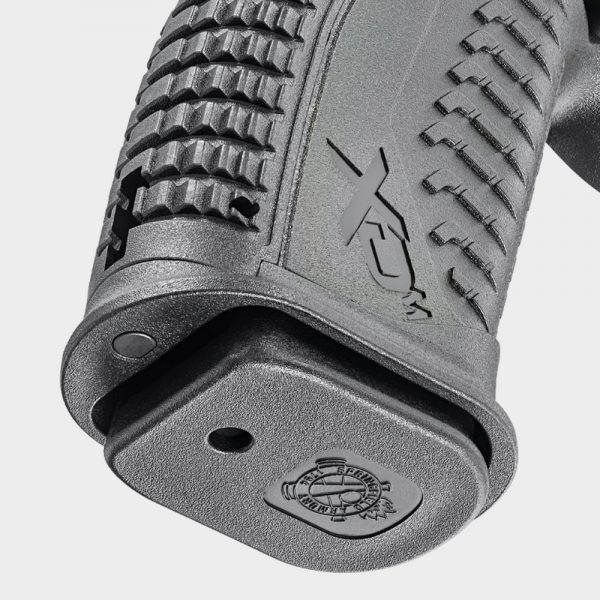 Springfield Armory already has a pure conceal gun in the
Hellcat
, a micro compact that easy stows under even the lightest cover garment. While many may be able to conceal carry the XD-M Elite with no problem, others may find better options in Springfield Armory's product line for that job.

Final Thoughts
The Springfield XD-M Elite is a great-shooting gun. It chewed through numerous kinds of 9 mm ammo with no issues, felt good in the hand, is chock full of terrific features, and will make Springfield Armory fans and converts happy. And you can't beat the capacity. The only thing it's missing is an OSP option. What you do get is a reliable gun that's fun to shoot with unmatched capacity and a ton of great features, all for an MSRP of $559, well below many of its contemporaries.
Specifications
Manufacturer:
Springfield Armory
Action Type: Striker-fired semi-automatic
Caliber: 9 mm
Capacity: 20+1 rounds
Frame: Polymer
Slide: Forged steel, Melonite finish
Barrel Length: 3.8 inches
Sights: Tactical Rack U-Dot rear, fiber-optic front
Length: 6.75 inches
Width: 1.2 inches
Height: 5.75 inches
Weight: 28 ounces
Accessories: Backstraps, two 20-round magazines, manual