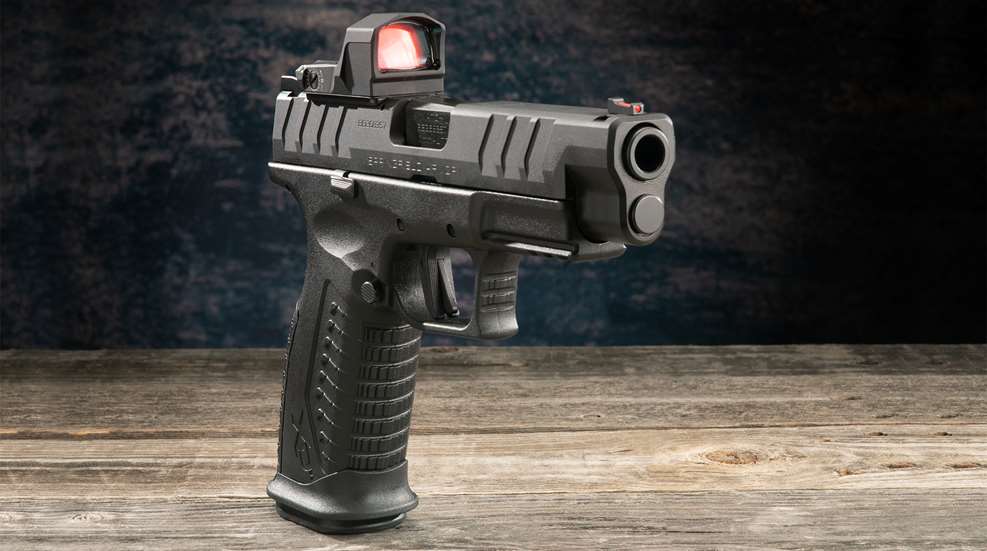 The rise, fall and rebirth of the 10mm pistol round would be a great Hollywood movie. Created in the wake of the infamous 1986 FBI Miami shootout, the 10mm round filled a perceived need for a more powerful pistol cartridge that could deliver fight-stopping hits on demand. When the cartridge was placed into service, however, it proved to be a bit too powerful for common use, and was soon replaced with the smaller .40 S&W round. That would have condemned the 10mm round to fade away into obscurity, except for the fact that it is an ideal round for people who need a round that works in a semi-automatic pistol that delivers more (much more) than 9mm or similar rounds can deliver. 
The Power of 10mm In a Proven Package
The new Springfield Armory XD-M Elite 4.5" OSP is a perfect example of this sort of gun. The pistol is built with all the features of the popular and proven XD-M Elite series, such as a match-grade barrel, ambidextrous slide stop and magazine release levers and aggressive stippling on the frame for a good grip in all kinds of weather. However, it's chambered in 10mm, and is meant to fulfill a different role than similar guns chambered in 9mm or 45 ACP.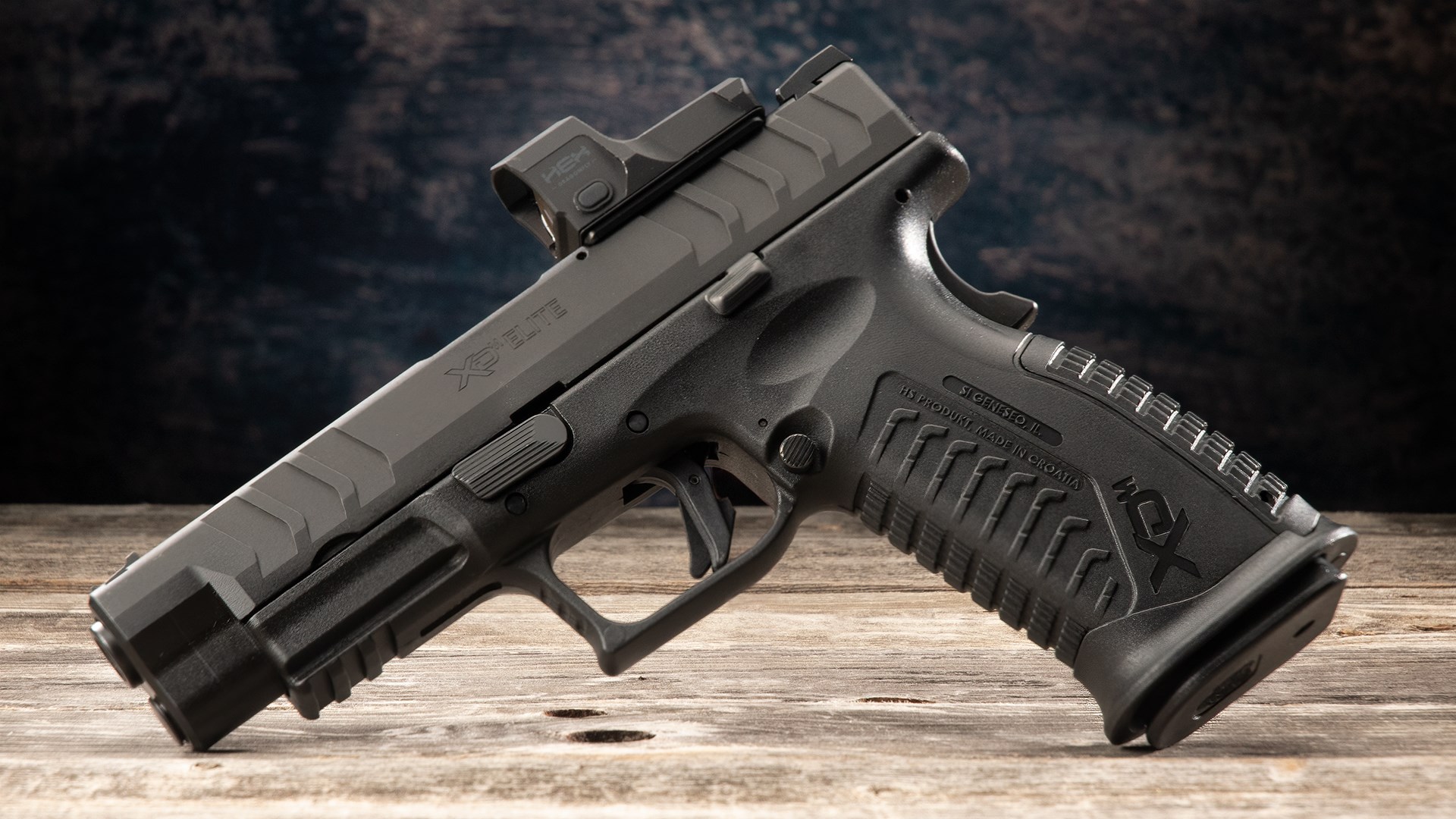 The XD-M Elite 4.5" OSP is a big pistol which pushes the limits of what might be useful for concealed carry. However, if you live someplace where open carry is permitted in the great outdoors, then the 10mm punch of this gun would come in mighty handy when faced with two-legged or four-legged predators. The 10mm XD-M Elite 4.5" OSP would also make a terrific home defense pistol since it has a short section of Picatinny rail in front of the trigger guard to mount a light, laser or similar accessory. 
The model we're testing is the OSP version, which means that it is optics-ready right out of the box. In addition to this, it has a Hex Dragonfly red dot mounted on the slide, so the only thing you need to do after buying one is take it to the range and verify the red dot is zeroed and then you're set to go.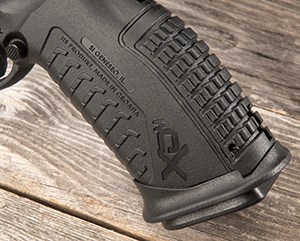 Speaking of taking this gun to the range, I was pleasantly surprised with the way this pistol felt in my hands. 10mm can be a handful to shoot, especially in a lighter, polymer gun, but the ergonomics of the XD-M Elite meant that sending 200+ rounds downrange in one morning wasn't all that big of a deal for me or my wrists. Better still, all those rounds went downrange without any hiccups or malfunctions of any kind. 
The Hex Dragonfly optic adds long-distance accuracy and turns this pistol into a first-rate gun for the outdoors. The power of the 10mm cartridge makes it a good choice for handgun hunting and provides a comforting presence when you're miles away from civilization. The gun holds 16 rounds in its double stack magazine, and the flared mag well means that reloads are fast and easy. 
Springfield Armory XD-M Elite 4.5" OSP 10mm Specifications
Manufacturer: Springfield Armory
Model Name: XD-M Elite 4.5″ OSP 
Caliber: 10mm  
Height: 5.75 inches 
Width: 1.2 inches
Length: 7.6 inches
Barrel Length: 4.5 inches
Finish: Black Cerakote 
Magazines Included: Two 16 round magazines
Other features: Picatinny rail, Hex Dragonfly red dot optic
Range Performance 
| | | | | | |
| --- | --- | --- | --- | --- | --- |
| Ammunition | Bullet Weight (grains) | Min. Group (inches) | Max Group (inches) | Avg. Group (inches) | Avg. Velocity (fps) |
| Speer Gold Dot | 200 | 1.28 | 1.28 | 2.03 | 1084 |
| Remington UMC | 180 | 1.25 | 2.53 | 2.10 | 1152 |
| Hornady Critical Duty | 175 | 1.61 | 2.75 | 2.15 | 1108 |
This is not the pistol for carrying discreetly around the office, and it's probably not the gun you want to take to your local practical shooting match. However, with a host of nice features and an MSRP of just $837 including the red dot, the XD-M Elite 4.5" OSP is a great way to have the power of a 10mm handgun and the accuracy enhancement of a red dot optic nearby you when you need them the most. Check out the full list of features and other information about this gun at springfield-armory.com.