by
Shooting Illustrated Staff
posted on February 17, 2022
Support NRA Shooting Illustrated
DONATE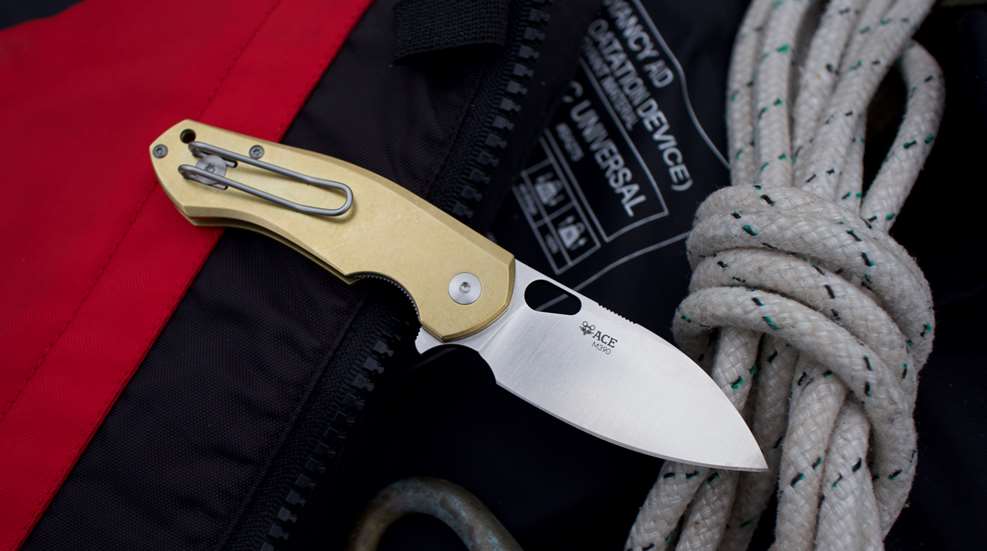 Imagine going through an old tool chest in your grandfather's garage, and discovering an old brass tool - darkened with patina from age, but with polished areas where it was gripped over many years by calloused, honest working hands. This is a tool with character. Although it may look worn, upon closer inspection, you can see that it has been lovingly cared for over time. The whetstone sitting on the workbench attests to its still razor sharp blade. This is a tool that you are proud to become the custodian of, and use yourself for years to come, until it is discovered by one of your descendants one day.
The GiantMouse ACE Biblio was first introduced in 2018  with Green Canvas Micarta and Black G10 scales, and was soon followed by several other models. Now GiantMouse is releasing the best-selling ACE Biblio with solid brass scales. The Biblio is designed to be an all-around EDC folding knife and was named after a since-closed Brooklyn bar that the founding partners Jens Ansø, Jesper Voxnaes, and Jim Wirth first discussed creating GiantMouse knives.
This new version of the Biblio has solid brass scales and a Böhler M390 microclean stainless steel satin-finished blade. As with all versions of the Biblio, the Brass Biblio is manufactured in Maniago, Italy.
When using the Biblio you'll notice how well it performs. The ergonomics are spot on, and the nicely thin ground blade makes short work of cutting chores. By choosing the flat saber grind on this knife, it provides a strong blade with a fine cutting edge that you'll enjoy using for many years to come.
At 4.9 ounces, the Brass Biblio feels great in hand - a substantial tool that can tackle any cutting chore you are faced with, and one you'll be proud to hand down to future generations.
Specifications
Blade Steel: Böhler M390 MICROCLEAN stainless steel, satin finish
Handle: Brass
Clip: Wire - Reversible
Liner: AISI 420 Hardened - Bead Blasted
Pivot Mechanism:  Ball bearings
Locking Mechanism:  Liner lock
Blade Length:  2.875 inches
Blade Thickness:  0.118 inches
Handle Length:  4 inches
Overall Length:  6.875 inches
Weight:  4.9 ounces
MSRP: $235
For more information on this knife as well as other products from GiantMouse is available at giantmouse.com.