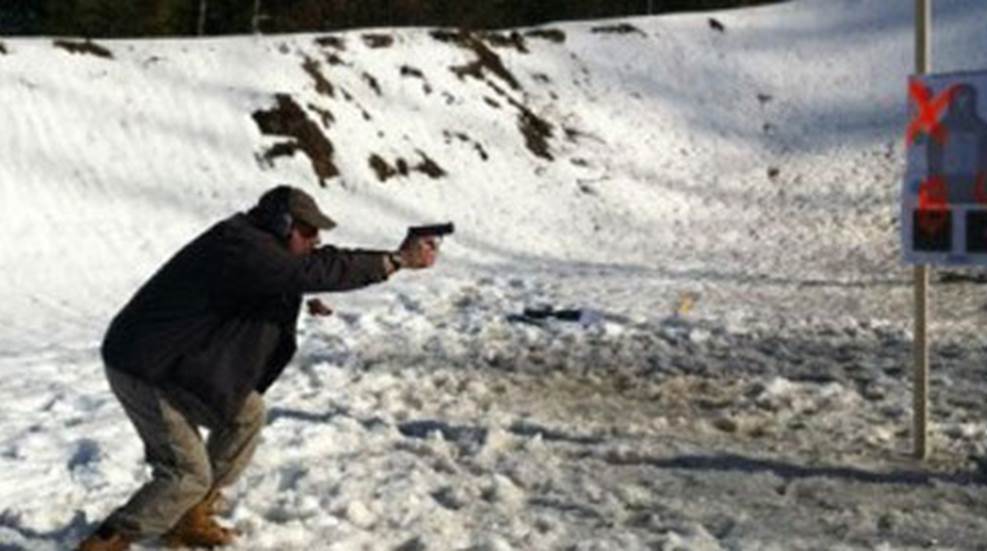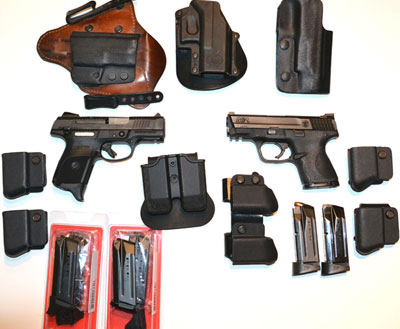 I took a training course in March; "Fundamentals of Combat Focus Shooting" taught by Down Range Firearms Training, to be precise. It's a pretty intense, one-day course intended to familiarize the shooter with the concepts, mechanics and mindset of the Combat Focus Shooting principles. The class is meant to be an introductory shooting course. I was looking forward to the course, knowing it was a good class taught by excellent instructors, but I had secondary motivation—this would be my first training class, ever.
Naturally, my lack of familiarity with training classes resulted in a good amount of panic. I didn't want to be "that guy." You know, the one who shows up with the wrong gear, or can't make it through the drills without falling on his face or whatever. One of the ways I tried to lessen this likelihood was to adhere to the "two is one, one is none" principle—the theory being if you show up with only one of [insert critical item here], Murphy's Law dictates that critical item will break, most likely at the worst possible time. If you have a spare critical item, you're prepared if Mr. Murphy does, in fact, strike, which makes it less likely he'll strike at all.
The first question I wrestled with was which firearm to bring for the class. Since Fundamentals of Combat Focus Shooting is designed around building the skills one will need if ever in a violent confrontation, it seemed important to choose a sidearm I would be likely to use for concealed carry. While my SIG Sauer P226 or the Smith & Wesson M&P45 would be easier to shoot for an extended period of time, they're not likely to serve as concealed carry sidearms in my daily routine. Conversely, I wasn't exactly thrilled about the idea of shooting 500 rounds through my Ruger LCR or Smith & Wesson Bodyguard 380. I settled on the Smith & Wesson M&P9C for several reasons, but mainly because it is a favorite choice for concealed carry and not uncomfortable to shoot for extended periods of time.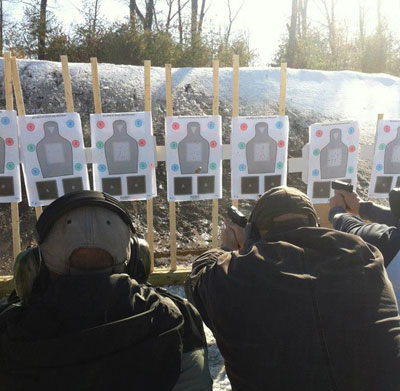 Now, I don't know if anyone else has noticed this or not, but we're in what could charitably considered a "panic buying" period. What this means, of course, is that if you're looking for gear—whether it be holsters, magazine holders or spare magazines—finding it is going to be more challenging than in normal times. It doesn't help, of course, that I didn't start thinking about the extra gear I'd need until a few weeks before the course, when magazines had been sold out for months and most holsters had waiting times measured in months, not weeks.
And, of course, there's the ammunition shortage. I haven't seen 9 mm on the shelves in stores in several months—only very recently has it started to appear again (at prices triple that of six months ago, no less). I considered bringing a .45 ACP, but again finding magazines and related gear at the 11th hour persuaded me to stick with a 9 mm. Fortunately I had sufficient stores on hand to participate in the course, but I still have not been able to replenish the ammunition I used.
A good friend loaned me his IDPA setup, which helped quite a bit (it also made the choice of firearm simple). I was able to attend the course with a suitable holster, magazine carriers and, most importantly, extra magazines for the course. One of my concerns, not having been to a training class of any kind nor any kind of shooting on the move, was that the holsters I use for my concealed carry efforts would not be well-suited for an entire day of drawing and re-holstering, so I was hoping to acquire something like the CompTac IWB holster I wound up using. I had a CompTac double magazine carrier I acquired many years ago, and I found an inexpensive back-up (two is one, of course), along with a sturdy duty belt courtesy of Dragon Leatherworks.
So, now that I had the gear selection pretty well covered, I could focus on my apprehensions about taking the class itself. While I've been a shooter for more than 20 years, I had never taken a formal class before the Fundamentals of Combat Focus Shooting course. I'd never even drawn from a holster and fired, having spent my range time either at the local public shooting range or at my gun club, neither of which permit firing from a draw, nor had I ever shot while moving. Incorporating these two new, heretofore unfamiliar experiences was daunting. Thoughts of being "that guy" permeated my consciousness as the class day approached. I wondered if I would slow the class down, have the wrong gear or commit a firing line faux pas that would expose me as the noob I so desperately felt like.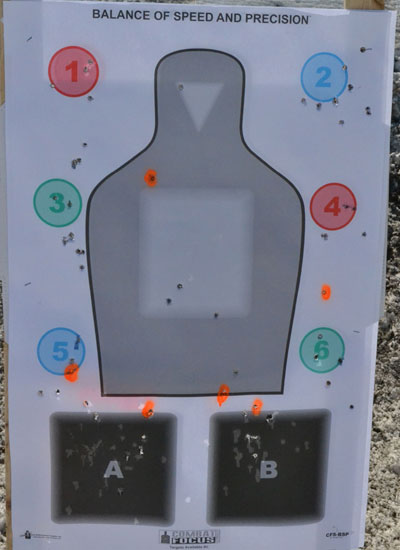 I needn't have worried. The instructors from Down Range Firearms Training were first rate, patient, thorough and quite mindful of safety throughout the entire day. Even with nearly twenty people on the firing line, no one was muzzled, no one was sent back to the clubhouse and no one suffered so much as a hangnail from a missed magazine reload. They took time to explain every the concepts we would be employing, watched carefully as we learned them and then gently corrected mistakes (okay, that's not exactly true; I distinctly remember catching a snowball in the back for looking at my firearm while reloading, a practice actively discouraged).
Apprehensions and all, the course turned out to be a lot more challenging than I expected, but definitely a lot more enjoyable. Everyone was there to learn something—it wasn't a competition except perhaps with your own last string. The clientele ran the gamut of shooters, from law enforcement, active and inactive military members, accomplished IDPA shooters, lifelong duffers like me and even a couple of new shooters who had only started shooting in the past month. Everyone was treated equally and with respect, and everyone caught an earful when they failed to perform at their best.
The guiding principle of the class is summed up at the top of Down Range's targets: "Balance of speed and precision." The goal is to develop skills to help you survive a dynamic critical incident, and finding the intersection of accuracy and rapid pace that works best for the individual shooter is the key.
Preparing ahead of time—if you plan far enough ahead and don't decide to take a course during the longest ammunition drought in memory—will take a lot of the worry out of the equation. Having good, solid gear with which you are familiar is key, and it doesn't hurt to refresh some of the fundamentals like a smooth, steady draw or a speedy reload. Anything you can do to reduce stumbling blocks and failure points before attending the class will help. Read up on the specific class you're taking, know your gear and go in with an open mind and a humble attitude, and you will learn from any class you take.