Every now and then, the urge hits us all to reassert our individuality. While it may not be as colorful or chaotic as teenage rebellion, one example where this drive for individuality manifests itself is customizing our firearms to meet our personal needs/tastes.

Much like early Americans individualized their riflestocks by embellishing them with copper and iron nails, when it comes to sidearms many choose to gussy up their guns with a new pair of grips, often opting for exotic woods such as ebony, French walnut, holly, buckeye burl or African blackwood. In fact, today it's become much more common to see exquisite examples of John Browing's masterpiece inside gunshop display cases and holsters sporting much more costly grip panels of musk ox, and elephant ivory and European stag.

Whether you own a treasured safe queen in need of some class or carry a handgun daily, upgrading a handgun's grips is akin to adding a fine tie or high-end timepiece to your daily ensemble, and Andrews Leather has developed a truly unique means of handgun customization with its new line of 1911 Exotic Grips.

A true artisan with leather, company owner Sam Andrews developed a passion for making holsters as a teenager—a passion that spilled into adulthood and even into a brief law-enforcement career.  Though it was short-lived, it provided the opportunity for his hobby to grow by allowing his love for holster-making to branch into the realm of law enforcement.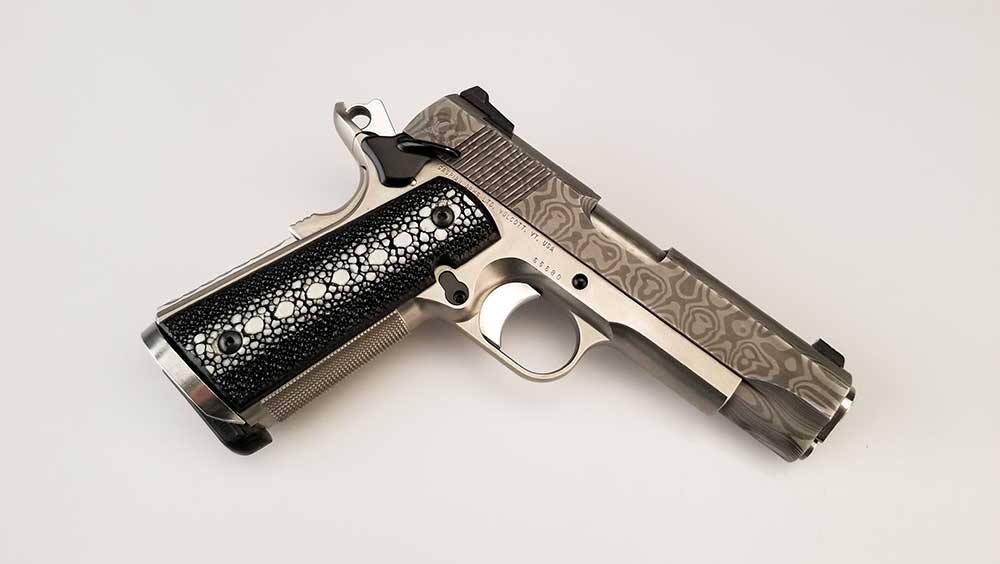 He regularly made holsters for his fellow officers, and they in turn offered feedback that he would later use to refine and improve his designs. Following his law enforcement career, Andrews decided put his leatherworking skills to good use and opened his own business, where he has been making his custom holsters full-time for more than 40 years.

Though all of his holsters are custom made, when it comes to his newest product, however, Andrews is the first to point out the idea was not his own, but rather the byproduct of a phone conversation with the owner of a high-end custom 1911 gunsmith whose customer desired a pair of grips made of exotic animal hide. Lo and behold, the seed was planted and he spent the better part of a year researching what was needed—from the right type of grip to use as a base to the best bonding agent to anchor the hide in place.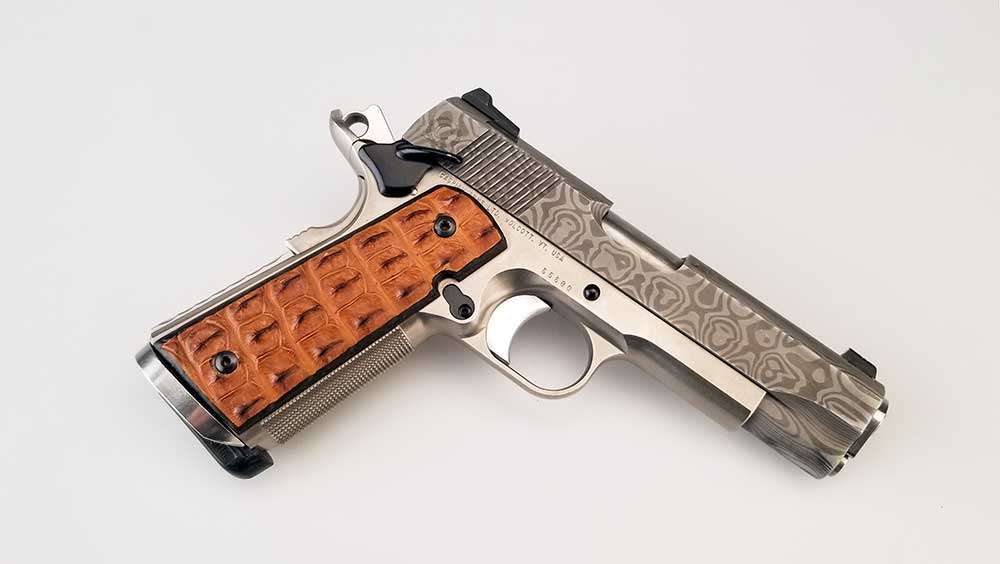 The grip panels, which are supplied by a well-known maker in the industry, are purposely designed on the thin slide to minimize unwanted bulk once the leather is added. But, don't let their svelte profile fool you. They fill the hand well and each pair is designed to be compatible with standard-length grip-screw bushings. (Slim-line bushings are not required.) Similarly, like all Andrews' holsters, the edges of the leather are expertly burnished, silky smooth and sport a glass-like shine with virtually no tell-tale trace of a seam.

Currently the grips are available for Government and Commander-size frames and are being offered in more than a dozen different type of exotic hides, such as black spinal stingray, hornback gator, cape buffalo and cognac ostrich leg. In addition to the touch of class that each pair of grips bring to your pistol, the rich hues of color will not only complement a variety of gun finishes, they are  truly unique in that they are unlike anything else on the market.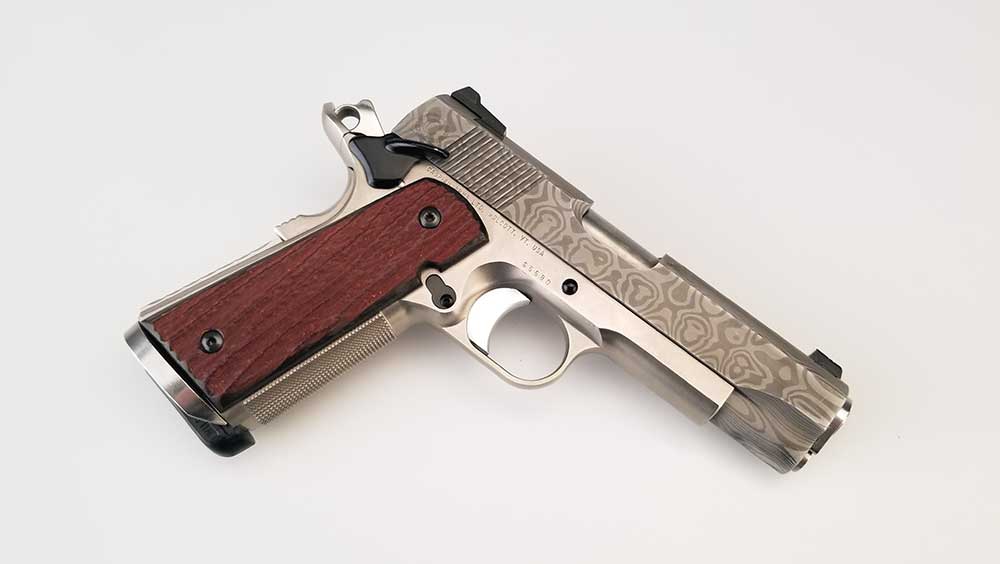 Another benefit leather brings to the table is that the texture offers ample purchase without being overly coarse or overly aggressive, which is a welcome departure my many of today's other offerings.

Prices for these one-of-a-kind works of art range from $125 to $225, depending upon the material you prefer.