For the past decade Bullhide Belts' founder Eric Moore has produced a wide assortment of high-quality belts and wallets to a discerning clientele in search of American-made products. Now it offers a line of gun-related products including rifle slings, belts specifically designed for concealed carry and its latest addition: holsters. As someone who has relied on a bullhide belt (for most of the aforementioned decade) for my concealed-carry needs, when I learned the company was getting into the holster-making business I had to try one for myself.
Hand-made by a staff member with more than 25 years of experience, each holster is constructed from 9- to 10-ounce, premium-grade, vegetable-tanned leather. All the edges are beveled, sanded smooth and expertly burnished. It's this attention to detail that separates a professional holster from others. Stitch lines are clearly defined and plotted approximately 1/8 inch from the edge and individual stitches, which are made using heavy-weight nylon thread, are spaced 3/16 inch apart respectively for maximum stability and strength. Customers can choose from three thread colors, including black, red and white for an added touch of class. Each holster is lightly molded to the gun of choice for added retention an FBI—or 15-degree—butt-forward cant is incorporated into the design to aid pistol presentation, especially when seated. (The last feature could be particularly advantageous to those who drive for extended periods or are wheelchair bound, like myself.)
Slots fore and aft can accommodate belts 1 3/4-inches wide. The backside of the holster contains a raised sweat guard between the handgun and user which, spans a portion of the holster's mouth and, as the name implies, separates the gun from the body to keep perspiration from accumulating on the pistol. Though the raised piece of leather may appear awkward or out of place at first glance, it serves another function of equal importance. As someone who is constantly seated, such a feature also aids in the reholstering process as it mitigates parts of the body (read love handles, folks) from being pinched between the gun and the holster. (Don't ask me how I know this.) The sweat guard—can and should—be considered a feature as practical as it is comfort-enhancing—at least that's the case with this gimpy gunwriter.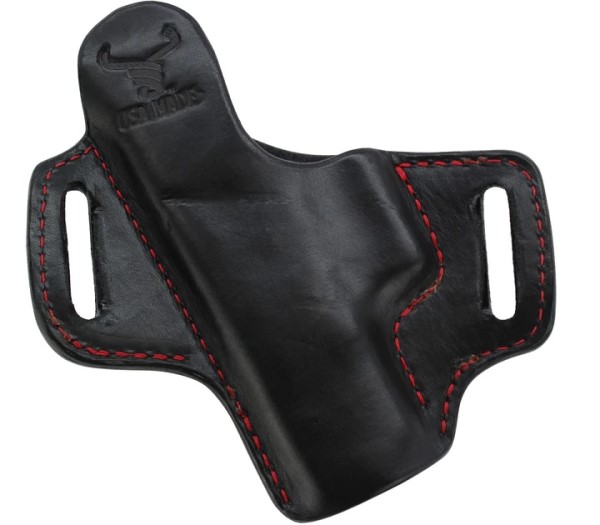 For testing, I paired the test holster with my EDC Bullhide belt and carried a Colt Combat Commander in it for a 2-week period while being self-quarantined at home during the coronavirus pandemic. Despite keeping the pistol flat and tucked in close to the body, the holster rode at an optimal height on the belt while keeping the pistol easily accessible and without creating any telltale signs of printing beneath common carry garments. Despite the company's claims of its holsters featuring an FBI forward butt-forward cant of 15 degrees, readings from the goniometer I use for making my own holsters revealed an angle that was slightly greater. However, as someone who is constantly seated due to my disability the slight discrepancy proved my advantageous than a deal-breaker. Donning and removal from the belt was easy, thanks to generously sized slots that allowed for hassle-free placement. Most importantly, it remained firmly anchored in place and my movements throughout the day didn't cause the holster to shift unnecessarily.
All in all, my experience with this holster is quite positive and my gripes are few. Customers will quickly notice how tight their pistols fit in the holster, but not to worry. Wrap your gun in a freezer bag, reholster it and allow it to remain overnight or longer if needed. The added thickness of the bag will cause the holster to loosen. My other insight concerns a matter of aesthetic balance. When examining the areas (or fins) where the slots are located, there is significantly more leather (roughly ½ to ¾ inch more) between the slot and the trigger guard on the rear fin when compared with the front. Whether deliberate to the design or an oversight, to a discerning eye it can make the holster appear somewhat unbalanced. (Removal of leather in this area could be a simple way to make a good holster even better, and I look forward to seeing just how this design evolves in the future.) Again, it's by no means a deal-breaker, especially when you consider the holster's positive attributes and its overall value. In addition to being backed by a 3-year warranty, the company offers its holsters at a fraction of competitor's offerings. If you're looking for in a budget-friendly holster that's built to last, this is it. MSRP: $64.99; bullhidebelts.com