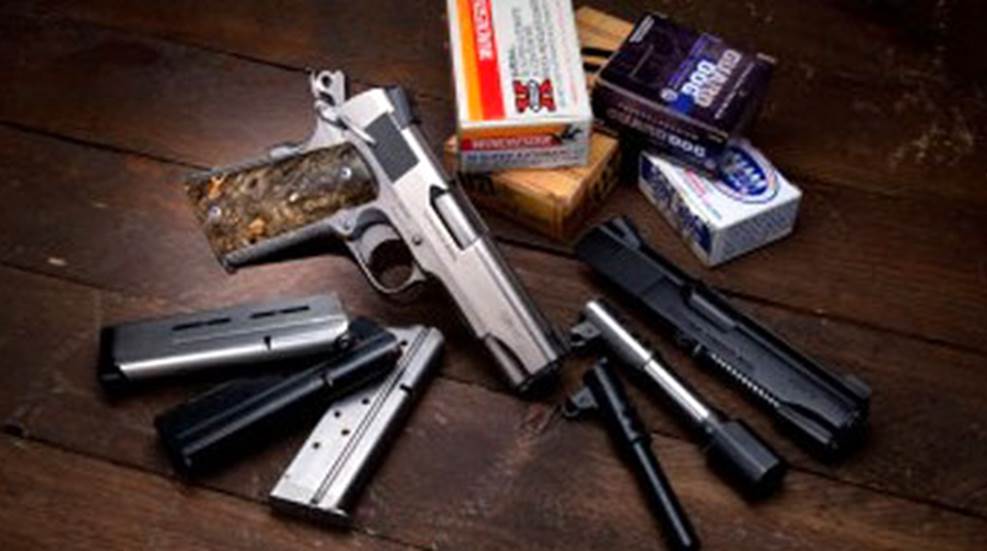 While they may not share the names of Monet, Piscasso or Renoir, I was raised to view firearms as works of art—each one an individual mechanical marvel of various components and steel. So much so, occasionally a firearm's "individuality" is such that it begs for more than run-of-the-mill wooden grips.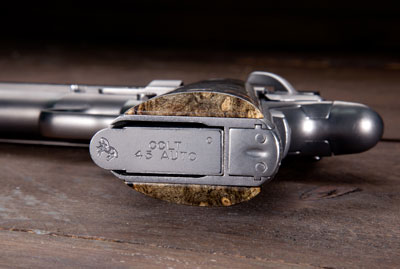 My custom Colt/Robar M1991A1 Commander is more than deserving of such an artistic treatment. What began as an idea to diversify my trigger time with the 1911 platform, the pistol can be converted to digest four different chamberings (9 mm, .38 Super, .41 AE and .45 ACP) all from its original feed ramp. Conversion is simply a matter of swapping barrels, magazines, recoil springs, slide assemblies and slide stops.
Cue the sound of screeching brakes. I know, before anyone writes to cite possible ejector-incompatibility problems, thanks to an article from an old NRA publication, I discovered changing ejectors wasn't necessary to shoot 9 mm and .38 Super. As a result, following a skilled job throating each barrel and polishing the feed ramp by Robar's gunsmiths, I'm able to successfully run four different calibers reliably using the single .45 ACP ejector.
With an impressive gallery of exotic hardwood to choose from, in addition to other precious materials like ivory and turquoise, Sarge's Grips seemed a logical place to search for a worthy candidate for my convertible Commander. Boasting beautiful patterns of burl-grain eyes with swirls of colors ranging from a mixture of blue, off-white, cream, yellow and even purple, I selected blue buckeye burl—a spalted hardwood whose unique pigmentation is caused by fungi. Surprisingly, the broad range of coloration complimented both the pistol's NP3 and Rogard finishes.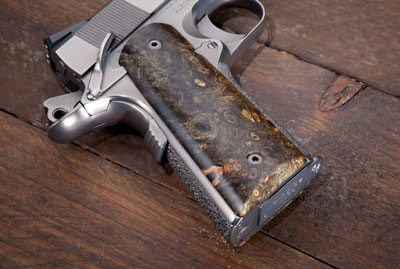 A conversation with The Finer Grain's owner Ryan Payne (aka Sarge) steered me toward his "handler" series of grips. One thing that immediately impressed me with the handlers is their degree of quality, combined with Payne's attention to detail. Each pair is handmade, which enables him to tailor them to the customer for a perfect fit. Moreover, he can manufacture them for a variety of handgun brands from an extensive list of materials including common and exotic hardwoods, along with specialty material, such as genuine (pre-ban) elephant ivory and turquoise.
The second thing that caught my interest regarding the handlers was their shape. Unlike traditional 1911 grips where the panels span across the grip-screw bushings, the widest portion of Sarge's handler-series grips is located in the rear of the panels behind the bushings. The design places more material in your palm, which distributes recoil over a broader surface area, thereby lessening felt recoil. The corresponding slight frontal taper enhances a shooter's purchase. Such a feature could come in handy (pun intended) given my Commander's wide range of chamberings (especially when shooting full-house .38 Super or +P+ ammunition), or in instances where a rapid dedicated pair or double tap is needed to neutralize an imminent threat.
If you are looking for an innovative way to showcase your prized pistols, one that is both picturesque and practical, consider Sarge's Grips.