Unlike my first foray into building a 1911 or an AR-pattern rifle from scratch, each of which required an extensive assortment of tools along and in some cases many hours of elbow grease devoted to meticulous hand-fitting of parts, Glock pistols possess much looser tolerances and for that reason require only a handful tools to work on them. (No power tools or bench vise necessary. Chances are, you may have one or two of the necessary tools at home right now and not even know it.) Here's a list of tools and/or resources that could possibly make building your Glock less time-consuming, or perhaps even a bit easier.

In his detailed and well-illustrated web article, author B. Gil Horman suggests a Glock Armorer's Disassembly Tool ("Glock Tool" among shooters and gunsmiths) which is basic a punch with a polymer handle. A pair of straight or offset needle-nose pliers and a flat-head screwdriver may also come in handy (especially when it's time to installing the magazine release as well as removing the locking block). For first-timers, he makes suggests Lone Wolf Distributor's Armorer's Tool Kit, which features the company's fourth edition of "The Complete Glock Reference Guide," an invaluable, tome-like resource that discusses models Gen 1-4, including the G43, in great depth.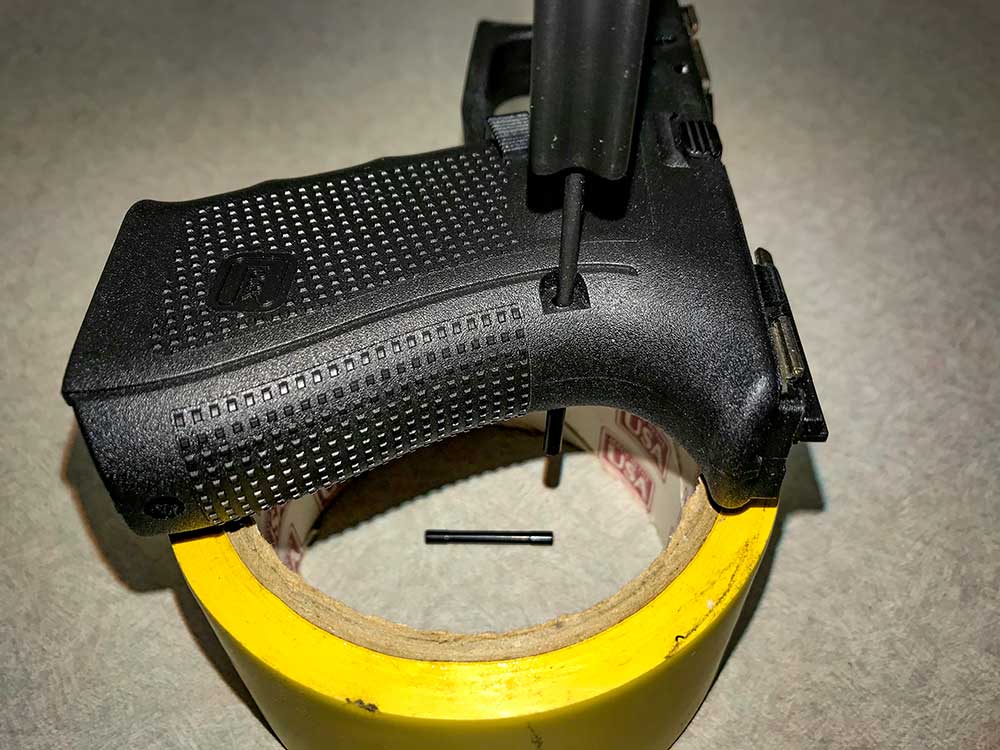 Also contained within its nearly 300 pages are detailed diagrams and more than 400 photos. Subjects include a detailed company history, assembly/disassembly, maintenance, customization and parts interchangeability. The kit also contains a four-in-one armorer's tool that serves as a pin punch, bristled brush, front-sight nut driver and a flat-bladed screwdriver. Then is even a soft-rubber bench mat, complete with a useful exploded diagram detailing the pistol's assembly, to provide you with a handy work surface. Whether you intend on building one pistol of more, the kit will quickly pay for itself. (If your budget won't allow for the kit, or you have most of the aforementioned tools the reference guide is available separately for $19.95.)

For those of you who have access to a workbench, but may lack a common bench vise you may wish to consider purchasing Ergo Grips' MAST System. Four pre-drilled mounting holes can be used to securely anchor the product's base to any flat surface. The base, which is compatible with any of blocks/frame-stud modules that lock inside your Glock's magazine well (once the magazine release is installed, that is) securely holding your frame in an upright position thanks to a pair of robust pins. To remove the frame from the MAST System, simply actuate the magazine release and slide it off the block. Such a system could be quite useful for a number of tasks from replacing trigger assemblies to sight installation. It's like having an extra hand when you need it most.

If you're like me, the allure of gunsmithing instantly fades the moment the first fiddly-bit/part rolls off the workbench (which typically brought about hammering or some other heavy-handed form of persuasion) only to be forever lost as a sacrificial offering for the gunsmithing gods—not to mention the one and only item on your next parts order—and now one suddenly one critical component short.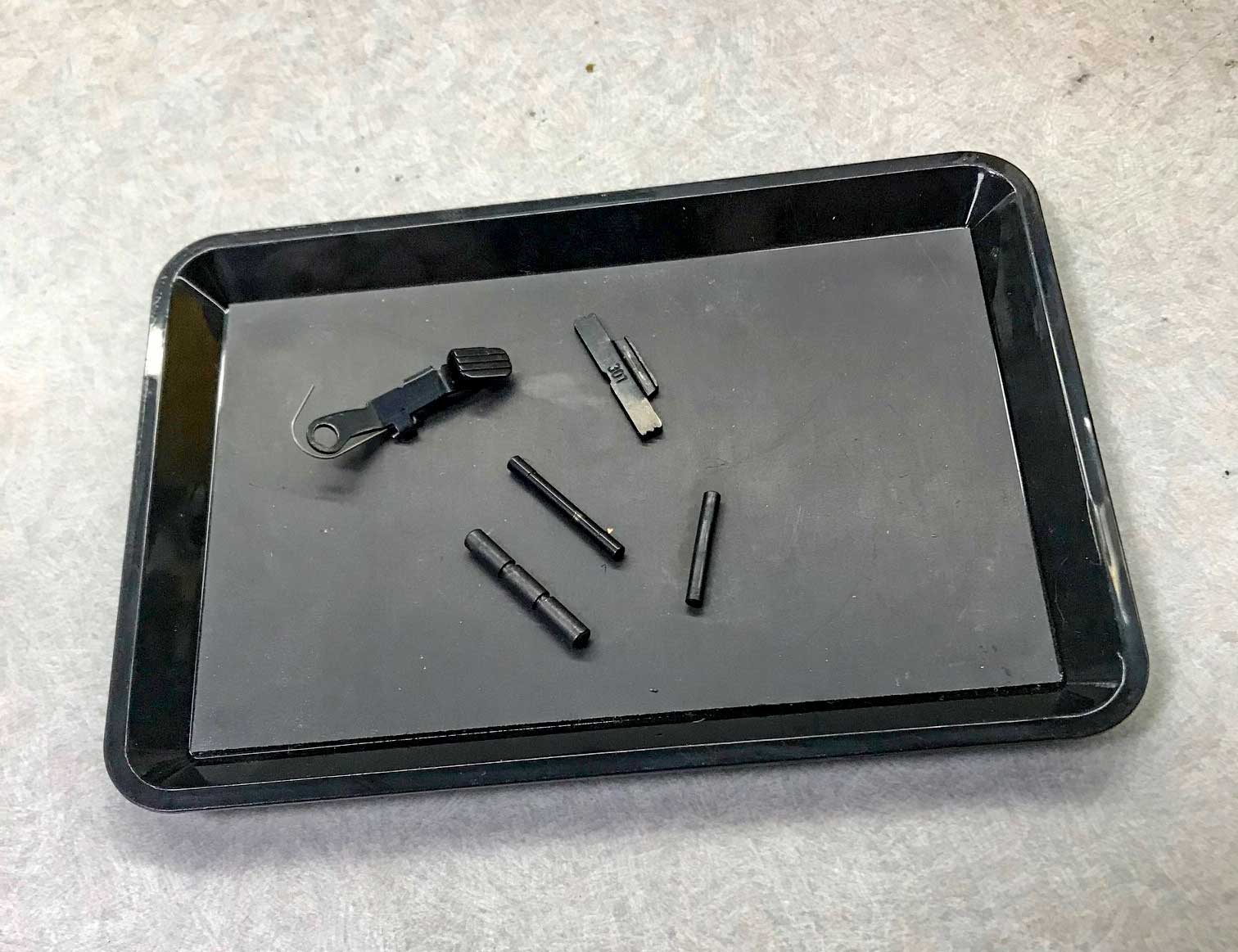 Well, the folks at the Glockstore obviously understand this frustration as apparent by its bad-ass tool with a benign name: The Chad. Though small in size and shallow in depth, you and your parts will soon be drawn to Chad like a new best friend. Or yeah, it may just be due to the magnetic liner in the bottom. Either way, your parts stay put and you stay off your hands and knees. Needless to say, the Chad quickly become indispensable, especially if you're a gimpy gunwriter not known for graceful feats of agility. (Don't ask me how I know this.)

If like the appeal of the Chad's ability to keep small parts within arm's reach but are concerned that family or loved ones may find the Chad more attractive than you, consider a 2-inch roll of general-purpose masking tape. Place the right side of your fieldstripped frame directly over the hole and use your punch to drive the pins though the hole in the tape roll, where they will remain captured until reclaimed. (When paired with the Chad, you have one dynamic duo of disassembly.)

For those you like the appeal of keeping their pins captive but would prefer more workspace and/ or can see themselves working on multiple Glocks, the (APK-Glock-MP-2B Glock Armorer Plate With MP-2B Magazine Post for 9 mm, .40S&W and .357 SIG. by Present Arms Inc., should be worth serious consideration. The heavy-duty-polymer base plate features precisely milled cuts to securely hold the frame in place, essentially creating an ergonomic workstation for the armorer during either the part/pin assembly or disassembly process. (A second, smaller milled cut can hold the slide in an upright position for easy access to either the striker assembly or sights.) A universal magazine mount and swivel that allows the frame to freely rotate 360 degrees are also included, each of which could be useful during cleaning, repair, upgrading parts or regular maintenance.

While it may not concern those modifying an OEM slide, those working with a stripped aftermarket slide will need to tackle installing the channel liner, a seemingly simple task, which in actuality is anything but. Though the task can be accomplished with punch and hammer, I quickly learned how easy it was to bow (and ultimately mangle) the plastic liner prior to being fully seated.

When this happens the liner essentially become friction fit to the channel interior and, as a result, it is virtually impossible to pull free with conventional pliers or even hemostat clamp. Fortunately, Rimfire Gunworks produces a tool that removed the deformed sleeve quickly and easily. Glockstore offers a similar product. Both are good. (If you're going to be working with stripped slides, consider either one an ounce of prevention.)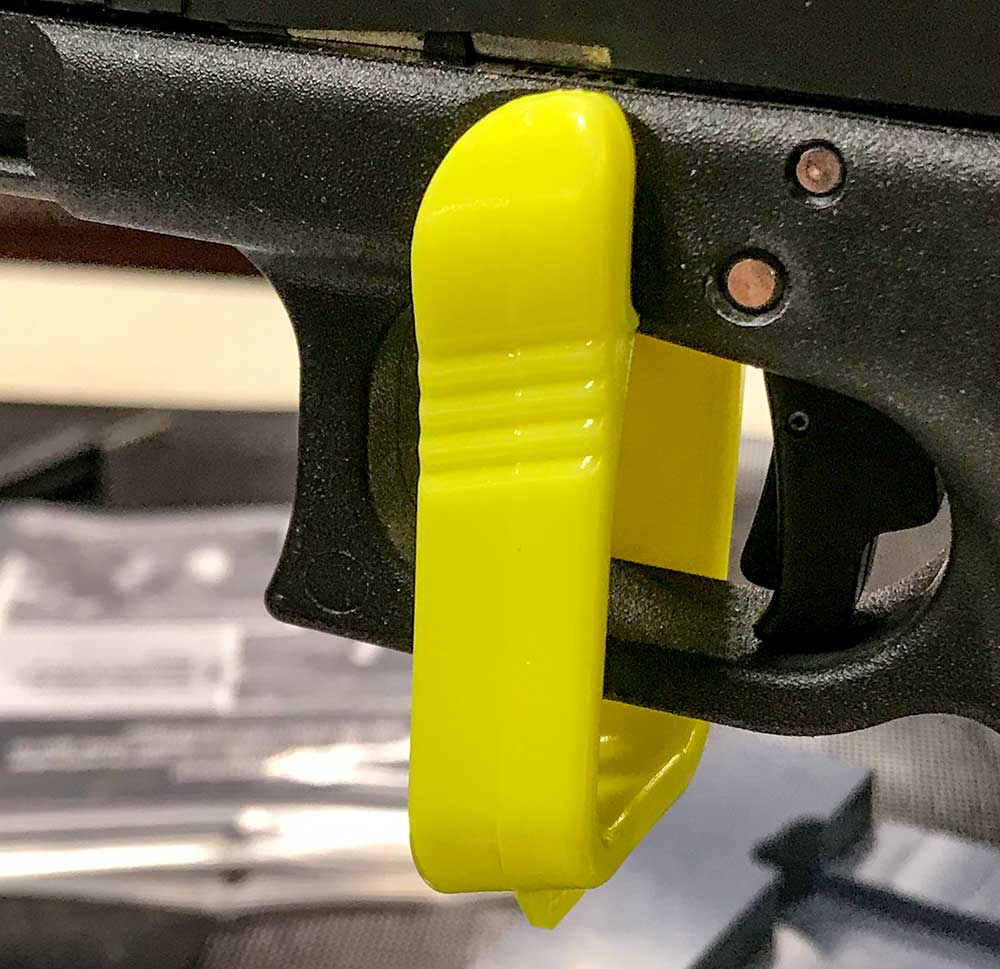 Finally, tinkerers with limited motor skills and/or hand strength, myself included, may benefit by adding a GTUL STUL Glock Slide Removal Tool, a U-shaped polymer bracket engages both tabs of the slide lock during fieldstripping process and provides the user with sufficient purchase to make slide removal easier.

The next entry will cover basic fieldstripping followed by detailed disassembly in order to get this build underway.