U.S. Airmen from the 20th Expeditionary Bomb Squadron, with assistance from 36th Munitions Squadron Airmen, dropped the last remaining M117 bombs in the Pacific U.S. Air Force's inventory June 26, on Farallon de Medinilla, an uninhabited island off the coast of Guam.
The mission, dubbed "Last Blast," involved two B-52H Stratofortresses known as RAIDR 51, based at Barksdale AFB, La., which were enlisted to carry the final six M117s from the stockpile located at Andersen AFB, Guam.
The M117, a 750-pound unguided gravity weapon first saw use in the 1950s, and was used heavily in the Vietnam War. When the conflict ended, thousands of unused bombs remained and were placed in inventory at Andersen. Since that time, Barksdale and Andersen Airmen have been loading and dropping the live weapons as part of their ongoing training.
"I think it's fitting that the last M117 bomb was dropped from a B-52 deployed to Andersen AFB," said Jeffrey Meyer, 36th Wing historian. "Loading and dropping the last M117 from a deployed B-52 here is like remembering and honoring the hard work of Strategic Air Command's Airmen from long ago one last time."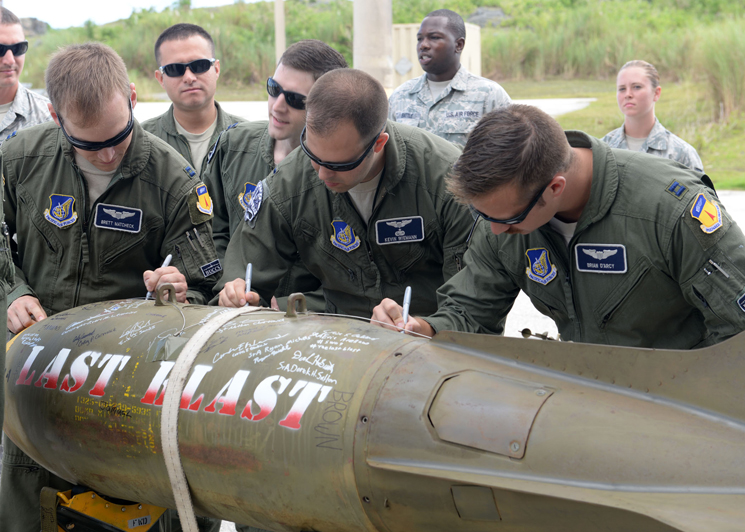 The M117 was last used in combat during Operation Desert Storm and Operation Iraqi Freedom. In addition to dropping the final bomb of the historic Pacific stockpile, the 20th EBS also celebrated its 98th birthday June 26. 


The 20th EBS was formed June 26, 1917 during World War I as the 20th Aero Squadron at Kelly Field, TX. Since the squadron's inception, it has been transferred to numerous bases and supported various missions and has been involved in every war and conflict since then. 


"I think it's awesome to be able to drop live weapons on the range out here especially on our birthday," said 1st Lt. Bryant Curdy, 20th EBS weapons system officer. "So many B-52 crews have come through Guam and dropped M117s starting in Vietnam, and actually being able to be part of the crew who gets to drop the last weapon out here is not only great training but it's a part of a cool legacy that we get to share."