A Model 1886 Winchester rifle presented to the U.S. Calvary Captain who captured the notorious Indian leader Geronimo and his band of Chiricahua Apaches has become the most expensive single firearm ever sold at auction, after fetching $1.265 million at a recent sale in Illinois. 
We brought readers the story of the historic firearm on April 22, prior to its appearance on the auction block the weekend of April 29-May by Rock Island Auctions, a northwestern Illinois company with a history of offering investment-grade firearms.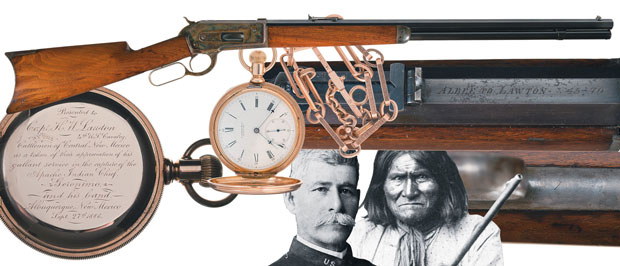 The rifle's history began with two brothers-in-arms during the Civil War who went their separate ways after that conflict, one electing to continue a lifelong military career while the other pursued firearms and gun-building. Lt. George E. Albee went on to work for Winchester Arms and Captain Henry Lawton remained in uniform and subsequently was responsible the capture of Geronimo in Mexico in 1886. In recognition of his comrade's achievement, Albee arranged to secure serial number one of his company's newest rifle design and have it presented to his lifelong friend to commemorate Lawton's remarkable achievement. 
An inscribed gold watch, presented to Lawton by a group of businessmen in New Mexico in recognition of his capture of the Indian leader responsible for much of the turmoil by Apaches occurring in that region of the Southwest in the late 1880s, was also part of the auction lot. 
"Being serial number one and possessing such outstanding condition would alone be enough to draw six figures at auction," said Rock Island Auction Company's RIAC President Kevin Hogan. "When you add one of the most famous names in the history of the Old West you have a huge crossover appeal and set the stage for something special to happen." 
Hogan said other historic firearms have sold for more as a pair, but no other single firearm has surpassed the $1.26 million paid for this gun. The successful buyer of the Lawton Winchester was not named publicly by the auction company.