by
Shooting Illustrated Staff
posted on November 9, 2020
Support NRA Shooting Illustrated
DONATE
Looking for the perfect gift for the firearm enthusiast in your life? We've got you covered. Whether your budget is slightly more than a couple of bucks or you're looking to spend your entire stimulus check, there's something in this guide that will make any gun guy or gal happy this holiday season.
click image to view larger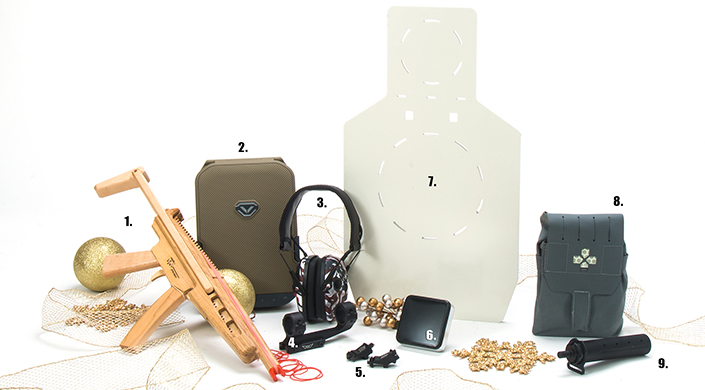 1

|

Elastic PrecisionMP5 Rubber Band Machine Gun
Love the iconic Heckler & Koch MP5 but don't happen to have a spare $50K for a real one? Elastic Precision's all-wood variant fires rubber bands at a somewhat slower rate, but comes with 100 bands to beat the ammo shortage. $129.95;
elasticprecision.com
2

|

VaultekLifePod Sandstone Special Edition
Vaultek has introduced a unique version of its popular, waterproof LifePod portable vault. This one features a fabric lanyard, manual keys, crate foam, 4-foot steel cable and pluck foam for a custom fit. That is in addition to the built-in lock system, touch-activated keypad, dual side-compression latches and 9-volt battery power with USB backup. $139.99;
vaulteksafe.com
3

|

Howard LeightImpact Sport Electronic Muff
Amplify what you need to hear while reducing loud sounds like gunfire to a hearing-safe level with these electronic earmuffs. The new Honor Collection sports finishes to honor America, our first responders and our military. $70;
howardleightshootingsports.com
4

|

Warne Scope MountsVapor MSR Mount
Warne's new Vapor line of scope mounts offers the company's legendary reliability and durability at a price most can afford. Constructed of 6061 aluminum and available in a number of configurations, this mount is designed for AR-15-style eye-relief height. $94.99;
warnescopemounts.com
5

|

XS SightsXTI2 DXS Offset Rifle Sights
For those who insist on having backup sights on all rifles, XS Sights' XTI2 offset sights offer a 45-degree offset front and rear sights that use one Picatinny slot each and add only 5 ounces to your rifle. $137.99;
xssights.com
6

|

LockdownThe Puck
It might look like a simple flattened cube, but The Puck is actually an advanced electronic security device that pairs with a smartphone to ensure you can always be aware of doors opening, temperature and humidity changes and even slight movement of the device. $109.99;
lockdown.com
7

|

Wilson CombatTarget Plate Scorable Silhouette
Made from
3
⁄
8
-inch-thick AR500 armor-plate steel, this heavy-duty, rifle-rated target will withstand long-term impacts. Two circular scoring areas (a 7-inch body and 4-inch head zones) are laser cut to allow for easy tabulation, without the need for temporary paint rings. 
$99.95;
wilsoncombat.com
8

|

Blue Force GearTrauma NOW Medical Kit
Packed with basic first aid essentials and life-saving gear like a tourniquet, compression bandage and room to add more, the pack can attach to any range bag, backpack or bug-out bag to keep a solid first-aid kit handy. $119.95;
blueforcegear.com
9

|

Choate Machine & ToolNight Manager
Looking to add a light or laser to your Mossberg 500 or Maverick 88? Choate Machine & Tool's Night Manager attaches to the end of the magazine tube and offers four positions to mount an included section of Picatinny rail. $97.77;
riflestock.com