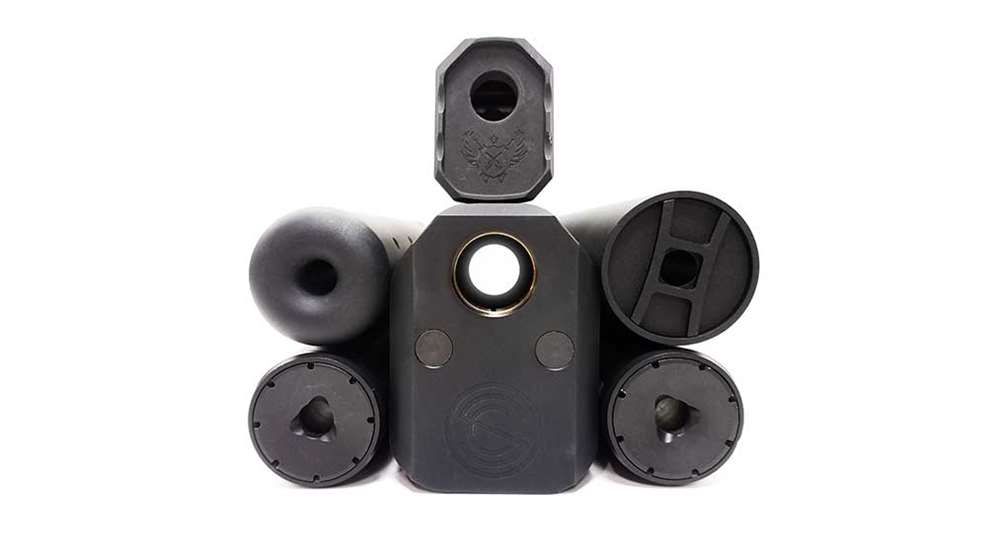 As the laws stand right now, buying a suppressor to put on your gun is a much more difficult task than buying the gun itself, and in some states such as California, it's flat-out illegal for citizens to own a suppressor. Restrictions on the private ownership of suppressors were part of the 1934 National Firearms Act, which required people to get fingerprinted, pass a background check and wait for a $200 tax stamp before owning a device that will make their gun safer for their hearing and the hearing of others.

No, I don't understand that either.

Despite this onerous burden, suppressors are becoming more popular as knowledge of the benefits they offer become more well-known in the firearms community. However, buying a suppressor that best fits your needs, especially if you're buying your first, can be a daunting task. I found out while I was shopping for my first suppressor that there are few neutral sources of information out there. One manufacturer may tout one feature as a "must have" and another manufacturer will talk about something else, so sorting out which is best for you and your needs can lead to hours and hours of research, sometimes with little reward.

Fortunately for me (and you), there is at least one neutral source of information out there. Knox Williams is the president and executive director of the American Suppressor Association (ASA), a political-advocacy group formed in 2011 to advance suppressor ownership at the local, state and federal level. The ASA advocates for suppressors of all shapes and sizes and for the industry in general. They advocate for everyone in the business, not just one company, so Knox's opinions are about as neutral as you can get. What follows is based on a conversation I had with him a few weeks ago about what to look for when buying a suppressor.

Buying a Suppressor: Can Construction

When it comes to suppressor construction, it's all about the pressure and how it builds up inside the can. Rimfire suppressors are smaller and lighter, because the amount and velocity of gas that exits the barrel on those guns is much less compared to pistols. Centerfire-pistol suppressors have less pressure to deal with than cans designed for centerfire rifles, and so on. The bore diameter of a .22 LR suppressor and a .223 Rem. suppressor may be the same, but the pressures they need to deal with will be different.

Because of the burdensome process of acquiring a suppressor, durability is important, and Knox said that, in general, those made out of steel hold up better than those made of aluminum, and cans that are rated for full auto are going to be tougher than those that aren't. Titanium is a great material for lighter weight, Knox said, but it doesn't necessarily increase the strength of the suppressor.

"Full-auto rated" is a term tossed around quite a lot in the industry, However, what constitutes "full-auto rated" is up for some debate. Knox said that there is no set measurement for judging what makes a suppressor "full-auto rated" but in general, suppressors that are full-auto rated will stand up to the same level of abuse taken by the gun to which they are attached.

Buying a Suppressor: Mounts and Calibers

In general, you want to start off with the largest diameter suppressor you think you'll need. You can shoot 9 mm through a .45 ACP can, albeit with a slight increase in noise due to the larger opening, but you cannot shoot .45 ACP through a 9 mm can. Also, in general, shorter and smaller suppressors are going to be louder, because they have less volume to soak up the expanding gasses escaping from the muzzle.

When it comes to mounting your suppressor on the barrel of your gun, Knox says that direct-thread suppressors will have more versatility because they will fit on any barrel threaded to the same pitch. However, you will occasionally need to tighten the fit, as it can work loose as you shoot. A quick-detach (QD) mount, allows for faster attaching and detaching from one gun to another, but it pretty much locks you into using one manufacturer's quick-detach mount on all your guns.

Types of Suppressors on the Market

When it comes to specific types of suppressors, there are essentially three different types: Rimfire, centerfire pistol, and centerfire rifle. Rimfire suppressors are less expensive and weigh less because the pressure buildup inside the can is much less than with a centerfire round. However, rimfire rounds, especially .22 LR, tend to shoot a lot dirtier than their centerfire cousins, which means that easy disassembly for a cleaning is vital in a rimfire can.

Centerfire-pistol suppressors have unique features as well. Most service pistols today use some variation of a tilting-barrel delayed blowback action, and hanging a suppressor off the barrel of such guns can make it significantly less reliable due to the extra weight on the barrel. A muzzle booster or Nielsen device inside the can momentarily relieves that weight, much like jumping up inside an elevator going down can give you a brief feeling of weightlessness and lets the pistol function normally. Also, because most suppressors block the sight picture from normal-height pistol sights, suppressor-height sights are almost a must for a pistol that has a can.

When it comes to rifles, the weight of your suppressor matters less than it does with a pistol. A rifle already weighs at least several pounds, so the few ounces of a suppressor added onto it are less noticeable compared to pistol cans, and because of the power of rounds they shoot, centerfire rifle cans are much more robust than either pistol or rimfire suppressors.

Buying a Rifle Suppressor: POI Shift

Because rifles don't use a tilting-block action, there is little need for a Nielsen Device or other muzzle booster. But because of increased distance they can shoot, a consistent point of impact with or without a suppressor on the gun is of vital importance to the accuracy of the rifle. Hanging a weight off the muzzle end of a rifle and messing with how the propellant gases exit the barrel is going to affect how the bullet leaves your gun. There will probably be a point of impact (POI) shift when you attach a suppressor to your rifle, but better-engineered cans will affect your POI less than others. In general, as long as the POI shift you get when you attach a suppressor to your rifle is consistent and repeatable, you can adjust for it and keep on shooting your gun.

Time will tell if suppressors become more available to armed citizens, but in the meantime, take your time and do your research before you choose a can that's right for you. The legal complexities of owning a suppressor (not to mention the extra $200 you need to pay the government to own one) means that buying the right suppressor for you is even more important than buying a gun that's right for you.