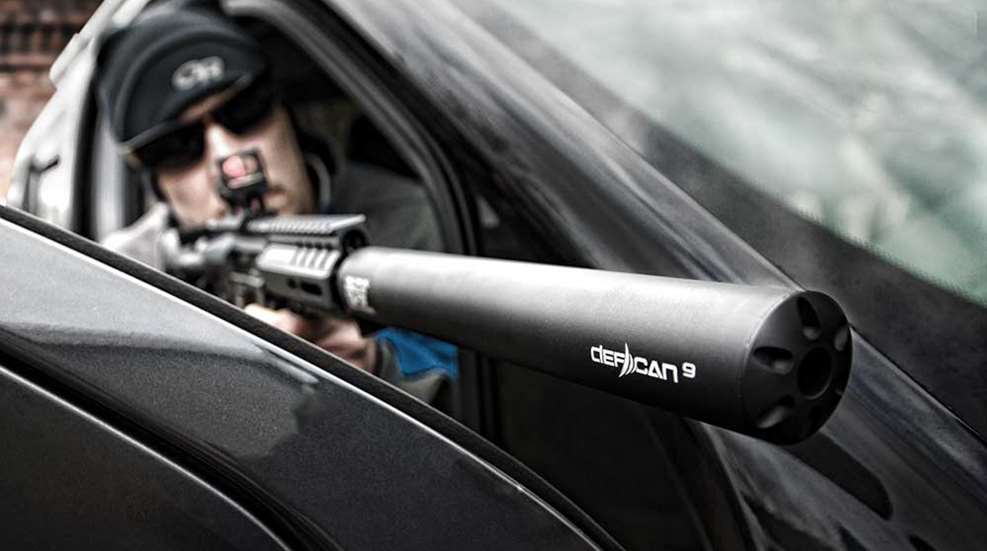 CMMG
, long known for its line of AR-style firearms and related accessories, expanded its product offerings in spring 2018 with the launch of its DefCan suppressor lineup. This new collection of suppressors offers consumers another option in the growing suppressor market, enabling them to better protect their hearing and reduce ambient noise pollution.
"DefCan is an exciting new step for CMMG," CMMG CEO Chris Reinkemeyer said. "Combined with our new line of BANSHEE SBRs, DefCan suppressors will give us a strong presence in the NFA market.  Additionally, the DefCan suppressor line complements our current firearm product lineup very well and will be an integral part of our plans going forward."
Right from the start, the CMMG DefCan suppressor collection will offer five different models covering popular consumer calibers, particularly .22 LR, 9 mm, .45 ACP, 5.56 NATO and 7.62 NATO. Each can in the lineup is purpose-built to offer durability, lightness and optimized sound reduction at a price shooters can afford.
The smallest-caliber suppressor in the lineup is the DefCan 22, offered as a solid starter suppressor for consumers looking to outfit their rimfire rifle. The can is constructed from 7075 aluminum and features a black hard-anodized finish that adds durability. Inside the can, the threaded insert and blast baffle are made from titanium.
The compact, lightweight design is the standout feature on the 22 model, weighing in at only 2.7 ounces and measuring 5 inches long and 1 inch in diameter. Even in this small package, CMMG records a total sound reduction of 40 decibels. The suppressor threads directly onto the muzzle of a rimfire firearm and is compatible with 1/2-28 TPI threaded muzzles. The suppressor can be used on guns chambered in .22 Short, .22 Long, .22 LR, .22 Mag., .17 HM2 and .17 HMR and is not rated for full-auto use. The suggested retail price on the DefCan 22 is $324.95.
Stepping up to pistol-caliber suppressors offered in the CMMG DefCan lineup, the company offers its DefCan 9 and 45. Both are constructed from 7075 aluminum and feature a titanium blast baffle, hard-anodized finish and the company's Bi-Lock quick-detach mount for fast and easy attachment and removal. In particular, the DefCan 9 is a sealed design that does not need to be cleaned or maintained in any way. It measures 10.25 inches long, 1.375 inches wide and weighs 10 ounces. The DefCan 45 measures 10 inches long, 1.5 inches wide and weighs 12.4 ounces. Both suppressors provide sound reduction of 32 decibels, and the suggested retail price on both pistol-caliber cans is $699.95.
For rifles chambered in the popular 5.56 NATO or .223 Rem., the CMMG DefCan 2Ti is purpose-built to provide generous sound reduction in a durable package. The full-auto rated can features a blast baffle constructed from Inconel, while every other component on the can is made using titanium. This provides a lightweight design that weighs in at 13.1 ounces and measures 1.5 inches wide and 6.18 inches long.
The exterior of the suppressor is coated with high-temperature Cerakote that provides a damage- and weather-resistant finish. The 2Ti is available with or without the company's Bi-Lock quick-detach mount, which adds an additional 0.82 inch to the length of the can. The direct-thread mount fits all 5/8-24 TPI threaded muzzles. Overall sound reduction is 32 decibels, and the starting price on the CMMG DefCan 2Ti is $749.95.
Finally, CMMG offers the DefCan 3Ti, a 7.62 mm suppressor designed for use on a number of non-magnum .30-caliber firearms. Like the 2Ti, the blast baffle on the 3Ti is constructed from Inconel, while the rest of the device is constructed from titanium and given a heat-resistant Cerakote finish. The can is full-auto-rated and designed for 7.62 NATO rifles with 16-inch barrels or longer, 5.56 NATO/6.8 SPC rifles with a barrel length of at least 10.5 inches, 7.62x39 rifles with barrel lengths of at least 8 inches, and .300 BLK rifles with a barrel length of at least 7.5 inches.
The CMMG DefCan 3Ti weighs in at 17.5 ounces and measures 7.8 inches long and 1.5 inches wide. The suppressor can be had in both 5/8-24 TPI direct-thread or Bi-Lock QD configurations. The quick-detach mount adds another 1.5 inches to the overall length of the unit. Total sound reduction is measured at 32 decibels, and the suggested retail price on the 3Ti starts at $824.95.