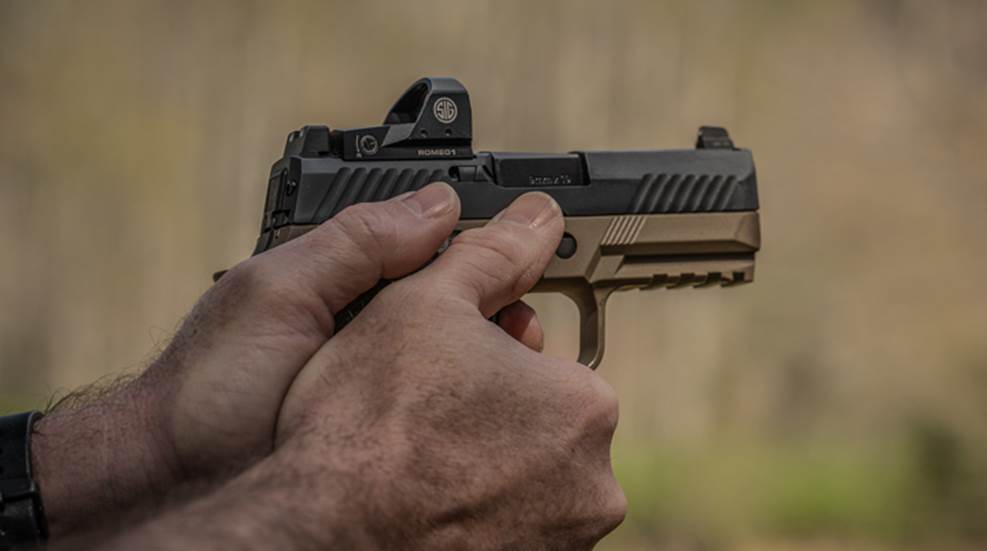 Optics-ready handguns are all the rage and manufacturers are rushing to meet the demand. There are several reasons reflex sights on handguns have become so popular. Most importantly, they allow for target focus shooting; with a reflex sight you do not have to shift your focus from the target/threat to the front sight. And, though there is a learning curve, they also offer faster target engagement. No wonder red-dot sights have been the standard in open-class handgun competitions for so long.
Of course, you do not have to buy a new optics-ready handgun to have a reflex sight equipped pistol. There are plates that can be purchased to replace the rear sight, or you can have a competent gunsmith mill your pistol's slide to accept direct mounting. The latter is the most desirable because it allows for a redundant sight set up where you can still see your factory or taller aftermarket standard sights. This is a good idea because there's always the potential for an electronic device to fail.
I've been a bit slow to warm to the reflex pistol sight concept, mostly because I've been waiting for the sights to become more reliable. Talking with Dave Fink at Fink's Custom Gunsmithing, which also provides the smithy services for Gunsite Training Academy, I'm now much more open to their use.

Dave said it was not uncommon for reflex sighted handguns to make it through the 1,000-round, weeklong Gunsite 250 Pistol Class, which is known to break all but the best equipment. Fink also said reflex sight installation has become a very common modification for his shop. He was kind enough to share his wisdom and here are some things to consider if you're looking to make the jump.

Four Major Footprints
Dave said there are four very popular reflex sight footprints with some cross compatibility. We'll identify them with letters here for ease of understanding. Footprint A will fit the Trijicon RMR Type 2, Holosun 507CX2, and Trijicon SRO reflex sights. Footprint or slide cut B fits the Shield RMSc, the SIG Sauer Romeo 0, and the Holosun 507KX2.

Footprint C works for the Leupold Delta Pro, SIG Sauer Romeo 1, and the Crimson Trace CTS-1250. Slide cut D will fit the Burris Fast Fire and the 2 Vortex Venom. And finally, like with the new Trijicon RMRcc and Vortex Viper, some reflex sights have their own unique footprint.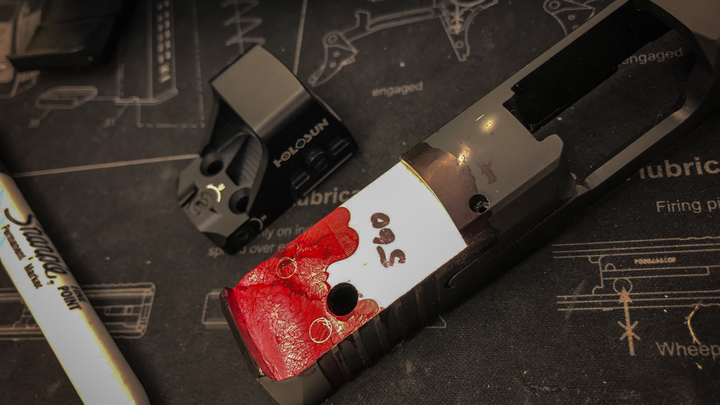 Having your pistol slide milled to accept the right reflex sight is important. Once you've made your choice, you're kind of stuck with it. If you have a slide cut for a Trijicon RMR and later decide you want to use the RMRcc, your only option might be a new slide. If you're not completely sure which sight you might ultimately want, footprint option B offers three very good options.

In fact, Fink believes the Holosun 507KX2 is one of the best reflex sights currently available. He is also a believer in all of the Trijicon reflex sights, but you can get the Holosun, and have your slide milled and the sight installed, for less than the cost of any of the Trijicon models. Fink's charges $175 for the slide milling and installation service.

Back-Up Iron Sights
So what about back-up iron sights? Depending on your gun and the reflex sight you chose, you might be able to work with your factory sights. Holosun K-model reflex sights also have a rear sight machined into the back of the base of the reflex sight. In other cases, you may have to opt for a higher front and rear sight that will co-witness and provide you a means for aiming in case the battery in the reflex sight gives out or the sight becomes broken. (Reflex sights can break; during a recent test of a new reflex sight, several of the sights lost their lenses. This is of course a good reason to choose a proven design.)

Regardless of the direction you choose, standard sights are part of the conversation you should have with your gunsmith when discussing slide cuts and installation. Choosing a gunsmith that performs this service a lot is the best bet because they have experience in the conversion and with compatibility.
Screw Variety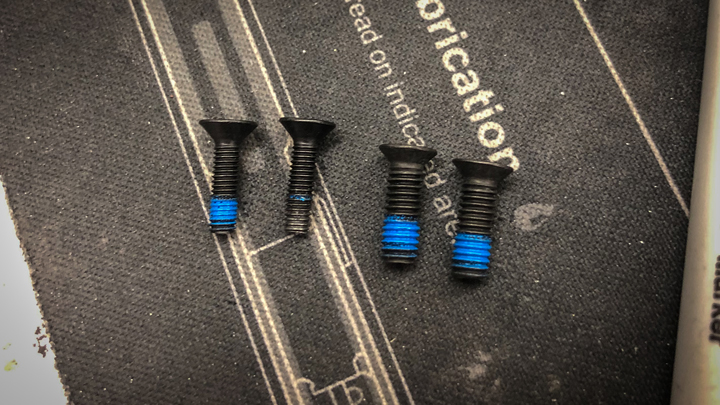 And finally, beyond the external dimensions of the sight, which are equal to the area of the slide that needs milled, there's the consideration of screws. While some sights have the same footprint, they do not use the same screws or are they in the same place. Fink and his talented team of gunsmiths understand this and can tell you what type of screws you will need, and how your slide needs to be drilled and tapped, so that you could say, run either a Shield RMSc or a Holosun 507KX2 on your handgun.
Adapter plates can work for reflex sight mounting but if you're serious about making the move to the dot, you'll either need a handgun that's optics ready from the factory or a custom cut slide to work with the reflex sight of your choice. And you'll want that work done by a competent custom shop like Fink's, who by virtue of the smithy services they provide to Gunsite, have seen it all. Not only can they do all the work you need, if you ask them, they'll even tell you which reflex sights they see the least problems with, and which ones fail most often.