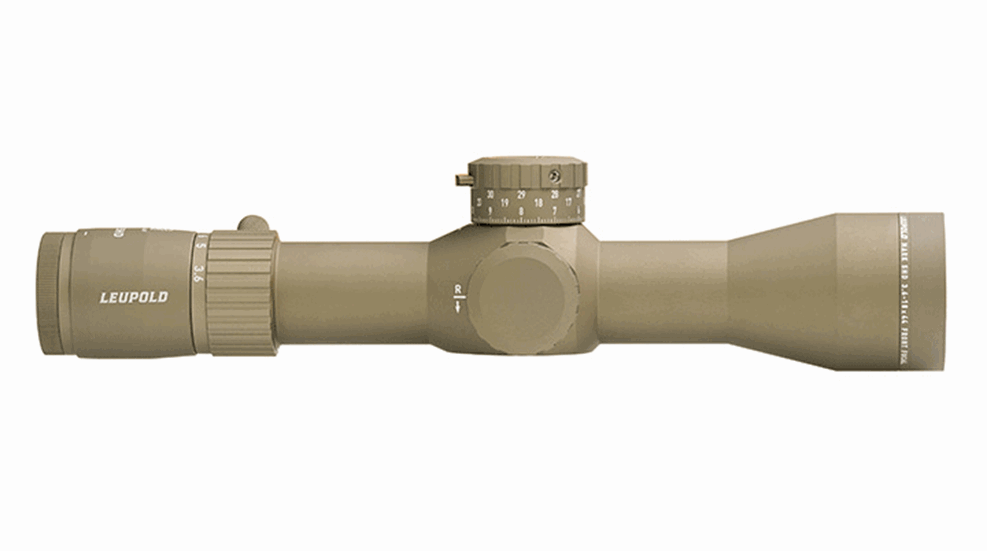 The U.S. Army has selected the Leupold & Stevens Mark 5HD 3.6-18x44 mm riflescope for use on its M110 Semi-Automatic Sniper System. Like all of Leupold's riflescopes, the Mark 5HD is designed, machined and assembled in the company's Beaverton, OR, factory.
The Mark 5HD built for the M110 will come in a proprietary flat-dark-earth coating and utilize the Army's patented Mil-Grid Reticle. It will include a Leupold Mark IMS mount. This optic is the second Mark 5HD model selected for use by the U.S. Army this year. The 5-25x56 mm, featuring the same FDE coating and reticle, was selected by the Army Precision Sniper Rifle Program last month.
"The men and women of the U.S. armed forces require and deserve the very best, and when it comes to riflescopes, that's the Mark 5HD," said Bruce Pettet, president and chief executive officer for Leupold. "Our optics face strenuous durability testing, and fully meet the extremely high performance standards that the military demands."
Three models of the Mark 5HD are available—7-35x56 mm, 5-25x56 mm and 3.6-18x44 mm—in both milliradian and MOA configurations. They are up to 20 ounces lighter than other scopes in their class. With three revolutions of elevation adjustment, the Mark 5HD was made to max out the performance of the latest long-range rifles and ammunition.
"The Mark 5 was designed in partnership with elite shooters to create a product that has the quality and features required to get rounds on target faster," said Sam Horstman, Director of Military Sales for Leupold & Stevens, Inc. "The end result is precisely the caliber of riflescope we'd want our troops to have in the field."
Leupold proudly provides its optics to the United States military, law enforcement and government agencies across the country, and to the armed forces of many of our nation's closest allies. Waterproof, fogproof and guaranteed to perform for life, the Mark 5HD is backed by the company's legendary Lifetime Guarantee.