Leupold is so busy bringing new products to the optics world that it is hard to keep track of them all. Unlike many of its competitors, Leupold's target audience is not limited to a narrow swath of rifle shooters. Instead, the company continually introduces entire new optic families that are well-suited for hunting, competition, home defense, long-range-precision shooting and professional tactical uses. The latter two categories are well served by the new Leupold Mark 5HD riflescope line, currently consisting of 5-25x56 mm and 3.6-18x44 mm riflescopes. I recently tested the 5-25X model and found it to be a great addition to the Leupold brand.


The first thing I noticed when removing the Leupold Mark 5HD from its box is that it feels about half as heavy as other 5-25X-power scopes I have hefted over the years. Leupold claims it is 20-percent lighter than competing models, but it honestly felt much lighter to me. The scope's good ergonomics do not end there. A knurled (and removable) throw knob is positioned to provide fast movement through the full range of power. The M5C3 knob array provides positive clicks every one-tenth mil, allowing very precise elevation and windage corrections for shooters who prefer to dial them in. The elevation turret's three revolutions of travel give access to 120 MOA of total adjustment range. Its Zerolock turret system uses a spring-loaded button at the "0" position to prevent the knob from turning counterclockwise (up), while still allowing a few clicks below zero before hitting a mechanical stop. To dial in additional elevation, the button must be pressed while rotating the knob. Once the turret is moved above "0," it rotates freely without the button being pushed and locks automatically when the knob is returned to zero. The chances of being off zero unintentionally or having difficulty returning to zero in the dark are greatly reduced with this design.

I headed to the range with the first of three rifles on which the Leupold Mark 5HD 5-25X would be tested. Bore-sighting by eye through the 5.56 NATO AR's barrel made the zeroing process quick. My next task was to check out the repeatability and accuracy of the windage and elevation knobs. Adjustments in all directions corresponded with point-of-impact changes on target at 100 yards and return-to-zero was also perfect. My sample scope was equipped with a non-illuminated TMR reticle. I am no fan of open-center reticles, as they tend to leave it to me to figure out where dead-center is from one shot to the next. That works fine until my eye starts to get fuzzy from lack of oxygen, gasses in the face, mirage or sweat. But the TMR reticle's open center is small enough—around .05 mil as near as I could tell—that I had no problem at any distance holding on tiny, intended points-of-impact at the higher magnifications.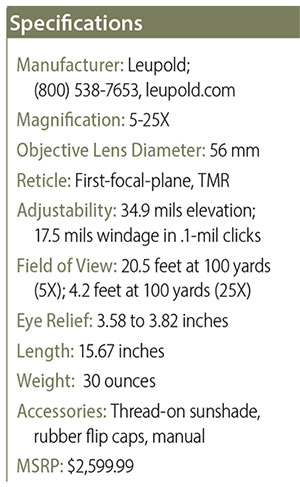 Zooming through the powers was quick and easy with the throw knob. I found that magnifications between 10X and 16X allowed for extremely precise shooting at 100 yards and at longer ranges, 18X to 20X was just about right for me. I used the scope on 5.56 NATO, 7.62x39 mm and.308 Win. rifles at distances from 25 to 800 yards, firing a total of 450 rounds between them. The image clarity of my test scope was excellent. I did not detect any fuzzy spots at any power, even at the field-of-view edges. I also had on-hand an older Leupold 20-60X spotting scope. Comparing the image clarity of each scope at 20X was almost an apple-to-orange affair. The Leupold Mark 5HD was crystal clear and showed me how really crummy my old spotter is by comparison.
Sighting systems like the Leupold Mark 5HD are intended for serious use and are priced accordingly. Unfortunately, that means they are not in the entry-level realm. Given the Mark 5 family's enhanced features, lightweight, compact designs and excellent quality; tactical and long-range-precision shooters in particular have another excellent pair of options from Leupold to choose from.