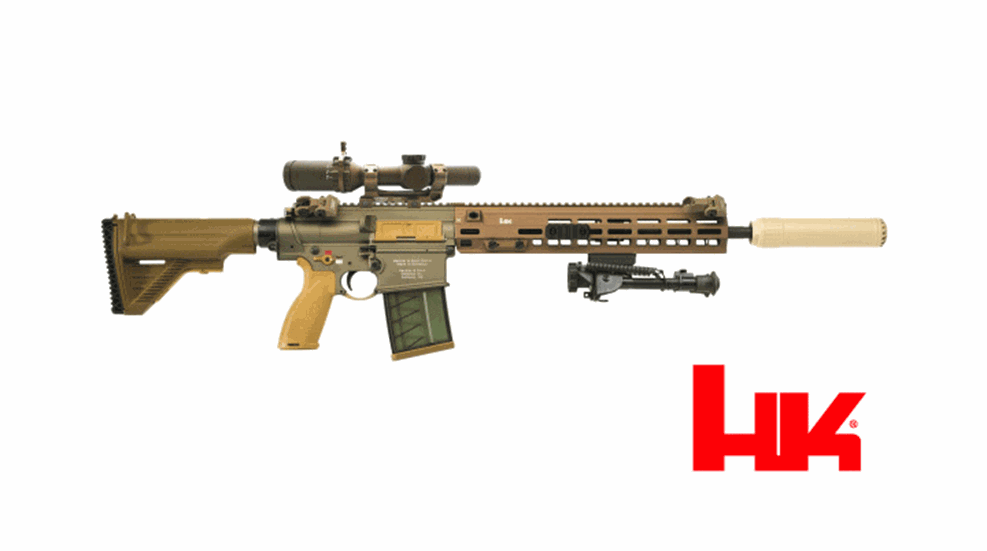 Heckler & Koch Defense has made its first shipment of M110A1 Squad Designated Marksman Rifles (SDMRs) to the United States Army. It is the first of many that will eventually total between 5,000 and 6,000 complete weapon systems. Terms of the contract were announced last summer.
The new HK rifle is a variant of the company's 7.62 NATO-chambered G28/HK417. The rifles are manufactured by the company in Oberndorf, Germany, then shipped to the HK-USA facility in Columbus, GA. There, staff members install scopes and mounts purchased by the Army under a separate agreement. Additionally, the rifles are equipped with accessories from a dozen other U.S.-based manufacturers to round out the complete SDMR weapon system delivered to the Army. Heckler & Koch also provides spare parts, support and training during and after formal issue of the new system.
"Obviously, the COVID-19 pandemic creates a very challenging business environment," said HK-USA President and COO Michael Holley. "But as an essential partner in the defense infrastructure of this country, we are 100-percent committed to delivering this essential product to our troops, while keeping our employees safe and healthy."
Holley added that the HK SDMR system will add much-needed capabilities to virtually every squad in the Army, making it a top priority for HK internationally. Effective engagement distances according to testing are out to 600 meters. "We have many of the best workers in in the small-arms industry, both here in Columbus, Georgia, and in Oberndorf, Germany, working together to make this happen," Holley said.
The optic the Army selected for use on the rifle is the SIG Sauer Tango6 1-6x24 mm. Acquisition of the more than 6,000 scopes was completed last year.
HK deliveries of the M110A1 under the current purchase agreement are expected to continue through the middle of 2021.