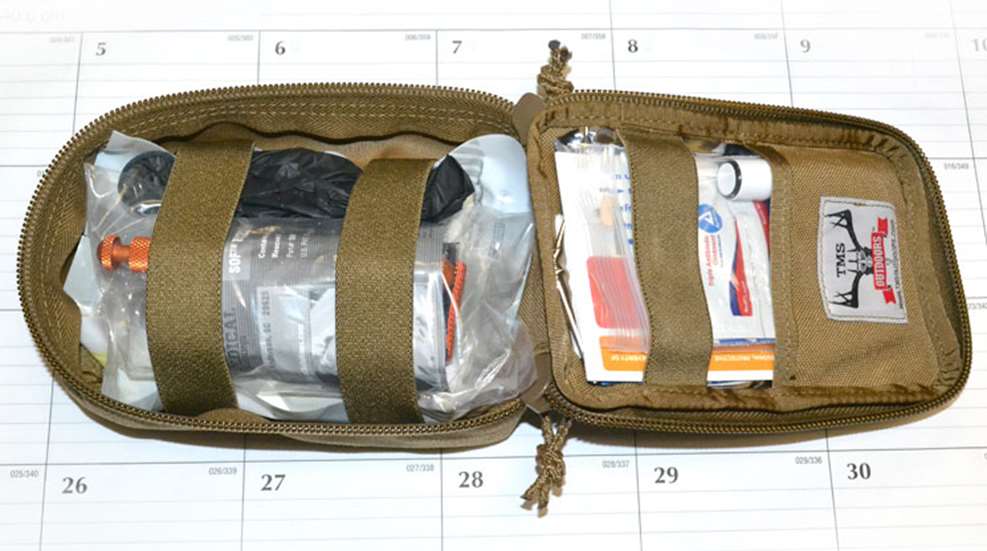 What's in your range bag? For most shooters, there's some basic cleaning supplies, ammo, spare magazines, targets, etc. There might be a basic First Aid kit (from my years in Scouting, there's a fairly comprehensive kit in my truck, for example), but is it dedicated to the kind of tasks that might be asked of it at a shooting range?
Tactical Medical Solutions offers the Trauma kit containing not just first aid basics, but also purpose-driven gear for the types of first aid that might become necessary. Antibiotic ointment and standard bandages are present for the myriad ordinary mishaps, but where the kit really shines is in the extraordinary problems that might be encountered on a firing line.
There's a Tactical Tourniquet in the kit, along with gauze, trauma bandage and detailed instructions on how to rapidly treat traumatic injury. Gloves are even included in the case (which is available in coyote tan, OD green, multi-cam and blaze orange), which has molle straps for carrying on a belt or attaching to a range bag or larger medical kit.
Look to ShootingIllustrated.com for upcoming articles on other handy items to consider having available in range-specific first aid kits.
MSRP: $43.99 to $97.99 depending on components.