For the past decade or so, the launch of a new AR-platform firearm has been hyped by the manufacturer with all sorts of claims about how it is faster or more accurate or lighter or betterer than any AR before it. What we all know, however, is that it is most likely just a slightly different take—usually thanks to the inclusion of aftermarket furniture or controls—on the same basic AR platform that's been around for 60 years now. So, I understand your skepticism when an article about a new AR sings its praises as being something actually new and innovative, but I think you'll see that the new Ruger SFAR is reasonably different from most ARs of the past.
SFAR is an acronym for Small-Frame Autoloading Rifle which, as an aside, is a correct but bad idea for a name. Idiots and gun banners (the latter being entirely composed of the former) will confuse "autoloading" for "automatic," when in reality it is merely an archaic way of saying "semi-automatic." Yes, I know, the anti-freedom ilk will twist anything to make a gun sound scarier than it is, but the industry shouldn't be helping, even if doing so creates an acronym that makes it look like the gun is used by special forces or other breeds of ninja.
Now that my solitary complaint about the SFAR is out of the way, let's talk about what is a truly outstanding platform. This rifle looks pretty much identical to an AR-15, but it is not an AR-15. No, the SFAR is chambered in 7.62 NATO/.308 Win., not 5.56 NATO or .223 Rem. The 16-inch-barreled version I've tested weighs less than 7 pounds empty, which, when compared with normal 7.62 NATO ARs—usually an AR-10-size rifle—is almost absurdly light. In fact, the rifle most folks will compare the SFAR to, the DPMS GII, had a starting weight nearly half a pound heavier. Another excellent effort at this paradigm, the POF Revolution, is about 10 ounces heavier than the SFAR. So, while the "AR-15-sized AR-10" has been tried before, I'm not sure anyone outside of pure custom builders has created one that truly falls into the AR-15-size category. Yes, there are much lighter AR-15s, but they don't pack the wallop of a 7.62 NATO.
That wallop in such a lightweight model may have you thinking, "Ouch!" Fear not, because the SFAR comes with Ruger's Boomer muzzle brake. A two-port design, it proved extremely effective at mitigating the felt recoil of .308 Win. I first shot the SFAR on an impromptu hog hunt in Texas using thermal optics. From the ground blind, I had an awkward shot at the largest pig in a sounder that happened to come by. The shot required me to bend pretty much 90 degrees to the left, stick my head and arms (and the SFAR) out of the shooting port (which is just a fancy name for "window"), keep the thermal's reticle on the pig and shoot from a sideways position. This was not a standard shooting position, nor was it comfortable, yet the feral pest fell to a single shot while the SFAR barely moved despite my contorted state. The rifle showed the same degree of recoil mitigation shooting hogs from less twisted positions and in formal testing from a bench. Now, all brakes make already loud noises associated with gunfire louder, as does the aptly named Boomer, but really that's more of a problem for the guy next to you on the line. The SFAR's muzzle is threaded 5/8x24 tpi for those who would prefer a different muzzle device or sound suppressor.

So, how did Ruger manage to make such a lightweight 7.62 NATO rifle? For starters, the company's engineers looked to shave weight wherever possible. The upper receiver is a forged 7075-T6 aluminum unit, and the lower receiver features a redesigned mag well, where it is clear some unnecessary mass has been removed. A four-position-adjustable, mid-length gas system helps ensure reliability, while not adding as much weight as a rifle-length gas tube would. Ruger includes a 3/16-inch ball-end wrench, which stores (and ships) in the Magpul MOE grip's storage compartment. The 15-inch, M-Lok-slot-festooned fore-end is likewise lightweight, thanks to its aluminum construction and minimalist design, with a sculpted-out area between the end of the rail section by the receiver and the front-sight rail further shaving weight. Venting holes in the upper receiver, barrel extension and bolt carrier are present to deflect excess gas away from the shooter, but they, by being holes, also result in less material and shave a small amount of weight. Yes, that's not much weight, but ounces make pounds—or in this case, grams make kilograms. Also, the Magpul MOE SL stock is lightweight and minimalist, while the MOE grip doesn't add weight over a generic model, either.
Quick-detach sockets on the stock in front of the fore-end provide solid mounts for a sling. Given the SFAR's light weight, carrying it for an extended period using a quality two-point sling is not a problem. I walked around the Texas hill country carrying the SFAR for a few hours—in late July—and was never uncomfortable apart from the oppressive heat of that region in the middle of summer. The knowledge that I had a rifle capable of stopping pretty much any critter, no matter how ornery or cartel-affiliated, that might come upon me certainly added to that comfort.

Perhaps the most impressive and innovative part of the rifle is something most users won't notice. The bolt, bolt carrier and barrel extension, while not compatible with AR-15-size units, are otherwise almost the exact same overall size. Both are machined from a high-nickel-content-alloy steel, which is stronger and lighter than traditional units on either AR-15s or AR-10s. While we're talking about the bolt and bolt-carrier group (BCG), let's further explore them. The bolt features dual ejectors and a redesigned extractor for added reliability, while the BCG has a staked gas key for similar purposes. Another place where weight is conserved is in the DLC-coated, titanium firing pin, which is also incredibly durable.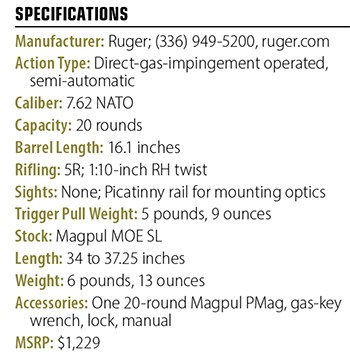 One place where weight was decidedly not shaved is the heavy-profile, cold-hammer-forged, 4140 chrome-moly-steel barrel. That's good, because the whole point of moving up to a .308 Win. rifle is to gain the range and terminal performance offered by that cartridge, and the pipe through which it exits the gun needs to be able to wring as much from it as possible. This 16.1-inch barrel, with its 5R rifling, certainly lives up to that billing, proving accurate in testing and, from my experience, plenty lethal downrange, at least on the scourge of the nation that is feral hogs.

Thanks to the aforementioned, adjustable, mid-length gas system, you can tune the SFAR for your preferred load or application. The four-position gas valve is easily accessed through the fore-end with the included Allen wrench. It comes from the factory on setting number three, which is the most open and will ensure pretty much any load off the shelf will reliably operate the gun. After breaking in the rifle, setting number two will most likely work well for the majority of factory loads, while setting number one is ideal for use with a suppressor, which deflects more gas back into the system, making a smaller port ideal for reliability and minimizing long-term wear on important parts. Setting zero is the "off" setting, which basically makes the rifle a straight-pull bolt gun using the charging handle. This setting is pretty much only useful if you want to run the SFAR with a suppressor and don't want the added noise that comes from gas escaping through the ejection port or the action's movement.
The SFAR is also available with a 20-inch barrel, which of course adds weight—about 8 ounces—and, obviously, overall length. It also promises greater accuracy, particularly at longer ranges. Personally, I prefer the 16.1-inch version because of its lighter weight and ease of maneuver, since you never know when you might have to lean out of a window, body akimbo, to take a shot. Also, while most of us don't carry a rifle every day, when we do carry them, a half-pound of weight savings becomes quite welcome. Alternatively, you've got a half-pound extra of accessories or optics to hang off the gun before you get to the starting weight of either the 20-inch SFAR or any other 7.62 NATO/.308 Win. AR.



Basically, the SFAR is lighter, more reliable and more durable than an AR-10 while retaining almost the same dimensions as an AR-15. Its chambering means it is more capable for a wider variety of tasks than the latter platform, but the user won't fret about either its weight or its recoil. That means the user is more likely to take it places and use it, even if it's just going to the local range to put holes in paper. And that alone makes it worthwhile, since ARs are meant to be shot, not to sit in your safe.
Technological innovation mated with a familiar, monstrously popular platform tend to make for solid new products, and Ruger has been at the top of its game in providing such guns for many years. The SFAR is a perfect example of that pattern. It's also eminently affordable for a 7.62 NATO AR, much less one with its ground-breaking engineering and well-designed features. Yes, it's another AR-pattern rifle, but it's a pretty darn awesome AR that's worth a look, no matter how many you already own.