Support NRA Shooting Illustrated
DONATE
Much to the chagrin of traditional wooden-stock and blued-steel aficionados, the popularity of modern, modular semi-autos shows no serious signs of waning. In particular, rifle and pistol shooters gravitate to the AR platform for a whole host of utility-based reasons. With a growing number of people seeking to stretch their legs out past boring distances, designated marksman-type configurations can be found among most AR manufacturers' offerings. Such is the case with FN's latest entry, the DMR3 chambered in 5.56 NATO.
FN opted for an 18-inch, "machine-gun steel" barrel for this model, allowing its customers to hold onto a little more velocity and adding to the controllability of the rifle as compared to shorter carbines. The company refers to the profile as "hybrid," but it looks and feels like an HBAR to me. Hammer-forged and featuring a chrome-lined bore, the barrel sports SureFire's ProComp muzzle brake for enhanced control.
Freefloating comes by way of Hodge Defense's 14.6-inch, wedge-lock handguard. A continuous top rail extends the forged, mil-spec upper receiver's flattop, while M-Lok slots provide ample accessory and sight space. The DMR3 uses a fixed-gas, direct-impingement system with a low-profile gas block secured by a single transverse pin. The M16 bolt-carrier group (BCG) features a Carpenter 158 steel bolt that has been high-pressure tested and magnetic-particle inspected. My test rifle's gas-key screws were properly torqued and staked.
Geissele Automatics' G2S two-stage match trigger in an extended trigger guard provides fire control. The test rifle's trigger was smooth in the first stage and broke cleanly in the second. FN's in-house pistol grip is advertised to have a 19.5-degree angle and I found the wrap-around, aggressive texturing to be comfortable and sufficiently "grippy" for
my sweaty hands during testing.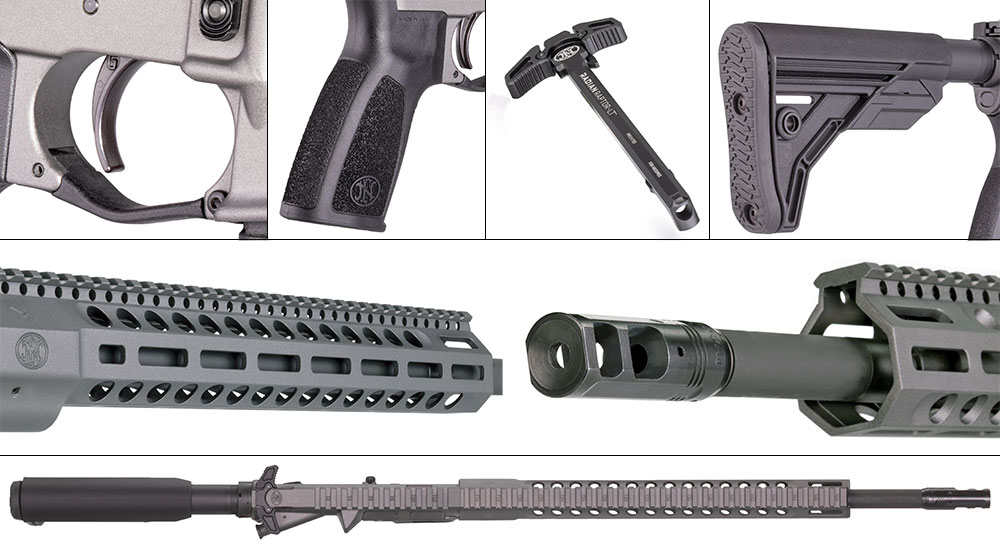 The company's six-position buttstock has a rubber recoil pad that anchors the angled butt to the shoulder. Quick-detach sockets are present on each side and three slots are provided for sling routing. The stock's release is an interesting design that is not likely to be inadvertently activated. Adjusting is slow, requiring one to squeeze the release lever upward, but the stock is rigid in just the way you want a precision rifle stock to be. A heavy (H) buffer rides inside the mil-spec receiver extension, further dampening this rifle's already-miniscule recoil impulse. Rounding out the ergonomic aspects of the DMR3 are a Radian Raptor-LT ambi charging handle and ambi safety.
The test rifle came to me dirty, so after cleaning the bore and wiping down and lubricating the moving parts, I headed to the range with a pair of factory loads that are intended for longer-than-normal 5.56 NATO distances. I noticed that the bolt had a tendency to stick in battery when I attempted to hand-cycle it, reminiscent of what happens when vegetable-based lubes are left on moving rifle parts. It smoothed out after cleaning, so the problem likely stemmed from sketchy prior maintenance more than anything else.
My own testing was limited to 100 yards, but that still gave me a fair snapshot of what can be expected of the DMR3. The rifle is a smooth shooter, both when prone and standing. It balances about 1.5 inches in front of the magazine well, which is farther than I like, but not obnoxiously so. The heavy 18-inch barrel allowed me to efficiently transition from one target to another without "overdriving." No malfunctions were noted over the course of fire, which consisted of 75 rounds total. My brass ejected in fine shape and into the same piles for each of the loads.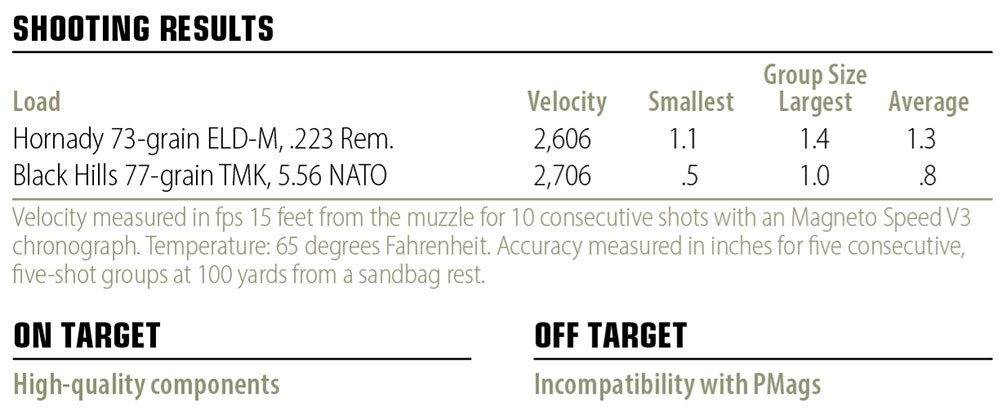 Accuracy was respectable with one load and marginal with the other. To be fair though, my experience has been that Hornady's 73-grain ELD-M turns in mediocre accuracy in many rifles and it performed better than average in the DMR3. Black Hills' 77-grain TMK load shot much tighter, averaging significantly less than 1 MOA. I noticed that each group was divided into two distinct sub-groups, consisting of the first two shots, and then deviating for the final three. With the 77-grain load, the shift was .5 to .75 inches left. The larger 73-grain groups were less consistent, but the same pattern of two and then three-round subgroups was evident. There are several component issues that can cause this, but investigating and remedying the culprit was beyond the scope of this review.
While MSRP on this rifle is on the steep end for a 5.56 NATO AR, actual retail pricing of all models is $200 to $300 less than MSRP at press time. The DMR3 struck me as a good-quality rifle that is suitable for marksman-type roles where 5.56 NATO is the desired chambering.