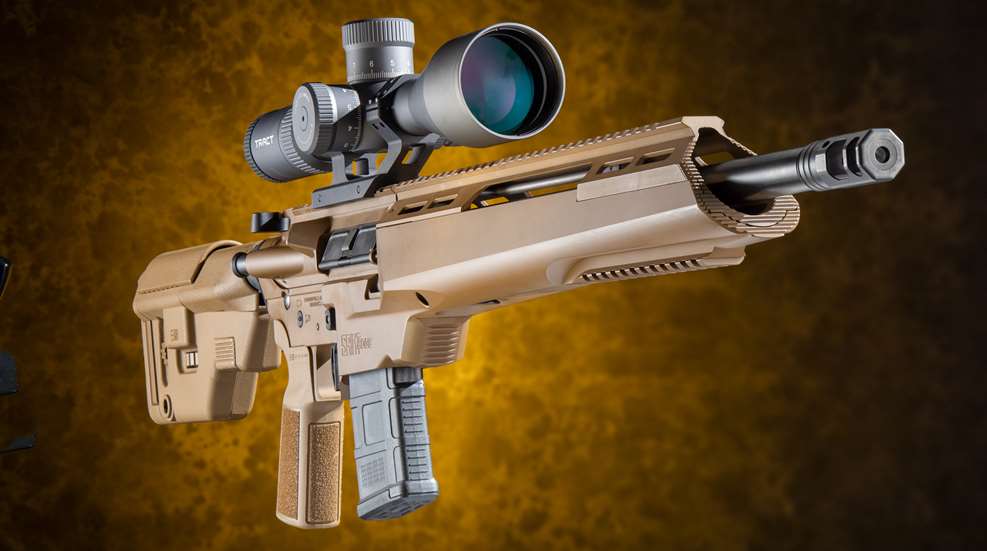 Over the years, I have learned that when the Editor-in-Chief of this fine publication asks if I am interested in evaluating a new rifle, it is usually going to be a worthwhile effort. So, the offer to take Springfield Armory's new Saint Edge ATC through its paces, sight unseen, was an easy "yes" for me. Since the rifle had yet to make a public debut, I had no idea what was coming. Upon receipt, my immediate impression was that the good folks in Geneseo, IL, must have drawn inspiration from those DOD "future weapon" concepts that never made it out of the early 2000s era. The questions that began racing through my mind all came back to one word: why. Why would the manufacturer develop a receiver that ties owners to one fore-end length and style? Why would it retrograde from a toolless takedown design to one that requires a wrench just to fieldstrip? Why did it hamper the platform's modularity by making it harder to use other upper-receiver assemblies? Why market a 10-ish-pound .223 Rem./5.56 NATO rifle design that makes shedding weight nearly impossible, when the market trend is toward lightweight, high-performance carbines? As it turns out, I just needed to dig a little deeper to find the answers.
After disassembling the rifle, it was easy to see that this newest addition to the Saint line was designed to relocate external pressures on the fore-end—be it from a bipod, bag rest, support hand or sling—away from the upper receiver and to the lower receiver. The Edge ATC does this by ditching a conventional upper-receiver-handguard assembly in favor of a fore-end that is integral to the lower receiver. As part of this chassis system, the bottom of the handguard extends out beneath the barrel. The top section of the handguard is tubular, but instead of mounting to the barrel nut, it mates to the lower receiver's extension through the use of keyways, a setscrew and a locking latch inside the chassis.


Springfield's claim that "… the barrel, barrel nut and gas system are totally free from any contact with the lower chassis" is a bit deceiving. While the aforementioned handguard pressures are transmitted to the bottom portion of the rifle, the upper receiver is still attached to the lower via front and rear takedown pins. So, contact between the upper (including the barrel, barrel nut and gas system) and lower receivers is the same as other ARs. That said, this is a very rigid system and, aside from intentional abuse, I cannot fathom a way for the barrel, gas block or gas tube to make contact with the handguard at any point during use. Before we look at whether or not Springfield Armory made good on its plan to "deliver maximum accuracy out of the AR-15 platform," a closer examination of the overall configuration is in order.
Springfield has patented the "Accurized Tactical Chassis" that forms this rifle's monolithic lower receiver. It is machined from 6061 T6 aluminum and comes in either coyote brown (Elite) or flat black (standard). The chassis employs Springfield's Accu-Tite Plus tension system to snug the upper-to-lower receiver fit. This is done through the use of dome-tipped tension screws that impinge on the upper receiver's front and rear takedown pin housings, or "tabs." Those screws comprise two of the three points which require a 1/8-inch hex wrench for disassembly. The third screw serves to tension the handguard's upper tube section as it seats in the chassis. All three screws are accessed from the bottom of the rifle, the rearmost being inside the pistol grip. Springfield includes a long, T-handle hex wrench for this purpose. 
Once the handguard screw has been loosened a half turn, a spring-loaded plunger must be pulled from within a recessed portion of the handguard's bottom. This disengages the chassis' internal locking bar, freeing the upper portion of the handguard to be slid forward until it is free of the lower chassis and barrel. The other two screws also require a half-turn to loosen before the takedown pins can be pushed out and the upper separated from the lower in normal AR fashion. Reassembly is a simple reversal of this process, except that the internal locking bar will automatically engage the handguard tube as it slides back in place, eliminating the need to pull down the disassembly plunger. When the system is fully assembled and properly tightened, the upper and lower have zero play and the handguard is as tight as can be.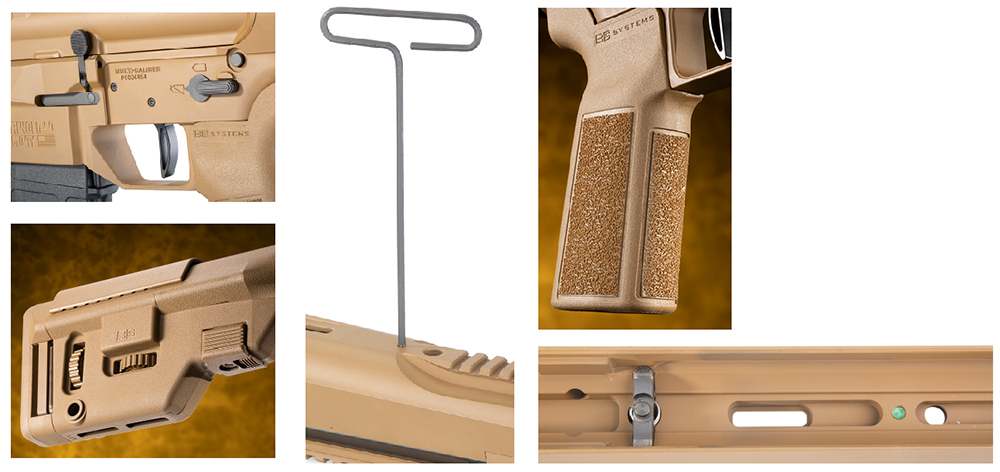 The front end of the handguard is cut at a backward-raked angle, yielding a 12.5-inch-long top rail and 15.25-inch-long bottom handguard portion. The top features M-Lok slots at 10 and 2 o'clock, while the bottom provides an additional M-Lok slot as well as 5.5 inches of Picatinny rail for accessory or support attachments. QD sockets are provided at the handguard's 5-, 6- and 7-o'clock positions, as well on the endplate and either side of the buttstock. The wide-bottomed fore-end tapers from 2.2 to 1.9 inches as you move toward the muzzle. The resulting base surface is stable and reminiscent of the "bag-rider" fore-ends popular in some competitive disciplines.
Both Edge ATC models employ 18-inch, Ballistic Advantage barrels. The HBAR barrel profile provides the stiffness that accuracy purists expect and a .223 Wylde match chamber treads the line nicely between .223 Rem. and 5.56 NATO. A low-profile, fixed-position gas block is transverse pinned under the handguard, and Springfield's dual-ported and chambered muzzle brake is standard on the barrel's 1/2x28 tpi muzzle threads.
Toward the user-end of the rifle, the flattop upper receiver has a forward assist, port cover and feedramp cuts. A standard charging handle begs for an extended latch, while the right-hand-only selector at least has a visible and tactile position indicator on the opposite side. Internally, the Melonite-treated M16 bolt-carrier group houses a high-pressure-tested, magnetic-particle-inspected Carpenter 158 steel bolt. The Elite model (tested) Edge ATC features a LaRue MBT flat/skeletonized trigger, while the standard Edge ATC uses Springfield's Flat Modular Match trigger. A heavy carbine buffer rides inside the mil-spec receiver extension, and B5 System's Type 23-P grip and collapsible Precision Stock (Elite) or Enhanced SOPMOD stock (standard) provide functional points of contact.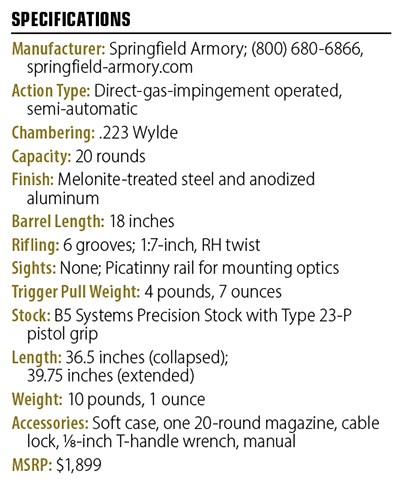 Component choices and design features are interesting enough, but how a precision rifle performs on target is where it all comes together—or falls apart, as the case may be. Fortunately for the Edge ATC, it was mostly the former during my testing. Springfield advised beforehand that this rifle really likes Federal's 77-grain match load, so that was used along with two other factory match loads that regularly deliver for me: Hornady's 75-grain Black and Black Hills' 69-grain match. As one would expect for a .22-bore rifle of this weight, the Edge ATC handles like a dream. Movement in recoil is absolutely minimal, making follow-through a smooth and natural process while shooting prone. A total of 105 rounds was fired, with no functional problems noted.
Two out of the three loads tested shot well inside of the company's accuracy guarantee. Springfield's recommendation for the Federal load was spot-on and Hornady's contender was not far behind. Everything was going along fine until I tried the Black Hills load. Normally, this 69-grain match ammunition is the "ringer" I break out only when a rifle is shooting so well that I want to see what it will really do. In this case, the 69-grain shot so uncharacteristically bad that I assumed my optic or mount had suddenly gone out of whack. Halfway through testing the 69-grain load, I double-checked the scope mount and then switched to Federal's 77-grain ammunition. Expecting to see a shotgun pattern downrange, I fired five rounds and was rewarded with a nice, neat .67-inch group, right on zero. I switched back to the 69-grain ammo and finished out testing with a pair of hideously large groups. If it were a new lot, I would have contacted Black Hills Ammunition to see if something changed in its recipe. But, I have been working with this particular lot for two years, typically seeing .5- to .75-MOA accuracy with it in good rifles. The poor performance in this case, especially considering the low muzzle velocity standard deviation recorded for this load, just reinforces the point that every barrel is different.
The lower receiver/chassis has an angled and textured area at the rear of the handguard, just forward of the magazine well and balance point. When I use a soft-bag rest, I find that pushing a rifle as far forward into the rest as possible is my most stable position. This enhanced portion of the handguard worked quite well for that purpose. After accuracy testing concluded, I fired a few rounds from the standing/offhand position in order to see if placing my support hand there was practical when upright. It was not. This section of the handguard was too far forward to allow tucking my support elbow onto my gut, high-power style, and too far back to be useful for a more dynamic shooting stance.
Even though a tool was needed for disassembly prior to cleaning, the process was simple and only took a few extra seconds to accomplish. The barrel and BCG surface treatments made cleanup easy and no surprises were encountered during the post-cleaning inspection. Looking at the chassis design, I would have guessed that Springfield intended to offer additional upper-receiver options in chamberings more suited to a heavy precision rifle, such as 6 mm ARC, 6.5 Grendel or 22 Nosler. But as things stand, the company says there are no further variations or chamberings planned. That would not stop a potential owner from adding different uppers in order to make full use of the rigid platform, but there are caveats. The additional upper would have to be stripped of its handguard in order to work on this lower. Also, assuming my measurements are correct, the barrel nut's outer diameter will need to be less than 1.46 inches and its length shorter than 1.88 inches in order to fit within the lower chassis' barrel nut recess. Lastly, anything beefier than the M16 family's "HBAR" contour will likely be too thick for the limited space inside of the ATC's handguard assembly. If I would have had more time with the test rifle, trying a couple different uppers of known performance would have been next on the slate.
In the end, Springfield's new design is a mixed bag for me. On the one hand, it is not exactly carry-friendly, ties the user to one handguard, requires a tool to fieldstrip and makes changing uppers more laborious than normal. On the other hand, it averaged well under 1 MOA with two of the factory loads tested, the best coming in at just a hair over .6 MOA overall. While a 10-pound, .22-caliber centerfire can be expected to shoot well, it was so easy to group tightly with this rifle's favorite load that I wrote the word "boring" in my logbook's margin at that point in testing.



I shoot between 125 and 150 AR-style rifles, pistols, SBRs and the occasional machine gun each year, with a high emphasis on precision performance in most cases. Seldom does the process of shooting tight groups strike me as mundane. Yet, the SAINT Edge ATC made it so easy, I am left feeling that Springfield's idea to move handguard pressures to the lower receiver is worth serious consideration. Assuming one or more factory loads will perform the same in production models as they did in my evaluation gun, this platform shows promise for those who seek to squeeze every ounce of performance out of their small-frame ARs, both at the range and in static field settings.