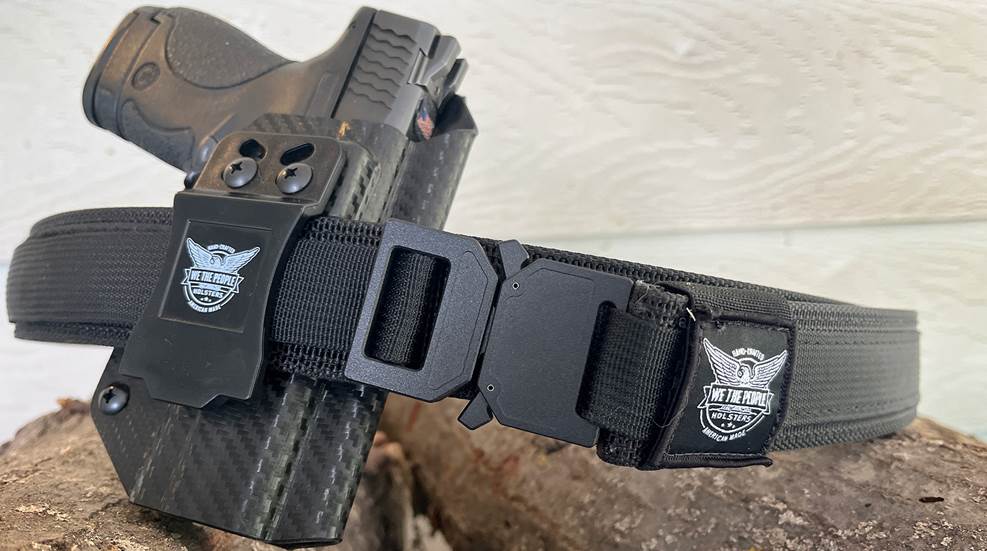 When a holster company starts with the first three words of the Constitution, it's pretty easy to interpret their commitment to the 2A community. As a strong advocate, I was curious about how well they carried out that commitment. When they sent me their IWB (Inside the Waistband) holster for my Smith & Wesson M&P Shield 9 mm, I accepted the challenge and put it to the test. How well did it hold up? Read on.
Let's start with the basics. The We the People IWB is a taco-style Kydex shell with a single belt clip that is set up for appendix more than it is for strongside hip carry. Without a wing, though, it can easily serve a dual purpose in either location. The inch-wide polymer clip accommodates 1.5-inch belts and is adjustable for cant with simple screw placement.
The shell is perfectly molded to the gun and features a handy sweat guard extension that didn't dig into my skin while carrying. That's always tricky when designing full Kydex holsters, and We The People pulled it off admirably.
I wore the holster for several days, and it felt comfortable and secure throughout. Only once did it move, and that was because I bumped into something at an odd angle, tilting the holster a bit forward, my fault entirely. A quick adjustment put it back in place.
Retention was solid and sure from the factory. There is a single retention screw under the trigger guard bulge, but I didn't need to move it. The gun went in with an audible click, telling me it was seated and secure.
At $45 on the We the People website for basic colors, this holster is a great value for a basic Kydex rig with some great customization options, available in 28 colors and patterns for $4 extra, including one to cheer on politicians named Brandon. The one they sent me came in a carbon fiber look-alike.
As much as I like this holster, there is one thing I would change. Remember the aforementioned lack of wing? I wish it had one. Wings always make concealing easier. Sure, adding a wing would raise the price a bit, but even adding a few more dollars keeps this holster well within the normal price range of the competition and offers buyers a better product. Perhaps we will see this in a future version.
We the People also sent me their Tactical Gun Belt with Talon Buckle along with the holster. After all, when you carry a gun, you need a good, sturdy belt to support it. Department store belts don't cut it in the gun world.
The Tactical Gun Belt is 1.5 inches wide and made from two layers of what they call "rigid, heavy-duty scuba webbing." This extra thickness gives it extra stiffness to hold up under the weight of a fully-loaded gun and spare magazine. Holding it all together is a patent-pending Talon buckle reminiscent of a Cobra buckle with its squeeze latches. Size fine-tuning is adjusted by a nylon strap attached to one buckle that slides for adjustment and is held down by hook and loop once you get it in place.
I wore the belt when I tried out the holster and found it both comfortable and supportive. In addition, it held up extremely well under everyday use. My only complaint is that the adjustable buckle must be removed to take the belt on and off, but this is a minor inconvenience compared to how well the belt works.
At $85, the Tactical Gun Belt with Talon Buckle is priced right in line with similar nylon belts yet feels like a belt that will last longer and hold up better than many competitors.
This belt and holster combo was my first taste of We the People products, and I have to say I am thoroughly impressed. Both are of excellent quality and priced appropriately.