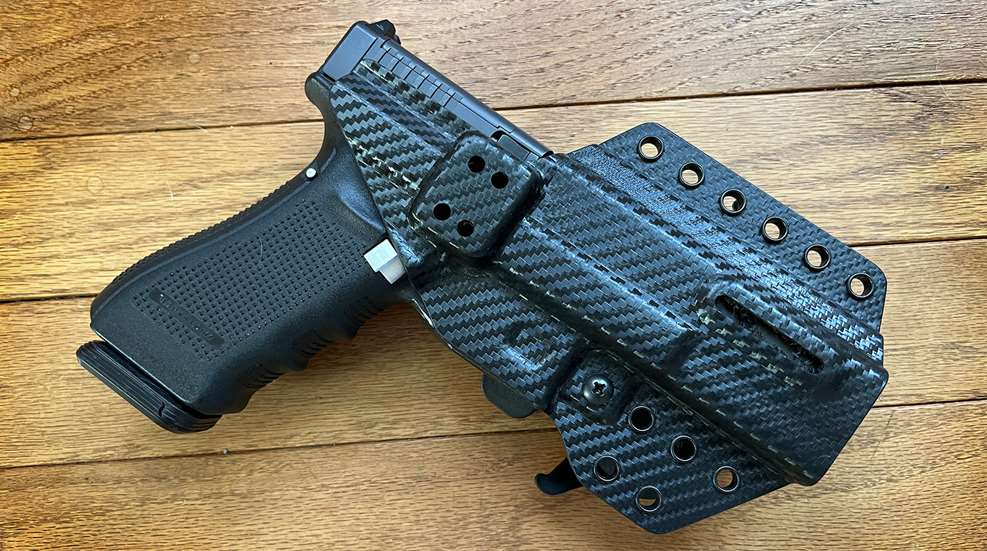 If you've hung around the gun world for a while, you've probably encountered something called a "convertible" holster. No, you can't drive it with the top down. But it can be just as cool. A typical convertible holster offers at least one, often more options as to how to wear it—OWB, IWB, IWB appendix, etc.—simply by swapping out some hardware. Move a clip from front to back, for example, and the IWB becomes an OWB.
We the People has taken the convertible holster concept to a whole new level with the Freedom Platform, which they claim can be configured over 2,500 different ways. Now, I'm no mathematician, so I can't verify that their claim is correct even counting with all my fingers and toes, but judging from the number of ways I figured out how to configure the setup, let's assume someone on their staff probably got that number right. This holster can be configured a ton of different ways. Want an appendix rig? Got it. Outside the waistband with a paddle? Yep, you can do that. How about belt loops instead of the paddle? Yessir. Attach the mag pouch with the holster or separate it? Either way works. You get the point.
I do have to admit, however, that when I opened the box I was more than a bit overwhelmed. Each set of configuration hardware comes in its own black bag, and there were half a dozen of them along with the main pouch holding the holster. The experience was more than a typical unboxing.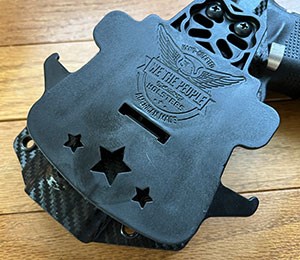 The Freedom Holster Platform starts with a Kydex shell with holes pretty much everywhere for all sorts of clip and loop attachments, from J-hooks to belt loops to an OWB paddle, and the holes are all ambidextrous for the lefties out there. I counted 15 holes and two adjustment slides. That's a lot of drilling for one holster. Plus, it comes optic ready as standard, a must in today's market. One thing it is missing, however, is adjustable retention. This misstep isn't a deal killer, but it would be nice. The factory setting held the gun just fine.
We the People sent me one for my Glock G17, which I don't normally conceal carry, so I played with the OWB configurations instead. Adding the belt loop and then switching to the paddle was super easy with a basic screwdriver. Both carry methods were solid and easy to use. The belt loops are for 1.5-inch belts, perfect for everything I wear.
Both the paddle and belt loop options held the holster securely, not a single slip or feeling like it would fall off or out. The first test I ran it through was some dry fire draw practice, and it performed flawlessly.
At $129, this might seem a bit on the expensive side, since you can get other Kydex rigs for less. But, can you buy 2,500 of them for that price? Probably not.