It's not often that I find an acceptable OWB holster for concealed carry. There just aren't a lot of good options out there. Some of them have no business claiming to be concealable. Others, however, have every right to claim it because they really do hide the gun. The Upper Hand OWB Concealed Holster is one such example.
The challenge with typical OWB holsters is just that: they are outside the waistband, so they don't hide the gun as well because they aren't as snug against the side as an IWB, severely limiting when and where you can wear them and truly get good concealment. So naturally I was a bit skeptical when Upper Hand send me what I thought was going to be yet another questionable attempt at a concealable OWB. But I was wrong, in a good way.
The holster starts as many OWBs do with front and back molded Kydex panels. Mine was shaped to my Smith & Wesson Shield 9 mm, a gun I carry pretty much every day. The panels are bonded by four screws in six holes, three on each side for height adjustment if you prefer the gun to ride higher or lower. While it is only one level of adjustment, that little bit can make a difference.
Those screws also hold the two flush belt clips securely to the sides. And secure they are. Through all sorts of twisting and wrenching, they held tightly. The other screw on the holster's face is a single adjustable retention point. Factory setting was perfect out of the box, but I messed with it anyway just to be sure it worked, which it did.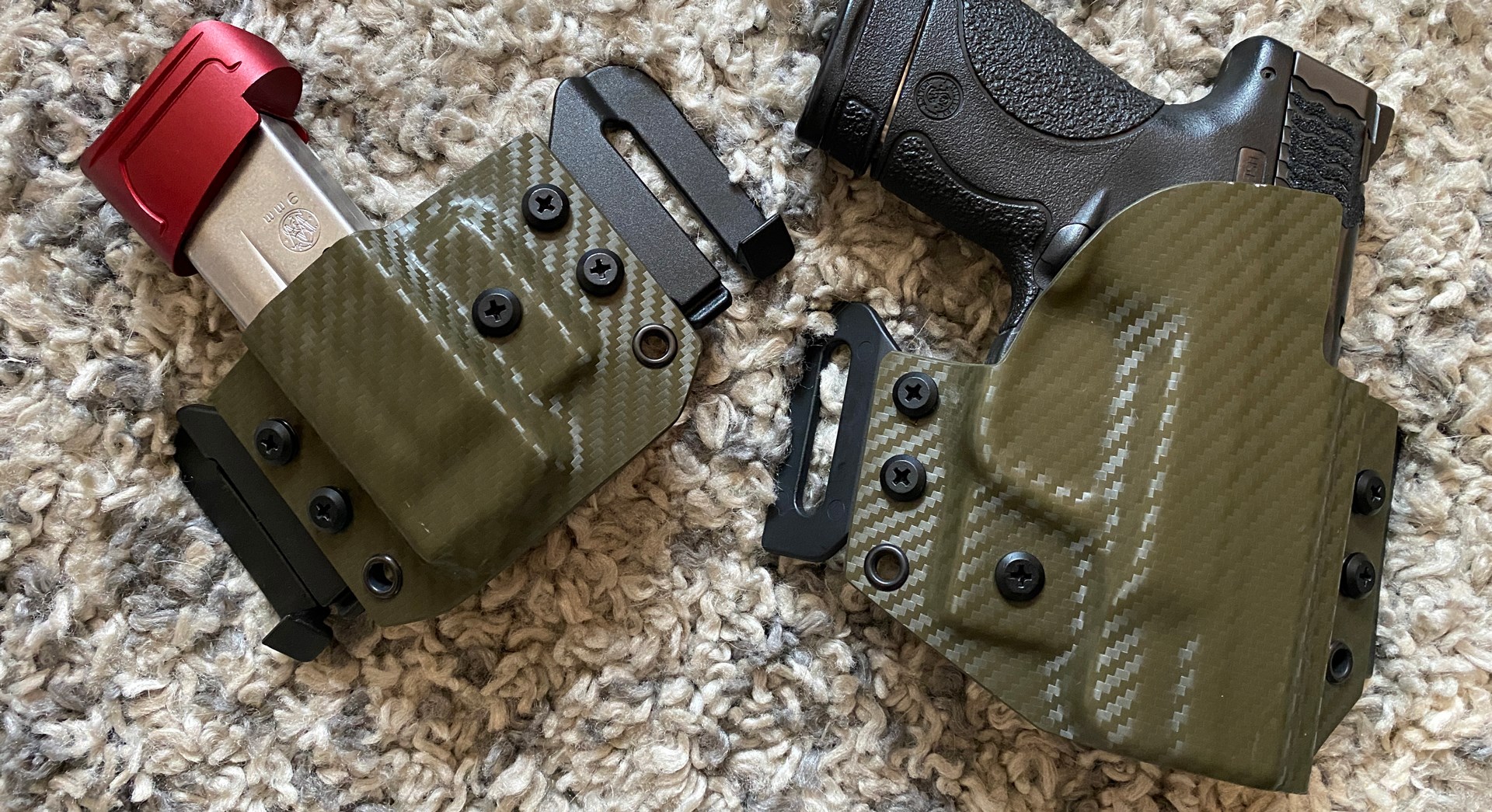 To my surprise and delight, the Upper Hand OWB Concealed Holster comes standard with an optic cut. While I don't have an optic on my Shield because the original model didn't come milled for one, Upper Hand is clearly already thinking about the Shield Plus, which does have an optic cut, gaining popularity. Smith & Wesson was smart about leaving the frame and slide alone on the upgraded version so those of us with older model Shields won't have to revamp our holster collections.
Upper Hand not only sells holsters but also matching Kydex magazine pouches with speed clips. As a big fan of carrying a spare mag, I love that I can get the set. Both holsters and mag pouches also come in a variety of colors and patterns that fit your personality. My choice was the OD green in carbon fiber print because, well, it looks cool. And that's important in an OWB, right?
As I mentioned above, this OWB really can claim "concealed" in its name. I wore it under a hoodie, a light rain jacket, and an unbutton shirt, and each time the gun was truly concealed because the holster held it tightly against my side.
At $69.99 for the holster and $44.99 for the magazine pouch, the Upper Hand OWB Concealed Holster set is a solid price for a solid offering.