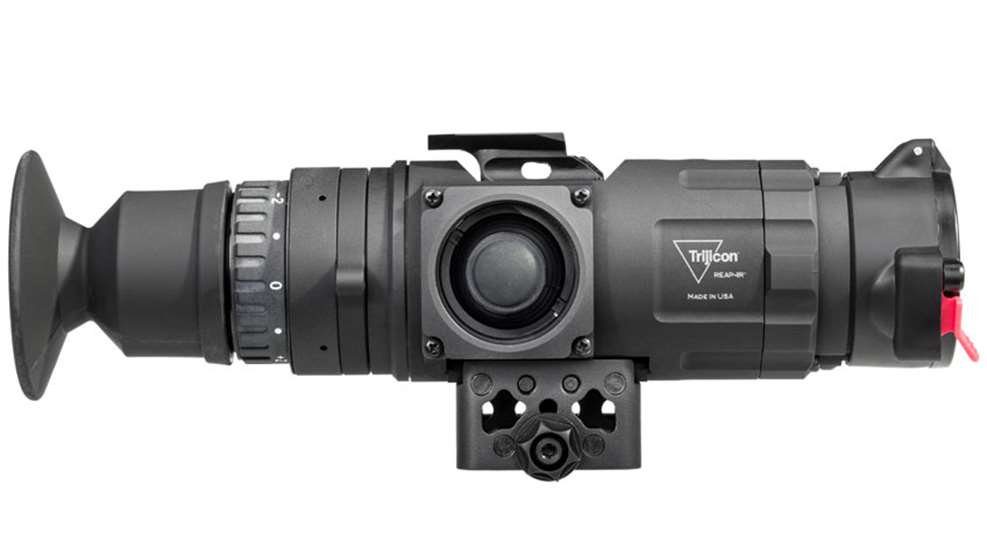 I first got my hands on thermal optics about five years ago, in the form of a thermal monocular, and was impressed by thermal imaging and its tactical potential. Since then, I've used a variety of thermal monoculars and riflescopes  for scouting, identifying and tracking warm-blooded targets. This led me to a product demonstration of the new Trijicon REAP-IR thermal scope.
Recently, Trijicon announced it was producing thermal gear, and asked me to attend a Texas product presentation and demonstration of its new line of thermal scopes and monoculars. I spent three nights in the South Texas brush wringing out the new gear, from sighting it in to long-range target identification. I came away impressed, but that wasn't entirely unexpected.
The new Trijicon REAP-IR thermal scopes are first-rate and extremely effective. They are expensive, too, (which is pretty much the norm for thermal technology) and while you need not be an electrical engineer to use these units, it does take practice to get one's head around their actual operation. That time and practice is also the norm with all other thermal devices I have used.
Originally designed by IR-Defense, a company Trijicon purchased in 2016, Trijicon's new REAP-IR scope is the best thermal scope I've used to date. Trijicon's IR-PATROL monocular is lightweight, reliable and reaches out far into the blackest night. 
I used the REAP-IR mini thermal scope on three different AR-platform rifles over those three nights of hunting. At first, I was somewhat skeptical of the unit, mostly because it was so small compared to the other thermal riflescopes. Those scopes were more than a foot long, with the bulk and nearly the weight of a spotting scope. The REAP-IR? Just 6.5 inches long and only 21 ounces. So I assumed it would have limited range and effectiveness.
First, keep in mind that thermal "optics" are not optics. The term "optic" is used because, well, these thermals look like riflescopes and monoculars. Actually, they are digital cameras with sensors that detect infrared or heat waves, with an image signal processor that turns those waves into images.   


The REAP-IR has a sensor resolution of 640x480 pixels, which is currently leading edge for thermal scopes. It has a sensor pitch of 12 microns versus most thermal scopes on the market today that have a 17 micron pitch. Translation: The REAP-IR's 12 microns delivers sharper images than the 17 micron models. The scope also has a frame rate of 60 Hz, meaning the thermal core refreshes the image you see 60 times a second. 
The REAP-IR comes with a polarity mode that lets you switch between three levels of white hot and three levels of black hot to find the best mode for the ambient temperature and other environmental conditions. It also has five different reticles to choose from. The REAP-IR has a base optical magnification of 2.5X and can digitally zoom up to 8X.
High-tech terminology aside, what it comes down to is this: using the REAP-IR scope, you can spot a human-size target at 1,200 yards and recognize that target as a human at 450 yards. During my time testing in South Texas, I hit stationary targets out to 150 yards with the REAP-IR; I also hit moving ones at 80 yards and about 150 yards.
At farther ranges, objects appear as white-hot or black-hot blobs. As you get closer, more details come into play. Once I got used to the imagery, I began to understand the shapes and what they represented. At 800 yards, for example, similarly sized targets are both indistinct clumps of white.
For a law enforcement officer or security professional, that could translate into detecting objects at distance; then, closing the gap and being able to determine that the object is a warm engine block, a dog—or a fleeing suspect.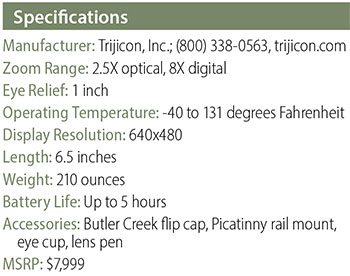 Trijicon also offers the IR-Patrol monocular sight; the SNIPE-IR, a thermal clip-on positioned on a Picatinny rail ahead of a traditional scope and three versions of the IR-HUNTER, a rifle scope somewhat larger than the REAP-IR. I didn't use these models, though I'd expect them to function as well as the models I did use for one key reason: All these Trijicon units use the same thermal core. 
The REAP-IR and the IR-Patrol monocular are controlled via a thumb stick, a rubber-covered lever that allows you to move the tiny triangular pointer among the icon-based menu system. You select the menus to change the various settings (reticles, magnification, etc). Now, it all takes practice, and early on I did experience some frustration. But, by the second night I was toggling right to the needed icons with ease. 
Prices? Approximately $8,000 suggested retail for the REAP-IR mini-scope, and between $6,500 and $9,000 for the various PATROL-IR monocular models. Very expensive—but they work.