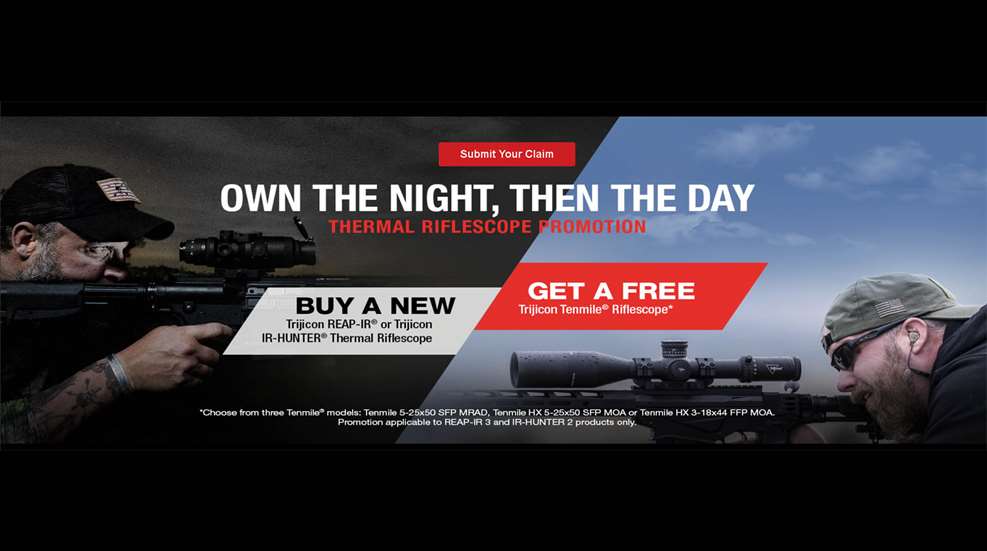 Purchase a new Trijicon REAP-IR 3 or IR-HUNTER 2 scope through one of the company's Electro Optics retailers and you qualify to receive a select model of a Trijicon Tenmile riflescope. The promotion launched on Black Friday, but the special deal continues until Jan. 31.
The company has a special web page where enthusiasts can find full terms and conditions, along with a convenient application form for electronic submission of claims, along with required proof-of-purchase information. Upon purchase of a new REAP-IR or IR-HUNTER model, consumers can visit the website to select their preferred Trijicon Tenmile long-range rifle scope. The three options include the Tenmile 5-25x50 mm SFP MRAD (MSRP $2,059), Tenmile HX 5-25x50 mm SFP MOA (MSRP $2,059) and Tenmile HX 3-18x44 mm FFP MOA (MSRP: $2,265). Eligible consumers should allow eight to 10 weeks for receipt of their Trijicon Tenmile riflescope after submitting all required information.
The latest REAP-IR and IR-HUNTER thermal imaging systems retain Trijicon's leading image quality, durability and ease of use with new and improved system controls for faster system response and reduced lag. A new manual focus adjustment for 60 mm versions provides improved image quality at all distances.
A new USB-C connector allows the use of external battery packs for extended time in the field. The main housings are constructed from forged 7075 Aluminum and feature updated top-loading internal battery compartments for faster access, a slimmer profile and increased durability. The new quick-release mounting system featuring Trijicon Q-LOC Technology provides incredible return-to-zero performance with the ability to affix the scope rapidly and reliably in the dark.
REAP-IR and IR-HUNTER thermals feature a variety of reticle choices for instant adaptation to any scenario with today's most popular chamberings. User-selectable reticle choices include MRAD, MOA, 5.56 BDC, 7.62 BDC and 300BLK BDC options.
All Trijicon Electro Optics thermal scopes feature 640x480 resolution, 12-micron thermal sensors with 60 Hz frame rates and are engineered, machined and assembled in the United States and are tested to MIL-STD 810-G.
The Trijicon Tenmile series of rifle scopes is uniquely engineered to provide long range shooters the tools necessary to acquire, identify and engage targets at any distance. Illuminated reticles offer contrast against all backgrounds and are available in a choice of first or second focal plane with options for both MRAD and MOA subtension.