Trijicon recently released its newest version of the popular RMR (Ruggedized Miniature Reflex) optic: the RMR Type 2. Given that the Type 2 looks exactly the same as the original, some tactical shooters may have assumed the Trijicon RMR Type 2 was just another "Gen2," which in today's world of marketing often means a new paint job but little that's actually new and/or improved.

Actually, though, the RMR Type 2 is new and improved. While Trijicon doesn't quite say so in its press and marketing materials, the company took the original's basic features and added in upgrades to optimize the Type 2 for semi-automatic handguns. Law-enforcement and concealed-carry users were at the forefront of those design changes. The RMR Type 2 will work fine on rifles (as primary or back-up sights) and shotguns, but the changes made to various features really make the RMR Type 2 a top choice for semi-automatic pistols.

I received a RMR Type 2 recently and mounted it on a Glock 20 semi-automatic pistol chambered in 10 mm. After a good workout at the range, I found the RMR Type 2 to be a great aid to fast and accurate shooting, in close and at distance. It can be easily adjusted to changing lighting conditions and has been toughened up, electronically speaking, to take on more extreme conditions than the original.

To mount the RMR Type 2, I first tapped out the original rear sight, using a Brownells 1-inch nylon and brass hammer and a Brownells nylon front sight punch. Next, I tapped in a Strike Industries Universal Optics Mount for Glocks onto the pistol's rear slide area, and tightened down the base's set screws.

I then inserted a CR2032 battery into the base of the RMR Type 2 unit, and attached the unit to the base with two screws (provided with the Strike base).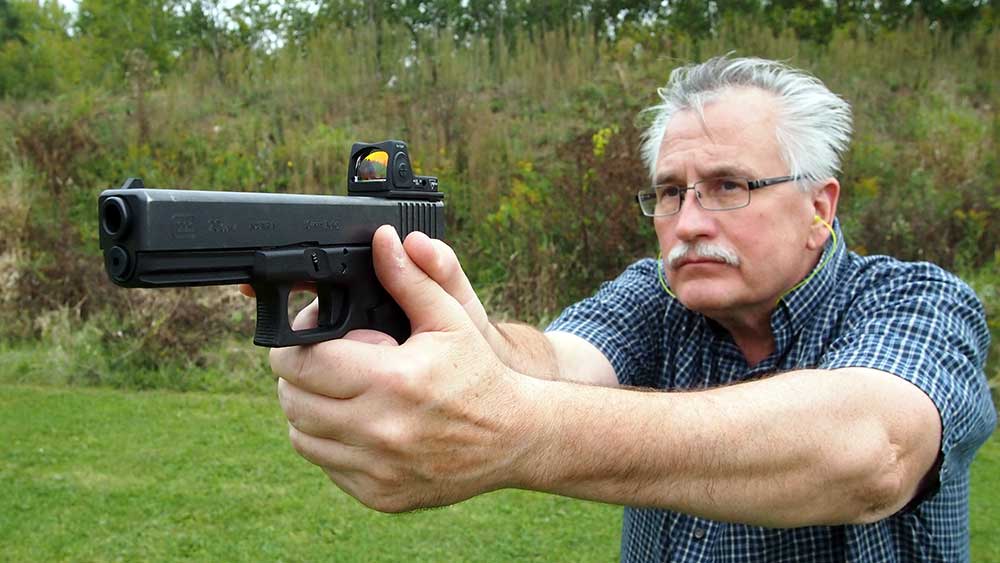 At the range, I zeroed the RMR Type 2 at ten yards from a rest, using Remington UMC 10 mm ammunition, firing a 180 FMJ bullet. My RMR Type 2 has a 3.25 MOA center dot (1.0 and 6.0 MOA dots are also available). My first shots grouped nicely—but at two inches to the left of the bullseye and about an inch low. Using the rim of a spent 10 mm brass case—which fit snugly in the control grooves--I clicked over the windage and elevation adjustments, each click equaling 1 MOA.

Here, I switched out ammunition, opting for SIG Sauer's Elite Performance 10 mm, also using a 180-grain FMJ bullet. Firing from a rest at 10 yards, I pegged a very nice four-shot cloverleaf that measured just .522 inches. 

Next, I set up a Birchwood Casey "Bad Guy" target at 10 yards, and did 10 rounds center mass, followed by 10 rounds in the head area. All shots connected where they were supposed to in order to stop a threat. 

The RMR Type 2 makes accurate and fast shooting easier than using metal sights, at least for me. Looking through the tempered-glass lens, the aiming point is a parallax-free red dot, not a front and rear sight that must be lined up and kept in sync. I was shooting on an overcast day and ran the RMR's brightness settings from least to most to find the optimum resolution at different distances and as the sun peeked out here and there. Brightness adjustments were easy to make from the rubberized controls on the side of the unit.

I also tried out the RMR on a sunny day without shooting to see which brightness levels worked best in full sun. Again, I found my best brightness setting quickly, and the aiming dot stood out nicely against various targets.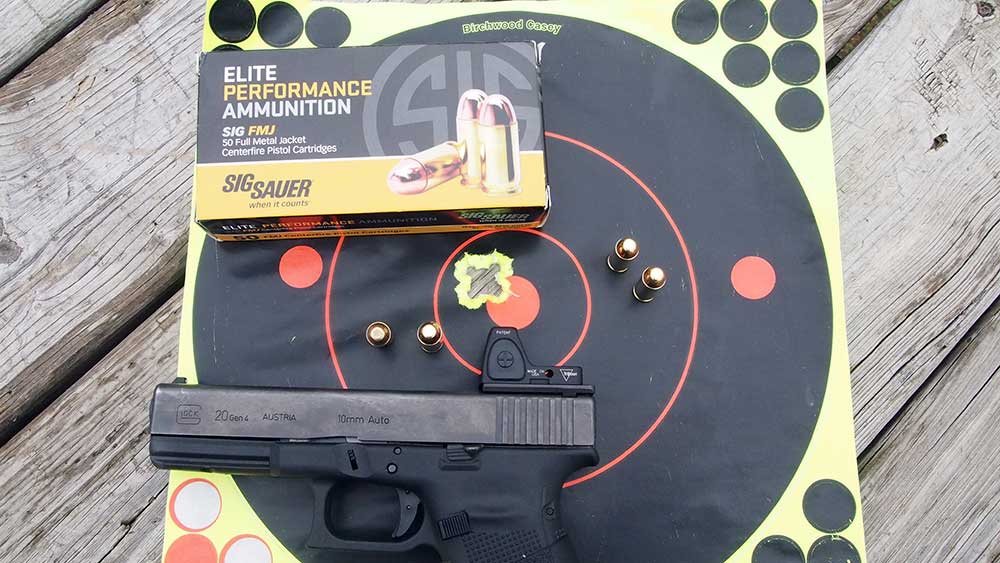 Trijicon beefed up the battery contacts and electronics on the RMR Type 2 to ensure performance and survivability in what the company calls "harsh environments."  Many of us will associate those "environments" with extremes of temperatures, precipitation of various types and dusty, dirty conditions. Certainly, the RMR Type 2 will perform in those conditions.

But those "environments" also include being mounted on a large caliber semi-automatic pistol chambered in .45 ACP or 10 mm, being holstered and unholstered and generally knocked around and being able to withstand not simply recoil but the pounding generated by quickly emptying a full magazine of .45 ACP or 10 mm.

Another plus for concealed carriers in the RMR Type 2's Button Lock Out Mode. By pressing both control buttons located on the unit's side for three seconds simultaneously, you "lock out" the possibility that a bump to either control will change the brightness level. To further extend battery life, the Battery Conservation Mode automatically adjusts the aiming dot to ambient lighting conditions after 16.5 hours without a button push.

The RMR Type 2 weighs just 1.2 ounces with battery inserted, and Trijicon rates battery life at approximately two years with "typical" usage. The unit is constructed from 7075-T6 aluminum to mil-spec standards.

The RMR Type 2 is compatible with all existing RMR mounts and optics-ready handguns. Otherwise, you will need a mounting base specific to your model pistol. These are available from Trijicon, at an additional cost. Trijicon also sells a variety of mounting adapters for long guns. The suggested retail price on the new Trijicon RMR Type 2 red-dot sight is $655.