Optics and pistol-sight manufacturer Meprolight, based in Israel, has made significant inroads into the U.S. tactical market the last few years. These inroads will only expand with the introduction of the new Mepro Tru-Vision, a compact and extremely functional red dot. The Tru-Vision has all the features of the best red dots, and a few enhancements others don't possess, while coming in at a mid-level price point.
Founded in 1990, Meprolight was and is the primary red-dot sight, sighting system and battle-optic supplier to the Israel Defense Force (IDF). In Israel, every citizen is required to serve in the IDF and therefore every Meprolight employee, from the top on down, brings first-hand, battlefield knowledge to the job. So, when Meprolight advertises its products as "battlefield tested"? It's not just marketing "tac talk."
The Tru-Vision features a 2-MOA LED red-dot reticle with 12-day and 4-night brightness settings, plus an automatic-brightness-control system that enables clear visibility of the red dot in any lighting condition. The optic is sold with a quick-release Picatinny rail mount and is powered by one CR123 battery. At the mid-level brightness setting, Meprolight rates the unit at continuous "ON" use for two years.  
The unit features an integrated sleep mode (which shuts down the unit after 30 minutes of no movement and when no buttons are pressed) and an automatic power-off mode of 4 or 8 hours (user selectable) when no buttons are pressed/no movement is detected.
All this in a unit weighing in at just ten ounces and is only 3.1-inches in total length. The Tru-Vision is a first-rate choice for home defense applications and competitive tactical shooting events. The compact size also means the Tru-Vision works fine when co-mounting other tactical devices like magnifiers and lasers.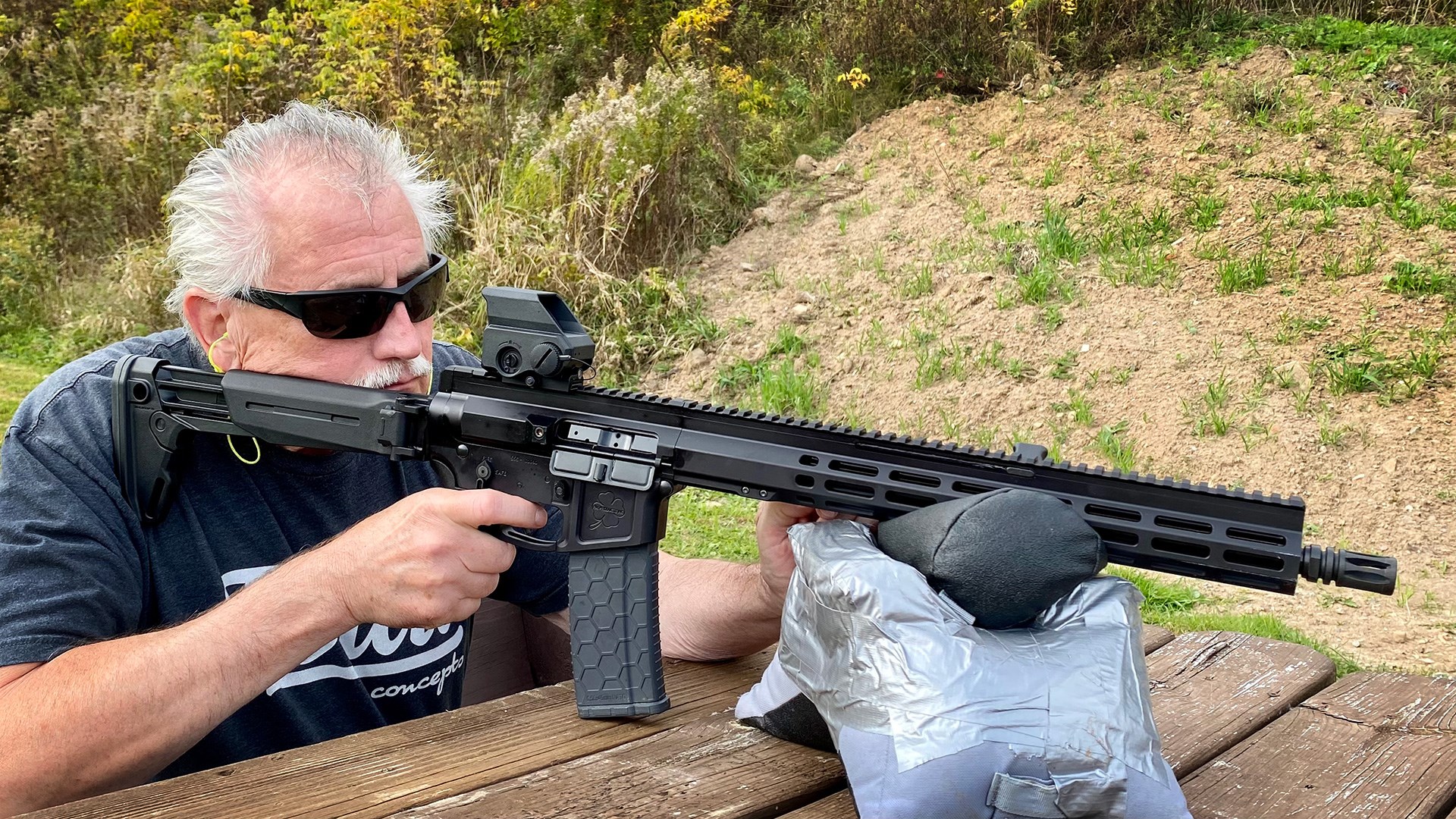 To test out the Tru-Vision, I ran it on two platforms. The first was a Remington 870 DM tactical pump shotgun chambered in 12 gauge with a detachable, six-shell magazine, which was made by the "old" pre-bankruptcy Remington. The second was a FM-15 Zhukov rifle, an AR-15 platform in 5.56 NATO manufactured by Foxtrot Mike Products that features a side-charging handle located to the left and front of the handguard. 
Testing the Meprolight Tru-Vision Red Dot
At my outdoor range in North-Central Wisconsin I mounted the Tru-Vision on the 870 DM and zeroed it at 25 yards using Remington Managed Recoil 2¾ inch shells loaded with 00 buckshot (eight pellets). I used Birchwood Casey 12x18 inch Silhouette Bad Guy IPSC Splattering Targets for all my 870 DM shooting and shot offhand.
My initial shots hit low and right. The 0.5 MOA windage and elevation adjustments brought the point of impact right up, albeit requiring many clicks at this close distance. The elevation control was located at the very rear of the unit, the windage control to the right side of the optic's frame, with the battery compartment just forward of the windage control. Brightness setting buttons were on the opposite side of the unit.
Once I had the 00 Buck centering well, I added Fiocchi Exacta Nickel Plated 2¾ inch shells loaded with #4 buckshot (27 pellets) to the shooting mix, as well as Remington 2¾ inch #1 buckshot (16 pellets). Both loads wrecked up the Bad Guy targets nicely, and the red dot on the Tru-Vision was sharp and exact.
Then, I got brave and added slugs to the mix, Federal Premium Vital-Shoks, to be exact, 2¾- and 3-inch shells, each loaded with 1-ounce Truball Rifled Slugs.
I shot off several four-round bursts, the magazines alternately loaded with buckshot and slugs. Buckshot accuracy was fine, slugs not quite as good, though the later was on me. I did a couple of slug-recoil flinches that threw me off target.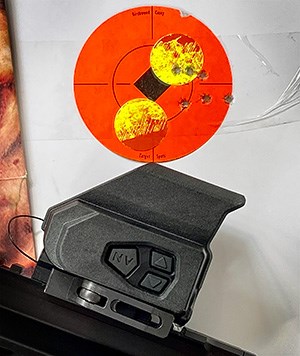 Then I popped off the Tru-Vision and mounted it onto the FM-15 Zhukov. Total time to make the switchover: about 23 seconds. For ammunition, I used Maker Overwatch Field .223 Rem., loaded with a 62-grain all-copper bullet.
At 50 yards, the first rounds were just about right on vertically but required adjustments  to the left. Easily done.
Then I shot several groups, firing from a rest. My best was a six-shot group at 1.1-inches, with five of those shots covering just .70-inches.
At 100 yards, my groups got larger but were still well within what I consider red dot capabilities. Largest four and five shot groups were approximately 2.4-inches, the smallest was 1.6-inches, and the average was right around 2.0-inches.
Temperature that day at my outdoor range was in the mid- to upper-60's and lighting conditions were bright and sunny while shooting the 870 DM. When I switched over to the FM-15 Zhukov, a large bank of low and dark clouds rolled in, threatening rain that never came, but the light definitely faded. By the time I got to my 100-yard shooting, the dark and low clouds had given way to a cap of high, wispy clouds. 
An Illuminating Experience
As the light conditions were changing so, too, did the reticle brightness thanks to the Tru-Vision's automatic brightness control system. When the light went from bright sun to dark and cloudy, for example, the reticle brightness change was very good. I didn't need to adjust at all.
From dark to lighter with the high clouds, the change was okay, but didn't quiet fit my eyes, so I manually toned down the brightness level. Which, of course, is why there are manual and auto adjustments to calibrate the reticle for different eyes and vision capabilities.
At just ten ounces, I didn't even feel the Tru-Vision's weight as I used the 870 DM and the FM-15. The fast-mounting system was a real plus, handy and quick. And the wide rear lens provided a nice, rectangular field of view. 
Specifications: Tru-Vision Red Dot from Meprolight
Weight: 10 ounces
Dimensions: 3.1 inches long x 2.2 inches wide x H2.5 inches high
Rear Window Dimensions: 1.14 inches wide x .78 inches high
Red Dot Diameter: 2.0 MOA
Windage/Elevation Adjustments: .5 MOA
Brightness Levels Adjustments: 12 Day, 4 Night, Plus Auto
Power Supply: 1x CR123 Battery
Mount: Picatinny Rail Quick Release, MIL-STD 1913
Environmental Rating: MIL-STD-810
Meprolight manufactured the Tru-Vision to adhere to MIL-STD-810 environmental standards that address a broad range of environmental conditions: rain, high- and low-pressure changes, sand and dust exposure, and firearm recoil. This unit should take substantial abuse and keep working.
Meprolight warranties this unit for defects in material and workmanship for a period of five years, with repair or replacement done at the company's discretion.
For home defense and at the range, as well as tactical shooting competitions the Tru-Vision will be a great choice. And the auto brightness adjustment on the reticle is a real plus, especially when outdoor lighting conditions change and when going from indoors and out and vice versa. MSRP for the Tru-Vision optic is $529.99, and more information is available at meprolight.com.